Skullerz Thor Safety Glasses // Sunglasses
Instructions to Save as PDF
To download the page as a PDF, click the print link.
In the "destination" dropdown, choose to "Save as PDF".
Give it a name and save to your computer. Yep, it's that easy!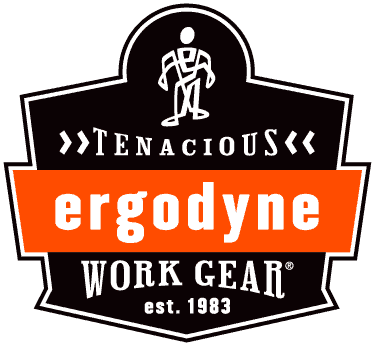 Tenacious Holdings, Inc. (dba Ergodyne)
1021 Bandana Blvd E Suite 220 Saint Paul, MN 55108 United States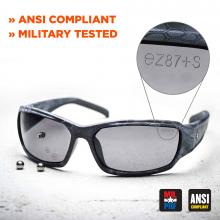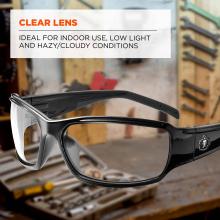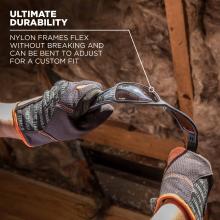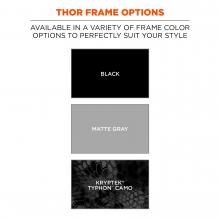 Skullerz Thor Safety Glasses // Sunglasses
Features
ANTI-SCRATCH + UV PROTECTION – Scratch-resistant lens blocks 99.9% of harmful UV rays
DURABLE FULL FRAME – Durable nylon full-frame design bends and flexes without breaking
IMPACT RESISTANT – Meets ANSI Z87.1+, CSA Z94.3 & MIL-PRF 32432 Ballistic Impact
NON-SLIP DESIGN – Rubber temples keep the glasses secure and prevent slipping
Specifications
| | |
| --- | --- |
| Construction | Flexible Frame |
| Frame Type | Full Frame |
| Product Type | Safety Glasses |
| Standards/Compliance | ANSI Z87.1+, CSA Z94.1-15, CSA Z94.3, EN166, MIL-PRF 32432 |
See below for available item SKUs.
Items
| Item # | Frame Color | Lens Color |
| --- | --- | --- |
| 51000 | Black | Clear Lens |
| 51003 | Black | Anti-Fog Clear Lens |
| 51020 | Black | Copper Lens |
| 51021 | Black | Polarized Copper Lens |
| 51030 | Black | Smoke Lens |
| 51031 | Black | Polarized Smoke Lens |
| 51033 | Black | Anti-Fog Smoke Lens |
| 51042 | Black | Silver Mirror Lens |
| 51050 | Black | Yellow Lens |
| 51071 | Black | Polarized G15 Lens |
| 51080 | Black | In/Outdoor Lens |
| 51083 | Black | Anti-Fog In/Outdoor Lens |
| 51092 | Black | Blue Mirror Lens |
| 51100 | Matte Gray | Clear Lens |
| 51103 | Matte Gray | Anti-Fog Clear Lens |
Items
| Item # | Frame Color | Lens Color |
| --- | --- | --- |
| 51121 | Matte Gray | Polarized Copper Lens |
| 51130 | Matte Gray | Smoke Lens |
| 51131 | Matte Gray | Polarized Smoke Lens |
| 51133 | Matte Gray | Anti-Fog Smoke Lens |
| 51150 | Matte Gray | Yellow Lens |
| 51180 | Matte Gray | In/Outdoor Lens |
| 51300 | Kryptek Typhon | Clear Lens |
| 51303 | Kryptek Typhon | Anti-Fog Clear Lens |
| 51320 | Kryptek Typhon | Copper Lens |
| 51321 | Kryptek Typhon | Polarized Copper Lens |
| 51330 | Kryptek Typhon | Smoke Lens |
| 51331 | Kryptek Typhon | Polarized Smoke Lens |
| 51333 | Kryptek Typhon | Anti-Fog Smoke Lens |
| 51350 | Kryptek Typhon | Yellow Lens |