ProFlex® 7021-CASE Hi-Vis Nitrile-Coated Cut-Resistant Gloves - ANSI A2 Level, WSX™ Wet Grip
ProFlex® 7021-CASE Hi-Vis Nitrile-Coated Cut-Resistant Gloves - ANSI A2 Level, WSX™ Wet Grip
CASE PACK – 144 Pairs
CUT PROTECTION – ANSI A2 Cut Protection
ABRASION RESISTANT – ANSI level 4 abrasion resistance
SUPERIOR GRIP – WSX™ dip technology provides best-performing grip in wet/oily conditions
TOUCHSCREEN CAPABLE – Stay connected with touchscreen fingertips
SEAMLESS KNIT WRIST – Prevents dirt and debris from entering the glove
HI-VIS COLOR – Increased visibility and safety
MACHINE WASHABLE
California Residents: read Proposition 65 .
CASE PACK – Includes 144 Pairs
The ProFlex® 7021 Hi-Vis Nitrile-Coated Cut-Resistant Gloves with WSX™ dip technology are designed to provide excellent grip in oily and wet conditions. The 18-gauge A2 cut protection liner offers cut, puncture, and abrasion resistance for the harshest work environments. These nitrile-coated gloves also feature ANSI level 4 abrasion resistance for long wear.
The WSX™ dip technology is the best on the market for oily and wet environments. This special grip technology is a multi-layered dip that allows air to flow through for supreme breathability. The bottom later is a protective water-based PU layer that wicks sweat away and lets airflow pass through. The anti-slip nitrile exterior absorbs and disperses liquids from the surface for a better grip. The multi-layer construction also adds durability and extends the working life of the glove. The WSX™ dip is flexible and comfortable, allowing for maximum dexterity and significantly relieving hand fatigue.
These protective gloves are made from 18-gauge yarn that provides level 2 cut protection with dexterity and comfort. Gauge is the number of rows of stitches per inch, the higher the gauge, the less bulk and greater dexterity there is.
Touchscreen-capable fingertips on these abrasion-resistant gloves allow workers to stay connected and protected while maximizing productivity.
The ProFlex® Nitrile Coated WSX™ gloves are best for workers in construction, assembly, pulp and paper and material handlers.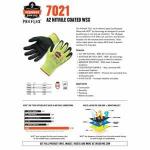 Oct. 22, 2019
ProFlex® 7021 Coated Series Gloves - Product Spec Sheet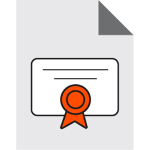 Jan. 15, 2020
ProFlex® 7021 EU Certificate
ProFlex® 7021 Hi-Vis Nitrile-Coated ANSI A2 Cut Resistant Gloves Provide the Best Grip for Oily and Wet Conditions