Squids 3810 Tool Attachment Sizing Gauge
Squids 3810 Tool Attachment Sizing Gauge
Use to determine proper size of a tool and the type of Squids Tool Attachment(s) needed for proper installation
Quickly and easily measures screwdrivers, hex keys, and other small hand tool diameters
Determine proper fastener sizing for Squids Power Tool Brackets using peg ends of gauge for M2.5, M3, M4, M8 and M10
23 diameter measurement holes for tools ranging from 0.05in - 0.5in / 0.13cm - 1.3cm
Ruler ends measure up to 8in / 20cm
Designed with a hang hole for storage or attaching a small carabiner to for carrying
Overall Size: 3.3in x 8.75in / 9.5cm x 22.2cm
California Residents: read Proposition 65 .
Product Description
The Squids 3810 Tool Attachment Sizing Gauge helps those tasked with applying Squids Tool Attachments by measuring the dimensions of the tools being tethered. Perfect for sizing up the diameters of screwdrivers , hex keys and other small hand tools for applying attachments like Squids Hand Tool Slips, Self-Adhering Tape Traps, and Cold Shrink Traps.
The pre-measured holes on the gauge allow the user to quickly thread a tool through it up to 0.5in / 1.3cm. Got a tool wider than that? No problem, the ruler ends of the tool gauge can measure up to 8in / 20cm.
This clever device can also measure screw ports on drills, grinders, and other power tools to size up the proper fasteners for attaching Squids Power Tool Brackets. The pegs on the ends of the gauge mimic the M2.5, M3, M4, M8 and M10 fasteners that come with the brackets.
Use the connecting hole to hang it on a carabiner or simply throw it in your pocket to carry it with you on the job. Complete with common conversions to help you in your measurements and visual instructions for some of our most popular Tool Attachments this gauge size chart gives you a convenient guide to help you tether your tools safely.
Compare With Similar Products
| | | | | | |
| --- | --- | --- | --- | --- | --- |
| | | | | | |
| Product Title | Squids 3810 Tool Attachment Sizing Gauge | Squids 3103 Accessory Kit - Detachable Loops (3-Pack) | Squids 3701 Mini Adhesive Mount Replacements (10-pack) - 2lbs / 0.9kg | Squids 3785 Split Ring Tool Attachment (10-pack) | Squids 3745 Tool Grip and Tether Attachment Point (2-Pack) |
| Product Series | Anchor & Tool Attachments | Anchor & Tool Attachments | Anchor & Tool Attachments | Anchor & Tool Attachments | Anchor & Tool Attachments |
| Price | $13.15 | $6.45 - $8.85 | $7.95 | $8.55 - $9.55 | $11.95 |
| SKUs | 13810 | 19068, 19069 | 19702 | 19785, 19786 | 19747 |
| Available colors | | | | | |
| Available sizes | | Standard | | 1 in (2.5 cm), 1.5 in (3.8 cm) | L |
| Available options | | | 10-pack | | |
| Product Type | Tool Attachment | Anchor Attachment, Tool Attachment | Tool Attachment, Replacement Part | Tool Attachment | Tool Attachment |
| Construction | Lanyard Attachment Points | Modular | | | |
| Materials | Plastic | Elastic, Nylon | | Steel | Rubber |
| Max Weight Rating | | 5 lbs / 2.3 kg | 2 lbs / 0.9 kg | 2 lbs / 0.9 kg | Up to 1 lb / 0.5 kg |
| Product Features | | Non-Marring | Non-Marring | | |
| Protection | | Non-Conductive | Non-Conductive | | |
| Risk/Injury | | Falling Objects | Falling Objects | Falling Objects | Falling Objects |
| Standards/Compliance | | ANSI/ISEA 121 | | ANSI/ISEA 121 | ANSI/ISEA 121 |
| Tool Geometry | | Captive Handle, Captive Waist, Non-Captive | Non-Captive | Captive Handle | Non-Captive |
| Tool or Equipment Type | | Drivers / Hex Keys, Hammers / Striking, Pliers / Cutting, Power Tools, Connecting Bars, Wrenches | Cellphone, Mobile Computer, Pliers / Cutting, Wrenches, Radio / Walkie Talkie, Drivers / Hex Keys, Camera | Wrenches | Drivers / Hex Keys |
Guides and Documents
Apr. 15, 2022
Ergodyne Tool Tethering Systems Poster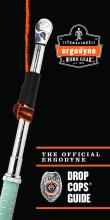 Dec. 1, 2019
Drop Cops Guide: Dropped Objects Prevention