Demand the Safety to do Great Things: Mr. B Goes to Washington
17 Jun 20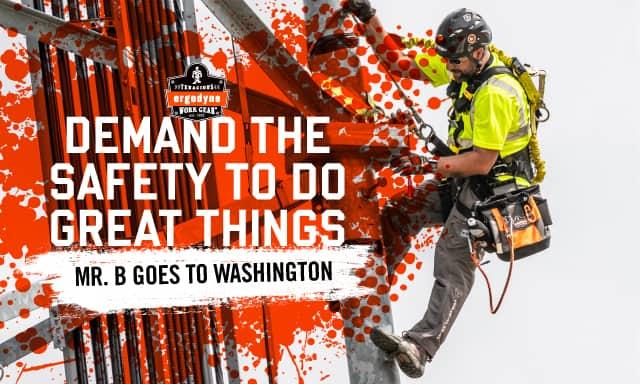 A tower technician's relentless climb toward a safer, smarter and empowered army of tradespeople
A 20-year ascension up the ranks of the wireless communications game has put tower climber Brian Bicknese in a unique position to see just how far the industry has come and all the challenges waiting on the horizon.
As VP of Safety & Training for Vertical Limit, a tower construction company, Bicknese's biggest challenge is ensuring crews get the job done safely in all conditions—a responsibility that has taken him all the way to Capitol Hill to campaign for the well-being and education of fellow tower technicians and tradespeople in general.
"I'm always asking... 'how are we going to ensure that everybody stays safe and goes home?'", says Bicknese. "That drive has led me to a spot in my career where I can be a part of setting standards and talking to people in position to effect change. It's my passion and why I do what I do."
WORKERS WANTED
The need for wireless networks to keep up with our insatiable binge habits and cat GIF consumption has become starkly apparent. All those texts, videos and Instagram posts—there's real work that goes into that.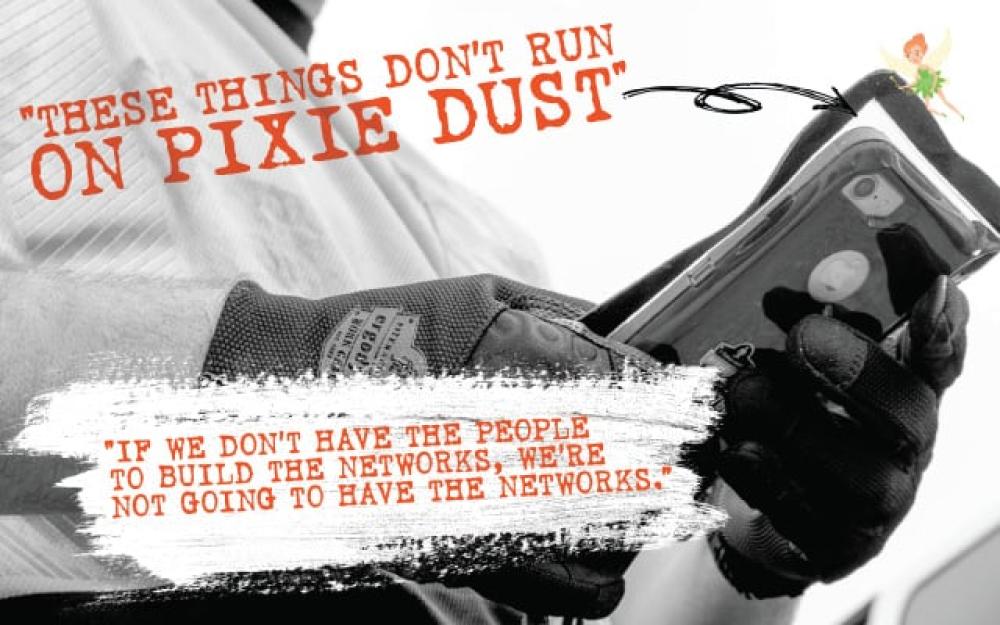 Bicknese knows we need to bridge the gap, and has taken it upon himself to go to Washington to talk with senators and congresspeople about the importance of getting tech schools and colleges to focus on these jobs as critical and relevant to the strength and growth of the country. "I go out as much as I can to have these conversations. It's a little out of my element when we're talking suits and ties in D.C., but they're real people and you get to find that they're concerned too."
BUILDING A SAFER WORKFORCE
Once folks accept the challenge of the job, so begins the never-ending task of keeping them safe — an undertaking Bicknese works relentlessly to uphold.
Tower techs and tradespeople from across the country come to train with Bicknese's team, where they do their best to create the most realistic jobsite scenarios possible. The program is designed to ensure tower climbers (and workers in general) feel 100% comfortable with all potential situations before they go out into the field.
"Professionally, we've built some pretty difficult, badass sites," says Bicknese, "But I'm most proud that we've designed a world-class training center for our teams — all in an effort to get everyone home safe at the end of the day."
And if you think all of that knowledge is just for entry level tower climbers, think again. "Injuries don't usually happen with new climbers in the industry. They're fresh out of training and it's all top of mind. It's usually the vets who think they've seen and done it all before so they take a shortcut... and that's when accidents happen."
Moral of the story? You're never too old to (re)learn new tricks.
THE GEAR IS CRITICAL
Another necessity for getting the job done safely is the right tower climbing gear. As a member of Ergodyne's Tenacious Tester program, Bicknese has the opportunity to be more hands-on with the development of new solutions for working at height.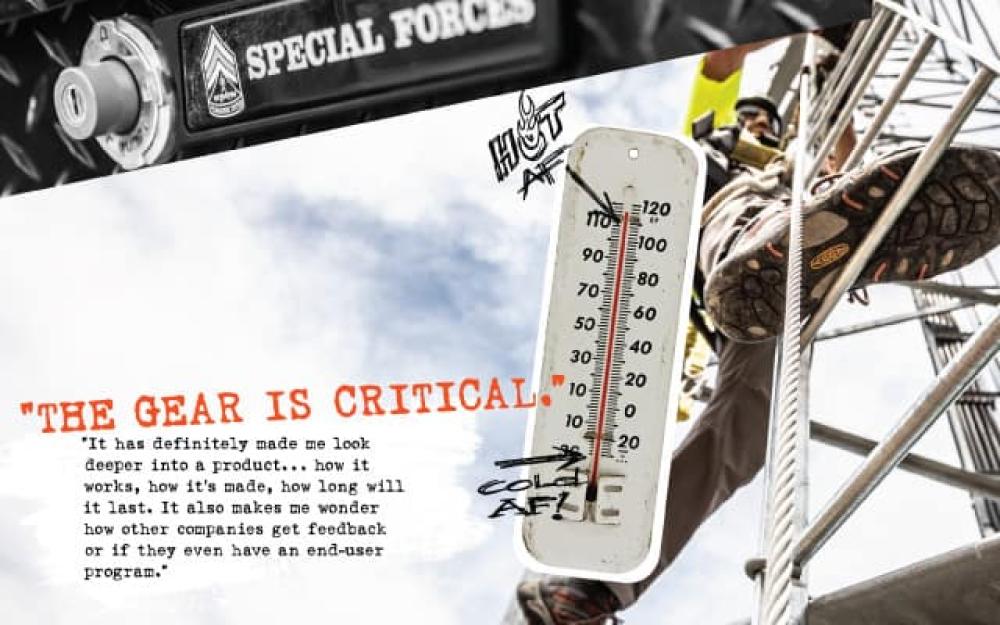 "We're hard on equipment. We're out in the elements working in extreme environments and this stuff has to hold up. It's important to us to have good attention to detail on all the products that we use," says Bicknese. "Helping Ergodyne develop tool storage solutions and evolving the very notion of what safety is has been incredibly rewarding. When you know better, you do better."
COLLABORATION AT WORK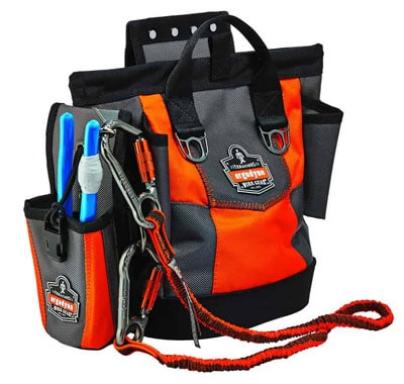 Those 20 years of tower climbing experience sure come in handy during the product development phase. No one knows what will work and what won't better than vets like Bicknese.
Take tool storage, for example. "There used to be a time when tool bags were open and a worker got hung up, you've got tools spilling everywhere — from 200 feet in the air. We've been able to work with Ergodyne to address those sort of issues."
What exactly is he talking about? Well, Bicknese's feedback was integral in the creation of the Arsenal 5527 — a tool pouch designed to meet all the specific needs and concerns of tower technicians and others working at height. Good lookin' out, Mr. B.
See more of the Arsenal 5527 Topped Tool Pouch with Snap-Hinge Closure >>