DROPPED AND FALLING OBJECTS
241 FATALITIES. 54,030 INJURIES. NO TIME LEFT TO DELAY.
DROPPED OBJECTS OVERVIEW
WHAT IS SAFETY AT HEIGHTS?
Fall protection for the worker has come a long way, but it's only part of the picture. There's another component of Safety at Heights that is only recently getting the attention it deserves—Objects at Heights.
RISK AWARENESS
This is a carousel has 3 slides that feature a description of risk-awareness and a corresponding video. Use Next and Previous buttons to navigate.
LUCK IS BAD POLICY. DROPS WILL HAPPEN.
The most serious nuclear threat in the history of the U.S. came not from the Soviets, but from a single nine-pound wrench socket. Dropped by an airman performing maintenance on a Titan II missile at a launch complex in Damascus, Arkansas, the socket fell 70 feet, ripping a hole in a fuel tank and leading to an explosion that forced a 9-megaton warhead out of the ground. Thankfully, safety features prevented any loss of radioactive spillage or detonation, but the explosion killed one and injured about twenty more. The 1980 Damascus Titan missile explosion is a drastic example of what can result from operating like everything is going to work perfectly every time. In this case, it almost wiped an entire state off the map.
By the time astronaut Heidemarie Stefanyshyn-Piper realized her tool bag was improperly tied down, it was too late. "Oh, great,"" she muttered as the tool bag drifted slowly away from her post outside the international space station. Luckily, nobody was hurt, and nothing was damaged—with the exception of her ego and NASA's budget. The embarrassed astronaut subsequently described the $100,000 incident as "very disheartening", adding, "There's still the psychological thing of knowing that we made a mistake and having to live through that. It was hardest coming back in and having to face everybody else."
It was the summer of 2016 when a four-pound bolt fell 100 feet and struck a wind turbine worker, knocking him unconscious and leaving him with a severe head wound. "Lucky" may not be the first word to come to your mind in this situation, but considering the size of the bolt and the height at which it fell, the 26-year-old worker was fortunate to pull through and live to work another day. "Wind Energy workers are exposed to many hazards that can result in fatalities and serious injuries such as falls, struck by, electrical shocks and crushing injuries. While wind energy is a growing industry, the hazards are not unique and OSHA has many standards that cover these working conditions," said Judy Freeman, OSHA's Area Director in Wichita, following the mishap.
THE RISING COST OF FALLING OBJECTS
Severe injury and fatality from dropped objects—even something as small as a wrench socket—are all too common, resulting in thousands of injuries, hundreds of deaths, hundreds of millions in total costs and who knows how many close calls every year.

54,030

Injuries

Falling objects or equipment resulted in 6% of all workplace injuries.

*BLS, 2019

241

Fatalities

Representing 40% of all "struck by" incidents and 4.5% of all workplace fatalities.

$
294,020,000
241 fatalities x $1.22M, the average cost per fatal accident.
THE STANDARD
ANSI/ISEA 121-2018: A HIGHER STANDARD IN AT-HEIGHTS SAFETY
Recognizing the pressing need for formal guidelines within the category of Objects at Heights, leading safety equipment manufacturers like Ergodyne joined forces with the International Safety Equipment Association (ISEA) to develop a standard for tethering and transporting tools and equipment. ANSI/ISEA 121-2018 is the first standard for this type of equipment.
WHAT 121 COVERS
Similar to ANSI Z359 for fall protection, ANSI/ISEA 121-2018 is recognized as industry best practice. Though not directly enforceable by OSHA, the standard can be referred to under the General Duty Clause to interpret a better way for protecting workers against falling objects. The current standard focuses on four classes of preventative solutions actively used by workers to mitigate dropped objects.
The new dropped objects measure does not address things like passive preventative solutions (netting, toe boards, etc.) or best practices in the field, like telling workers where they should connect a tool lanyard on their harnesses. See Areas of Focus section for more details.
THE FOUR AREAS OF FOCUS
A COMPLETE TETHERING SYSTEM 101
GET THE BASICS OF OBJECTS AT HEIGHTS SAFETY
Much like the category of Workers at Heights has the ABC's of fall protection, we've innovated the 3T's of dropped objects prevention in the category of Objects at Heights: Trapped, Tethered, and Topped.
Click the indicators below to see the 3T's of dropped objects prevention in action along with the product solutions to support them.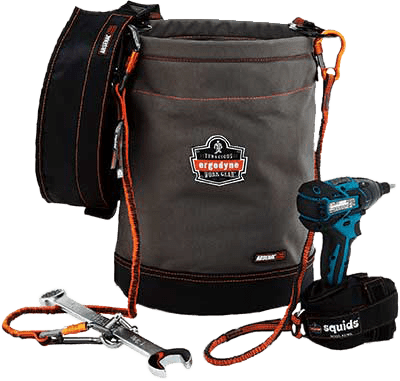 TRAPPED
CREATING CONNECTION POINTS ON TOOLS
Trapping refers to retrofitting a connection point onto a tool or primary anchor for a safer attachment point. Most tools do not come with a secure attachment point built into the tool. In these situations, a secure attachment point must be created.
TETHERED
RETENTION BETWEEN TOOLS/GEAR AND ANCHOR POINTS
Tethering is the retention of the tools and equipment to the anchor points that hold them. This is often achieved through use of a tool lanyard. These lanyards should have the proper connections on each end for the tools and anchors being used. They should also be made with a shock-absorbing design whenever possible.
TOPPED
SECURE CLOSURE ON CONTAINERS FOR TOOLS AND EQUIPMENT
Tool pouches, bags and hoist buckets/bags should have a secure closure or "top" that can cover contents and prevent them from spilling if tipped. All containers may have tethering points available to attach tool lanyards but, if a container does not have a secure closure, it must have these tethering points available.
TRAPPED PRODUCT SOLUTIONS
ADDITIONAL TRAINING RESOURCES
DROP KNOWLEDGE, NOT TOOLS
FAQ
MAMA SAID THERE'S NO SUCH THING AS A DUMB ONE. REACH OUT TO TRAINING@ERGODYNE.COM WITH QUESTIONS OF YOUR OWN.
Any object, large or small, that falls from its previous position (excluding people), e.g. tools, PPE, equipment and structures.

STATIC
Any object that falls from a stationary position under its own weight, such as a handle snapping off a hoisted contractor's bucket.

DYNAMIC
Any object that falls as a result of a secondary force, like a worker dropping a tool or accidentally kicking an item off a ledge.
Whenever tools and equipment are brought to even modest heights, there's a risk for dropped and falling objects.
AERIAL APPLICATIONS
| INDUSTRY | EMPLOYS |
| --- | --- |
| Utilities | 554.1K |
| Telecommunications | 766.2K |
| Construction | 7,164K |
| Wind energy | 381K |
| Oil and gas | 671.6K |
| Mining | 186.9K |
| Electricians/service techs | 942.4K |
| Transportation | 5,289K |
NON-AERIAL APPLICATIONS
| INDUSTRY | EMPLOYS |
| --- | --- |
| Nuclear | 45.8K |
| Manufacturing | 12,630K |
| Food Processing | 1,631.1K |
| Transportation (aviation) | 438.5K |
| Underwater MRO | 202.7K |
| Oil & gas | 671.6K |
| Mining | 186.9K |
| Construction | 7,164K |
Two categories: Those caused by elements and those that are worker/equipment-generated.

ELEMENTS
Weather
Vibration
Corrosion
Deterioration
Body effects like cold, numb hands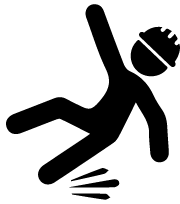 WORKER/EQUIPMENT
Tripping or colliding
Poor housekeeping
Not following procedures
Miscalculations/poor design
Missed/inadequate inspections
Homemade tools and equipment
The key is prevention in the form of active engineering controls that prevent items from falling in the first place. If there is no drop, there is no chance of being struck by a falling object. Other prevention mitigation solutions are expensive and tedious to install and remove, so tethering and container equipment are the best practice for these risks. You can see the challenges with other solutions:
PPE: Hard hats, steel toe boots and other PPE minimize injury on specific body locations, but do not prevent a "struck-by". If an object strikes someone on the shoulder rather than the head, it won't help. If the object is very heavy or tapered/sharp, it can defeat a hard hat. More needs to be done.

Admin Controls: Creating barriers with caution tape or other means pushes workers and bystanders away from the at-risk location. However, it's no secret that a small deflection can propel an object outside an established perimeter causing injury or damage anyway. Again, preventing the drop from above is key.

Passive Engineering Controls: Netting and toe boards are expensive to install and remove, and can give a false sense of security. Items can still fall beyond these systems. In addition, toe boards promote poor housekeeping by encouraging individuals to leave tools and equipment on the platform. Actively tying off equipment is your best bet.
ERGODYNE EMAIL SIGN-UP. STAY IN THE KNOW.
JOIN US IN MAKING THE WORKPLACE A BETTERPLACE™
Sign up for our emails to get the scoop on the latest tips, training and technology to help fight back against workplace risks like Falling Objects. Plus be the first to know about our latest giveaways, exclusive promotions and more!