Demand the Safety to Do Great Things: Tie Or Die
12 Oct 20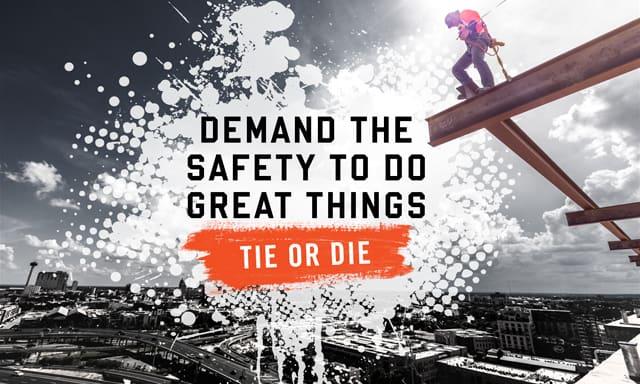 Tackling the largest high-rise solar panel installation in US history.
San Antonio, 1880. The Pearl Brewery opens its doors, on its way to becoming the city's largest employer and the top brewery in all of Texas. Flash forward to 2001. For the first time in 118 years, the suds stopped flowing. Abandoned and desolate, The Pearl Brewery—and all the excitement, pride and economic mojo that went along with it—had gone flat. It's hollowed-out shell left to decay in the city's center.
But the story doesn't stop there. Before too long, the riverside site was refurbed and repurposed into the hub of the revitalized North River Walk neighborhood. And at 1803 Broadway on the old brewery site, an office tower rose with a unique challenge with it—the largest high-rise solar energy installation in US history.
Enter One80 Solar, a commercial solar energy firm on a mission to create more clean, reliable and renewable energy sources. Faced with battling high winds and scorching summer heat to cover the tower and its six-story mid-rise companion with 2,912 solar panels (enough to generate 1 megawatt of power), Patrick Attwater and his team are up to the challenge.
"Making sure that people go back home each night to their families the way they came to the jobsite is the most important thing by far," explains Attwater. "Otherwise, it completely ruins all the hard work we've put into this project."
Combining a Texas summer with glaringly reflective PV panels is a recipe for heat exhaustion if there ever was one. But the heat isn't the only thing that'll get you while navigating beams at 200 feet—there's also 50 mph winds to worry about. "One of the biggest safety factors we've taken into account is making sure we securely move those solar panels from the ground up into place, and making sure they're locked before they can potentially fly off the roof."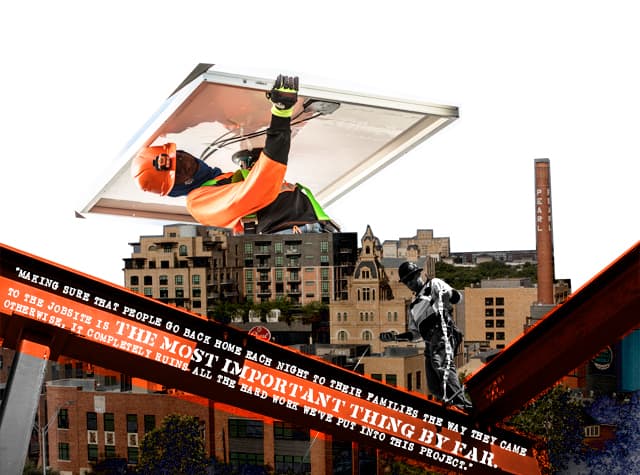 To mitigate the risk of face-melting three-digit temps, Attwater gets his team on the roof before the sun comes up. This enables a return to solid ground before the afternoon sun really starts to flare. When they're up, it's all about making adequate time for water, rest and shade—plus, cooling vests, towels and sleeves to block UV rays and keep internal temperatures at bay. 
And let's not forget about the height. A wrench and a feather may fall at the same rate, but one causes a hell of a lot more damage—which is why the One80 Solar team also utilizes tool tethers, hoist buckets and pouches to keep equipment from hurdling hundreds of feet to the earth below. It's the little things.
"I think from afar, when people see construction happening, they don't understand it's really hard work. It's so vital and important for our community that we're constructing and building great things we can all be proud and inspired by," says Attwater.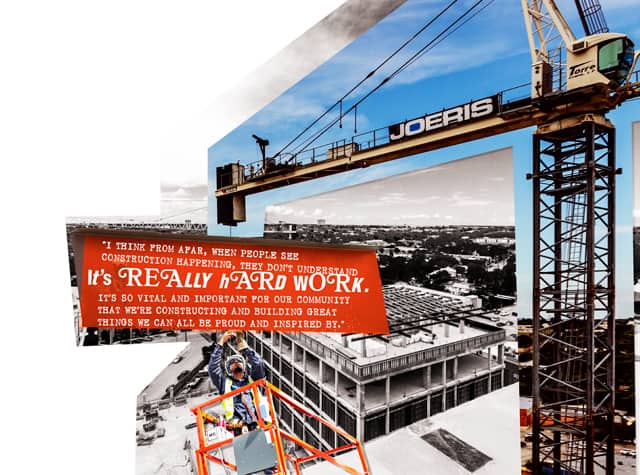 "To me, these guys are the definition of tenacious. Working in these extreme conditions, watching out for each other, being safe but at the same time doing amazing work to bring this project to life. And they've got a smile on their face because they believe in the work they're doing—and doing such an incredible job at it."
GEAR TO GET THE JOB DONE