Ergodyne Earns Its Wings with Airline Knee Pad Collaboration
17 Jun 20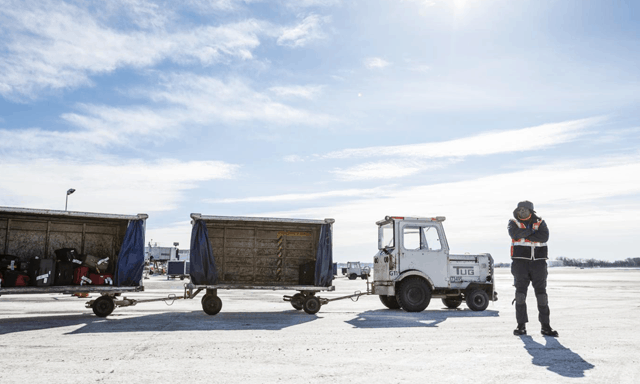 Solving major knee pad pains for the underappreciated, indispensable ramp workers of America's biggest airlines.
A plane doesn't become airborne without a dedicated crew on the ground first. Responsible for getting cargo loaded on the plane quickly and efficiently, ramp workers are among the most demanding knee pad users in any industry.
This physically demanding job requires them to crawl, lift and maneuvear in the tight confines of an airplane cargo bin where knee pads are a requirement.
THE PROBLEM
But for one major airline, the knee pads that were part of the crew's daily uniform weren't cutting it. The problem was, as the ramp workers moved around during their shift, their knee pads weren't staying in place – many workers complained about crawling out of the knee pad. As they moved about on their knees, the cap of the knee pad would stay in place while their knee moved out the top or the sides. Other workers struggled to find knee pads that wouldn't slide down their shins as they walked.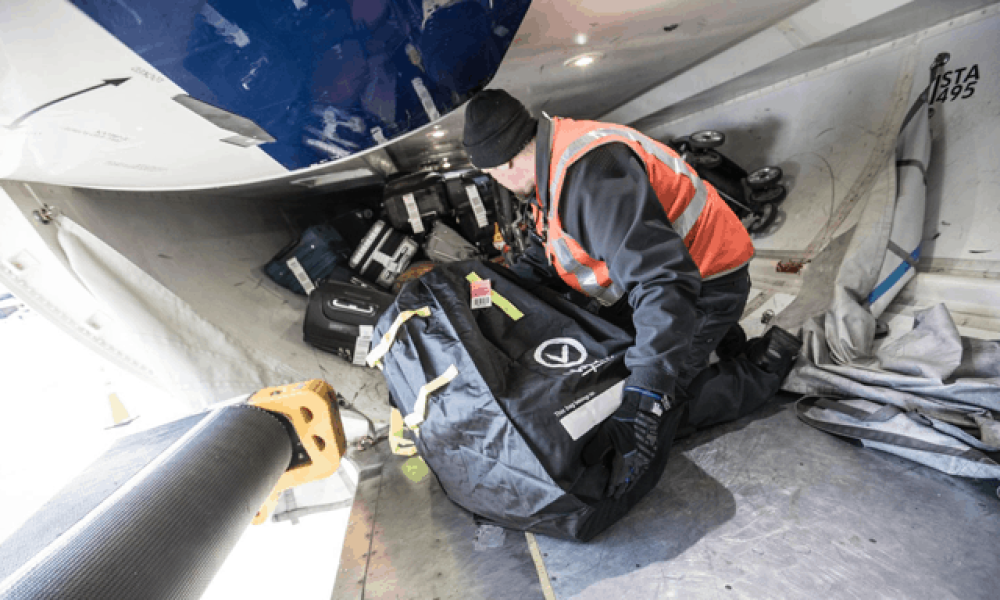 THE SEARCH FOR A SOLUTION
In early 2018, American Airlines approached Ergodyne's Product Management Team with hopes of developing a better solution for their ramp workers. Ergodyne is a Minnesota-based manufacturer of safety gear known for innovative products, including their ProFlex line of knee protection.
"We had representatives from American Airlines come to our headquarters saying they needed a better solution for their workers. So we all got down on the ground to test our different knee pads by crawling around on different surfaces in hope of finding what worked and what didn't," says Aaron Skemp, Senior Product Specialist, Ergodyne. "At first, we were trying to figure out how we could tweak some of our current designs but, as we got farther along in the process, we found we needed to create something unique for these workers," Skemp adds.
In order to address the issue of crawling and walking out of the knee pads, the team first reviewed the overall design and added a hinge plate. This hinge allows the knee pad to flex with the wearer's knee as they move. "This development was made after a number of rounds of evaluating and testing. We watched workers crawl, move side to side and shuffle on their knees – as they were moving, we noticed if they were sliding or shuffling, their knee would come out the side. And if the knee pad got stuck in place while they were crawling forward, their knee would come out the top. Adding a hinge to the knee pad prevents this because it allows for the knee pad to flex with the worker's knee" said Skemp. The top of the knee pad was also widened and brought higher to hug the lower thigh in order to keep the wearer's knee in place.
WATCH: Product Specialist Aaron Skemp explains how Ergodyne helped solve knee pad issues through intense worker feedback.
Another area that required added innovation and development was the padding. Workers loved the support of gel padding, but the weight that came with it caused the knee pads to slide down the leg. The team again went to the drawing board to create a new type of padding that was lightweight like foam but wasn't heavy like gel. The result was a hybrid of both – this new gel foam was lighter and stripped a lot of weight out of the knee pads to keep them from sliding down.
Now workers would have a knee pad that felt like a lightweight foam-padded model without any of the compression issues of foam padding. Over time, the foam compresses with repeated pressure, making the knee pads less effective and comfortable. Gel, on the other hand, resists compression and will not retain shape even after repeated pressure from kneeling. Ergodyne's gel-foam hybrid was lighter and more compression resistant than knee pads using more traditional padding.
TEST FLIGHT
These new knee pads were then sent to workers at a number of different airports across the country. After weeks of testing and gathering feedback, the team decided to rethink their approach to the straps. "The style of strap on a knee pad generally comes down to personal preference, but we knew we could improve what we had to find one that fits more workers," said Skemp. "So we made one version with a thick neoprene strap that is soft, stretchable and wider than a typical strap for more comfort and fewer pressure points."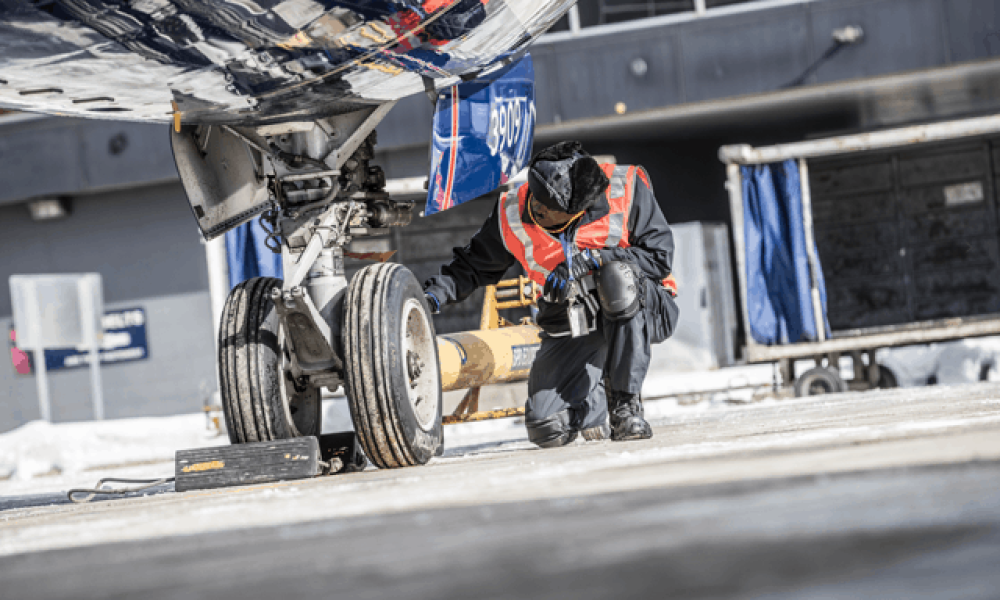 Again, the knee pads were sent for rigorous in-the-field testing and a few further refinements from the Ergodyne product team, including offering the hinge style in two different caps to suit worker preference. Whereas some workers are looking for stability, others want caps that allow them to move, slide, rock and pivot while kneeling – so a rubber cap and a soft cap were created and sent out for field testing.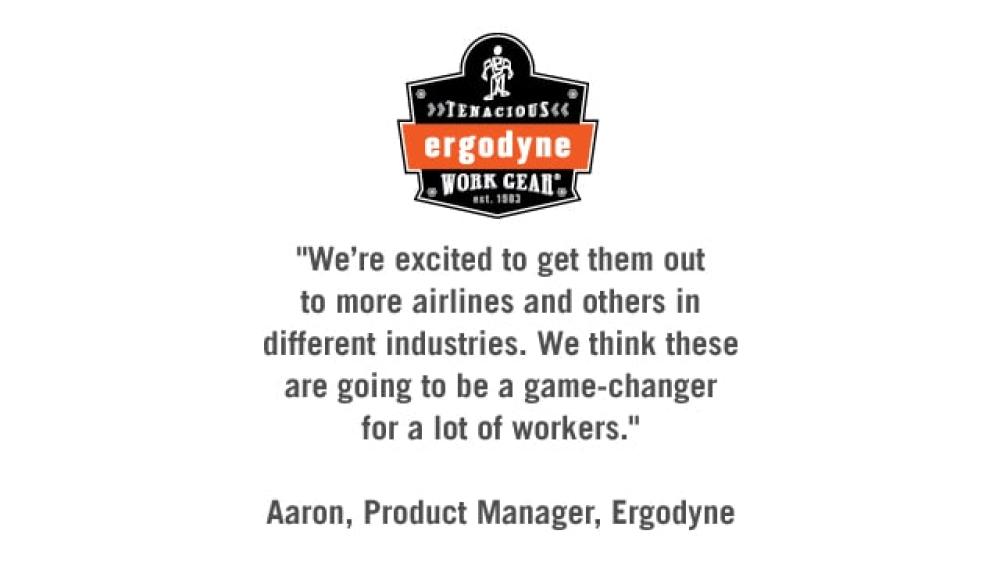 LANDING THE PLANE
After a year and a half of design, development and testing, Ergodyne's new hinged-style knee pads were available for airline ramp workers at airports all over the country. "We're really proud of how these knee pads turned out. We were presented with a challenge and were really able to take the time to research, design and test to ensure they're perfect for the needs of this particular group. We're excited to get them out to more airlines and others in different industries. We think these are going to be a game-changer for a lot of workers," Skemp notes.
SOLVE YOUR KNEE PAD PAIN WITH PROFLEX COMFORT HINGED KNEE PADS
Knee pads that stay where they should. Sounds simple enough. But only after spending hours on the crawl with the kings of cramped quarters themselves – airline baggage handlers – can you truly understand what a pain many knee pads can be. ProFlex Comfort Hinged Knee Pads were designed with intense worker collaboration to identify and solve for the most common knee pad complaints.
FLEX IN EFFECT – One of the biggest complaints workers have with knee pads is that they "crawl out" of the knee pad. Our hinged design allows knees to flex more naturally, walking or crawling.
SMART STRAPS – Located away from the back of the knees for comfort and less irritation, our design brings the knee pad up and hugs the lower thigh, which keeps the pad securely in place even when walking or crawling.
CUSHION AND COMFORT – Built with gel foam for lightweight cushioning that won't break down or compress over time.
WHAT KNEE PAD STYLES ARE RIGHT FOR YOUR JOB?
Check out the top recommended knee pads for 7 popular trades >>