Nick No More: The Importance of Cut-Resistant Sleeves
31 Aug 20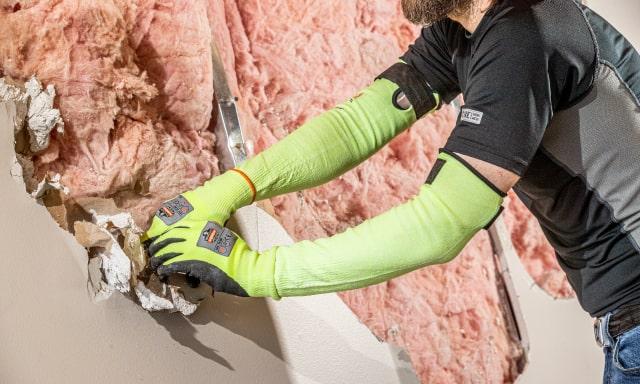 Increasing arm protection in the workplace.
For most, mention of the phrase "cut resistance" conjures up visions of safety gloves in all of their glorious levels—from A1 to A9 and all the nick, slice and gash protection in between. But sharp objects don't play fair, and it's not only hands that are at risk. A piece of jagged steel won't be serendipitously removed from your path before it assails you above the wrist.
Enter, the cut-resistant sleeve, a magical wonder solution for protecting life and limb—literally.
What are the cut-resistant standards?
For those who missed our crash course in cut-resistant standards, ANSI/ISEA 105 and EN 388 are the two major global standards used to evaluate protection levels. Both standards test for abrasion, cut, tear and puncture resistance, with cut tests measuring the amount of force it takes for a blade to cut through the material.
= Abrasion Resistance

= Cut Resistance

= Tear Resistance

= Puncture Resistance
Do you need extra arm protection?
You won't sell many tickets to the gun show if they look like they've been through the blender. If your job necessitates cut-resistant gloves, you would likely benefit from extending the armor upward.
Workers regularly tasked with material handling or confined-space work are at constant risk of nicks, scrapes and cuts—particularly those in construction, demolition, automotive, glass handling and fabrication.
How to choose the best cut-resistant sleeve
Okay, so you're convinced. Now what? When it comes to finding the best cut-resistant sleeve for you, you should consider materials, fit and cut level.
MATERIALS
To achieve high levels of cut resistance, many protective arm sleeves employ fiberglass or steel fibers that can be stiff, hot and irritating to the skin. And when something doesn't feel good, it doesn't get worn—leaving exposed skin at an increased risk of injury. Fortunately, comfortable cut-resistance doesn't have to be an oxymoron.
What to look for: Newer engineered polyester yarn technologies provide all the benefits of their predecessors and then some—like cool-to-the-touch, moisture-wicking fabric for unmatched breathability in any environment.
FIT
Spending all day twisting and tugging is no one's idea of a good time. Finding a form-fitting cut sleeve that isn't going to decrease coverage by riding up or falling down is not only convenient, it's safe.
What to look for: Reference the size charts. You want a snug, form fit to avoid snagging. Features like thumb holes and adjustment straps might seem minor, but they can be the difference between cruising through your workday and cruising to the emergency room.
CUT-LEVEL
The primary function of a cut-resistance sleeve is resisting cuts—groundbreaking, right? Protection levels range from low cut hazards (A1) to extreme cut hazards (A5 and above), and what you need will depend largely on your specific work environment.
What to look for: If your day to day runs the gamut, an ANSI cut-level A4 sleeve is a solid choice—covering you from low risk (automotive assembly) to high risk (sheet metal handling). In combination with the newer and lighter yarn technologies mentioned above, you need not compromise on comfort, range of motion and dexterity.
Check all the boxes
Looking for a sleeve that offers the whole kit and caboodle? The ProFlex 7941 Cut-Resistant Protective Arm Sleeve combines exclusive TenaLux yarn with moisture-wicking fibers for A4 cut protection that remains cool and comfortable from clock in to clock out.