Understanding Hi-Vis Standards: ANSI/ISEA 107
7 Apr 21
To the average Joes and Janes driving America's highways and byways, or just watching construction work across the street, the "safety vests" they see workers wearing might all look the same: Just a brightly-colored top with some silver shine to it. However, these garments are quite technical, and anything but average.
Most people aren't familiar with the High-Visibility Safety Apparel and Accessories Standard (including some workers who wear the garments it governs every day). ANSI/ISEA 107 is the industry regulation established by the American National Standards Institute (ANSI) and the International Safety Equipment Association (ISEA) that sets out garment design requirements for multiple Garment Types for high-visibility vests, jackets, pants and more—plus, three different Performance Classes within those Types. The standard combines two previously recognized hi-vis apparel standards designed to cover garments requirements for non-public safety workers and public safety employees, such as police and firefighters. It also provides performance testing criteria for the materials used to make the garments.
In addition to making critical distinctions between classes and types (more on that shortly), an employer should also consider the best high visibility color and retroreflective for their particular jobsite. Fluorescent yellow-green and orange are the most prevalent ANSI-approved colors in the U.S., with red being more common abroad. All three of these colors register an incredibly high level of light sensitivity and, though yellow-green is considered most visible, it's not necessarily always going to be the safest option. Depending on the work environment, bright orange might provide a higher contrast than yellow-green (an area with heavy foliage, for example).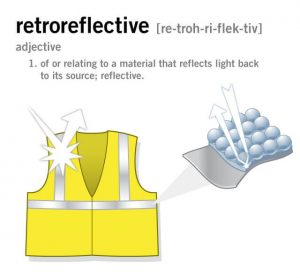 Certain widths and amounts of ANSI-compliant retroreflective material are also required to enhance a person's visibility in low-lighting—as well as help them to stand out amidst other visual distractions during the daytime. "Retroreflective" means that light gets directed back to its original source once it hits the material, which also means that without a light source (i.e., headlights), the material does not enhance worker visibility. Therefore, both background fabric and retroreflective material are equally important.
TYPES AND PERFORMANCE CLASSES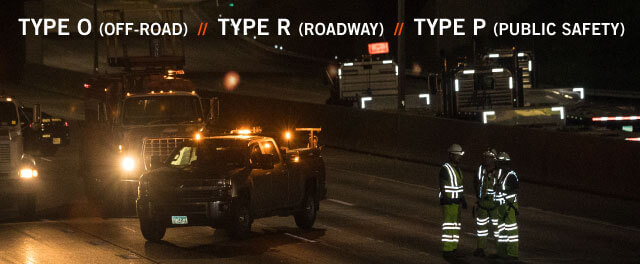 Type O (Off-Road)
Type O features a single Performance Class (Class 1) and is intended for off-road use, often indoors or more controlled environments.
Who Benefits: Among others, workers retrieving shopping carts, working in warehouses and factories or extracting/refining oil & gas.
Type R (Roadway)
Type R offers a Performance Class 2 and Class 3—garments specifically designed for use on roadways—and is often the choice of other construction and transportation applications due to the high presence of moving vehicles and equipment. Because Type R features more fluorescent background material and additional retroreflective square inches, it is better suited for environments with higher levels of moving vehicle and equipment traffic. For workers in the right of way of a roadway, it's required by federal law. In addition to vests, T-shirts, sweatshirts and jackets are widely available in Performance Class 2 and Class 3.
Who Benefits: A Type R Class 2 vest, for instance, would serve road construction workers, airport ramp workers or municipality workers. Class 3, meanwhile, is meant to be used in applications such as flaggers and DOT workers with high-speed traffic hazards who are unable to devote attention to the environment around them. And no worker or employer has ever been criticized for making their workers too visible and wearing Class 3 if in doubt!
Type P (Public Safety)
Like Type R, Type P has a Performance Class 2 and Class 3 for public safety with Class 3 garments requiring more background and retroreflective material. Public Safety vests and jackets are typically shorter length to enable quick and easy access to equipment carried on the waist (i.e., firearms for police officers).
Who Benefits: First responders/public safety figures such as police, fire and EMS.
In general, material specifications on hi-vis apparel dictated by Garment Types and Performance Classes are directly proportional to the speed of and proximity to traffic/moving vehicles and equipment around each type of worker. That's why road construction workers building or repairing highways should wear Type R Class 2 or Class 3 garments while indoor warehouse workers or attendants working parking lots where cars are neither driving fast nor nearby could choose to wear a Type Class 1 O option.
ANSI/ISEA 107-2020 Updates
The wheel doesn't need reinventing, but a little realignment here and there keeps 'er running smooth. Formerly ANSI/ISEA 107-2015, ISEA's High Visibility Products Group recently reviewed and updated the standard to ANSI/ISEA 107-2020. Notable changes include:
Criteria for hi-vis accessories has been removed: The standard no longer includes criteria for the optional accessory category. That said, workers are still strongly encouraged to wear high visibility accessories to enhance visibility through biomotion. (Not sure what biomotion is? Read "What is Biomotion and How Does it Relate to Hi-Vis Clothing?" for the 4-1-1.)

Additional criteria on 360-degree reflective visibility + revised definition of "torso area": Each Type and Performance Class now has further clarification on the width requirements for retroreflective and background material around the wearer's torso. Additionally, torso has been defined as "the trunk of the body extending from the underarm to hip area."

Maximum wash cycles no longer required on care label: The max number of wash cycles was previously based on the life of the reflective—not the entire garment. This was removed to avoid confusion about the depreciation of high visibility apparel in general.

Testing requirements for segmented or perforated tape: Given the increased popularity of segmented and perforated retroreflective, the standard now includes additional requirements for the retroreflectivity of background materials used when testing these segmented materials. This is intended to prevent manufacturers from overstating the brightness of the tape.
From Type O to Type P and every Class in between... Our ANSI 107-approved GloWear Hi-Vis Clothing has gear to keep you safe and seen on any worksite.