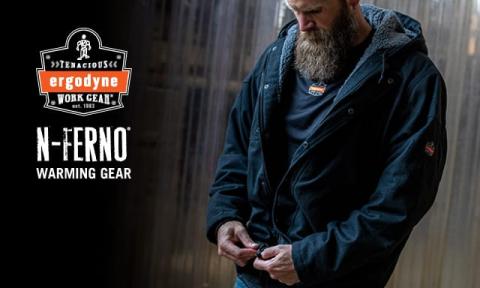 St. Paul, Minn. (August 12, 2021) – Ergodyne announced the addition of eight new performance-driven warming solutions designed to combat cold and common complaints with bulky winter workwear.
"Cold stress injuries are largely preventable with the right gear," said Alsie Nelson, Ergodyne Product Director. "The challenge is finding a way to deliver warmth while also prioritizing performance. When gear is too bulky, it slows workers down—making them choose between protection or productivity. These new solutions provide the best of both worlds."
The launch builds on Ergodyne's best selling line of warming solutions with a budget-friendly jacket and bibs, lightweight base layers, a duck canvas work jacket and adhesive body warmers. Also included is an innovative enhanced visibility jacket (black with black reflective), a 3-layer balaclava made with Polartec® Power Grid™ fleece and a hi-vis lime neck gaiter
"As weather patterns push to new extremes and Polar Vortexes unexpectedly pop up all over North America, it's critical crews are prepared with gear that allows work to continue safely and productively," said Tom Votel, Ergodyne President & CEO. "Our goal with this launch is to provide accessible solutions that workers actually want to wear."
To learn more, email support@ergodyne.com or call 800-225-8238 // (651) 642-9889.
About Ergodyne
Since 1983, Tenacious Holdings, Inc. (dba Ergodyne, a Klein Tools Company) has pioneered the development of products that Make The Workplace A Betterplace™. What started with just one product has grown into a line of top flight, battle-tested, Tenacious Work Gear®; all precision crafted to provide protection, promote prevention and manage the elements for workers on job sites the world over. The current lineup is extensive and constantly growing: ProFlex® Hand Protection, ProFlex® Knee Pads, ProFlex® Supports, Skullerz® Head & Face Protection, Skullerz® Eye Protection, Trex® Footwear Accessories, KREW'D® Skin Protection, Chill-Its® Cooling Products, N-Ferno® Warming Products, GloWear® Hi-Vis Apparel, Squids® Lanyards, Arsenal® Equipment Storage Systems, SHAX® Portable Work Shelters.