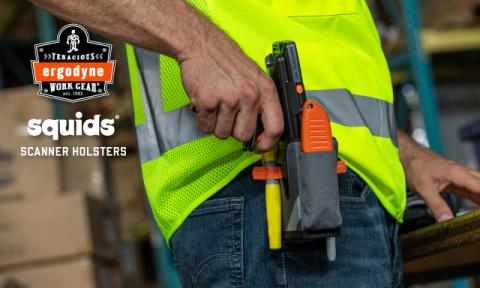 St. Paul, Minn. (September 15, 2021) – Ergodyne announced the addition of five new scanner holsters to the recently launched Squids® device management line.
With models to fit both standard barcode scanners and smaller mobile computers, the new holsters expand Ergodyne's growing collection of safety and productivity solutions for customers in warehousing, distribution, retail operations and more.
"It's pretty common to walk into a warehouse or other jobsite and see scanners and devices strewn about on packing stations, forklifts and restocking carts," said Nate Bohmbach, Ergodyne Product Director. "By adding scanner-specific holsters that mount to both belts and equipment, we can make sure workers are always ready for the task at hand."
The new product launch includes three holsters designed for handled/gun grip scanners, and two smaller holsters built specifically for smaller phone-size mobile computers. A variety of attachment styles (for mounting to the worker and/or equipment) accommodate varying worksite needs.
"Device management is a pretty major category right now. From the folks delivering packages to your door to those taking material inventory on construction sites, scanners are an integral piece of equipment across a variety of industries," said Tom Votel, Ergodyne President & CEO. "Expanding this line allows us to continue delivering convenient, protective and cost-saving solutions to a very common worksite problem."
The new Squids® products are available now on www.ergodyne.com.
To learn more, email support@ergodyne.com or call 800-225-8238 // (651) 642-9889.
ABOUT ERGODYNE
Since 1983, Tenacious Holdings, Inc. (dba Ergodyne, a Klein Tools Company) has pioneered the development of products that Make The Workplace A Betterplace™. What started with just one product has grown into a line of top flight, battle-tested, Tenacious Work Gear®; all precision crafted to provide protection, promote prevention and manage the elements for workers on job sites the world over. The current lineup is extensive and constantly growing: ProFlex® Hand Protection, ProFlex® Knee Pads, ProFlex® Supports, Skullerz® Head & Face Protection, Skullerz® Eye Protection, Trex® Footwear Accessories, KREW'D® Skin Protection, Chill-Its® Cooling Products, N-Ferno® Warming Products, GloWear® Hi-Vis Apparel, Squids® Lanyards, Arsenal® Equipment Storage Systems, SHAX® Portable Work Shelters.