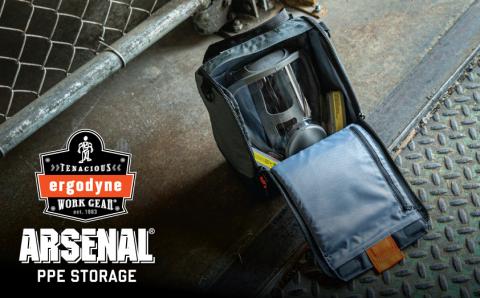 Ergodyne Adds 5 New Storage Bags for Protecting Critical & Expensive PPE
St. Paul, Minn. (December 2, 2021) – Ergodyne announced the addition of five new PPE storage solutions to the Arsenal® line.
The collection is all about protecting the gear that protects workers, with ruggedly constructed respirator and PPE bags designed to make sure expensive gear withstands the daily wear and tear of harsh worksites.
"For all the thoughtful engineering that goes into PPE, there hasn't been much attention paid to solutions for storing and protecting it," said Matt Hahn, Ergodyne Product Manager. "By focusing on the bags that get PPE to and from the worksite day in and day out, we can keep critical gear operating in tip-top shape for as long as possible."
In addition to protection, the bags are also built for worker convenience—with organizational features such as hard hat storage, multiple carrying options and designated pockets for respirator filters, eyewear and other accessories.
"I wish I was exaggerating when I say that we've seen workers lugging around PPE in garbage bags. Which is absolutely insane when you consider the literal life-saving importance—and expense—of this stuff" explained Tom Votel, Ergodyne President & CEO. "This launch delivers a much-needed upgrade for those looking for more insurance than they're getting with standard issue storage... or lack thereof entirely."
To learn more, email support@ergodyne.com or call 800-225-8238 // (651) 642-9889.
ABOUT ERGODYNE
Since 1983, Tenacious Holdings, Inc. (dba Ergodyne, a Klein Tools Company) has pioneered the development of products that Make The Workplace A Betterplace™. What started with just one product has grown into a line of top flight, battle-tested, Tenacious Work Gear®; all precision crafted to provide protection, promote prevention and manage the elements for workers on job sites the world over. The current lineup is extensive and constantly growing: ProFlex® Hand Protection, ProFlex® Knee Pads, ProFlex® Supports, Skullerz® Head & Face Protection, Skullerz® Eye Protection, Trex® Footwear Accessories, KREW'D® Skin Protection, Chill-Its® Cooling Products, N-Ferno® Warming Products, GloWear® Hi-Vis Apparel, Squids® Lanyards, Arsenal® Equipment Storage Systems, SHAX® Portable Work Shelters.