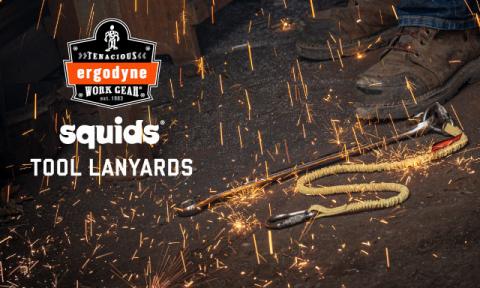 St. Paul, Minn. (May 20, 2021) – Ergodyne announced the addition of three new site-specific Squids tool lanyards.
With two new burn + cut-resistant aramid models and a bulk pack-ready low-profile carabiner model, this launch continues to build out the Squids line with even more ANSI 121-approved tethering solutions for preventing dangerous drops. The new products include:
"To move the needle in at-heights safety, we need to keep finding ways to get tool tethering solutions in the hands of as many workers as possible," said Nate Bombach, Ergodyne Product Director. "This launch solves for even more unique worksite needs, budgets and environments."
The burn + cut-resistant lanyards are ideal for situations where flames and sparks are a risk, including electrical, line work and welding. The low-profile model makes a great entry-level tethering solution for a variety of at-heights applications.
To learn more, email support@ergodyne.com or call 800-225-8238 // (651) 642-9889.
About Ergodyne
Since 1983, Tenacious Holdings, Inc. (dba Ergodyne, a Klein Tools Company) has pioneered the development of products that Make The Workplace A Betterplace™. What started with just one product has grown into a line of top flight, battle-tested, Tenacious Work Gear®; all precision crafted to provide protection, promote prevention and manage the elements for workers on job sites the world over. The current lineup is extensive and constantly growing: ProFlex® Hand Protection, ProFlex® Knee Pads, ProFlex® Supports, Skullerz® Head & Face Protection, Skullerz® Eye Protection, Trex® Footwear Accessories, KREW'D® Skin Protection, Chill-Its® Cooling Products, N-Ferno® Warming Products, GloWear® Hi-Vis Apparel, Squids® Lanyards, Arsenal® Equipment Storage Systems, SHAX® Portable Work Shelters.