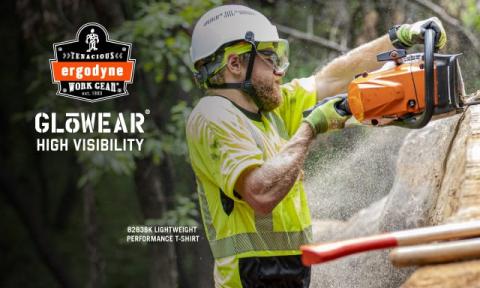 St. Paul, Minn. (June 24, 2021) – Ergodyne announced the addition of six new worker-driven GloWear hi-vis solutions, including single-size vest options for four existing best sellers.
A highlight of this launch is the GloWear 8283BK Lightweight Performance T-Shirt—Ergodyne's coolest and most breathable hi-vis shirt made with one of the lightest ANSI-approved fabrics on the market.
To provide workers the option to choose a more tailored fit compared to traditional dual-size vests, Ergodyne also added single-size versions of their top selling GloWear safety vests (8210HL-S Vest, 8215BA-S Breakaway Vest, 8246Z-S Two-Tone Vest and 8249Z-S Surveyors Vest).
Lastly, the launch includes the GloWear 8263FRHL FR Vest. Compliant to NFPA 70E for arc flash protection, this new vest makes FR compliance accessible for any worksite budget.
"Despite hi-vis being a requirement on many worksites, it's a category that hasn't seen much innovation when it comes to comfort and performance," said Stacy Huey, Ergodyne Product Manager. "With these latest GloWear products, we aimed to provide workers with solutions they'll want to wear day in and day out."
To learn more, email support@ergodyne.com or call 800-225-8238 // (651) 642-9889.
About Ergodyne
Since 1983, Tenacious Holdings, Inc. (dba Ergodyne, a Klein Tools Company) has pioneered the development of products that Make The Workplace A Betterplace™. What started with just one product has grown into a line of top flight, battle-tested, Tenacious Work Gear®; all precision crafted to provide protection, promote prevention and manage the elements for workers on job sites the world over. The current lineup is extensive and constantly growing: ProFlex® Hand Protection, ProFlex® Knee Pads, ProFlex® Supports, Skullerz® Head & Face Protection, Skullerz® Eye Protection, Trex® Footwear Accessories, KREW'D® Skin Protection, Chill-Its® Cooling Products, N-Ferno® Warming Products, GloWear® Hi-Vis Apparel, Squids® Lanyards, Arsenal® Equipment Storage Systems, SHAX® Portable Work Shelters.