ANSI 105 & EN 388: Cut-Resistant Glove Standards Explained
22 Nov 21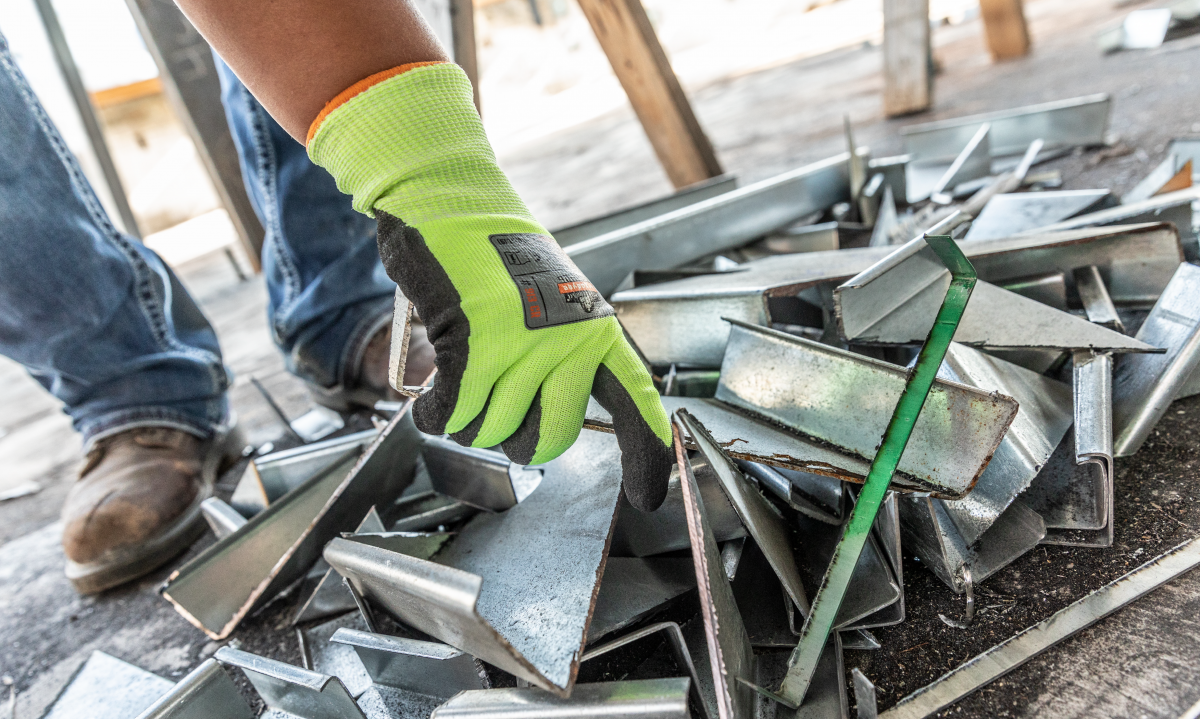 Level 5, cut C, A3... WTF?! If you're confused about cut standards, take a number, friendo—you're not the only one. Luckily, we have an all-access pass to some of the foremost safety nerds around, so how 'bout we dive into this dumbfounding domain of cut-resistance standards and decode it together, shall we?
WHAT ARE THE CUT-RESISTANT GLOVE STANDARDS?
There are two major global standards used to evaluate the protection levels of work gloves: ANSI/ISEA 105 (U.S. Standard) and EN 388 (EU Standard, though it is commonly cited in other parts of the world such as Canada, AUS/NZ and South America). In 2015-2016, significant changes were made to ensure consistency between both standards, reduce the gaps between protection levels and keep up with super-duper-space-age yarns and materials.
BOTH ANSI 105 & EN 388 TEST GLOVES FOR THE FOLLOWING RISKS:
= Abrasion Resistance

= Cut Resistance

= Puncture Resistance
While all of these are important, cut is, indeed, king. And both ANSI/ISEA 105 and EN 388 specify certain tests that measure the force it takes for a blade to cut through a material.
ANSI/ISEA 105 CUT TESTING
Test used: ASTM F2292-15

What test does: A machine known as a tomodynamometer, or TDM, pulls a blade in 20mm paths across a glove's surface under varied gram loads and measures the weight needed to cut through. The sample is cut five times with three different loads and an average is calculated, resulting in a cut score of A1-A9.
Here's an absolutely riveting clip of that machine in action. Get your popcorn. It's a thriller.
EN 388 CUT TESTING
Test used: Coupe; ISO 13997

What test does:

Coupe: Test material is placed beneath a rotating blade under a fixed weight, resulting in a cut score 1-5. The problem with the Coupe Test is that the blade will dull if it is on highly cut-resistant material, and a dull blade can cause inaccurate scores. This dilemma led to the introduction of the TDM-100 machine.

ISO 13997: Using the same TDM-100 machine from ANSI testing, ISO 13997 is used to give more accurate scores for higher cut-resistant materials. The Coupe Test is still used for lower cut-resistant materials, but if the Coupe Test results in a level 3-5, the ISO 13997 test is required. The ISO test will result in a score measured in newtons from A-F. The ISO test will result in a score measured in newtons from A-F (see the infographic below for more clarification.)
Here's what that Coupe Test looks like, btw:
PUNCTURE AND ABRASION TESTING
Both ANSI 105 and EN388 use the industrial puncture test to measure puncture resistance. This test involves holding the glove fabric firmly between two plates and penetrating the fabric with a pen-like probe. Results are reported within a range of 10-150 newtons of resistance, which is converted to a 1-5 scale for ANSI 105 and a 1-4 scale for EN388 (which explains why you might sometimes see differing puncture scores on the same glove).
The standards also use similar tests to measure abrasion resistance, scraping the fabric repeatedly using abrasive weighted wheels. The number of cycles (revolutions) needed to wear through the coating and liner determines the abrasion resistance score. The ANSI 105 scale ranges between 0-6, with 1 withstanding at least 100 cycles and 6 withstanding more than 20,000. The EN 308 scale only ranges between 1-4, with 1 being at least 100 and 4 being at least 8000.
INFOGRAPHIC: ANSI/ISEA 105 AND EN 388
SO IS ONE TEST BETTER THAN THE OTHER?
There was a time when the ANSI standard may have been preferred because of its more accurate and straightforward testing method. While ANSI/ISEA 105 may still be more straightforward, since the changes to the standards in 2016, both ASTM & ISO Cut Tests (which each use the TDM-100) allow for a more accurate comparison of a glove's level of cut resistance when tested to either global standard (however, that doesn't mean they're interchangeable).
SIDE BY SIDE: ANSI/ISEA 105 VS. EN 388
Click the image below to get a detailed look at the standards, compare testing methods and ratings and find out what cut level is right for your application.
GLOVE LABELING: WHAT DOES IT ALL MEAN?
Once testing is done, a score is given and the glove is made, how do you identify the right glove for the job? For both ANSI 105 and EN 388, the badge tells all. Often found on the cuff, this is where you can find the level at which the glove passes each risk.
Here's your quick guide to translating what the cuss all those symbols, letters and numbers actually mean.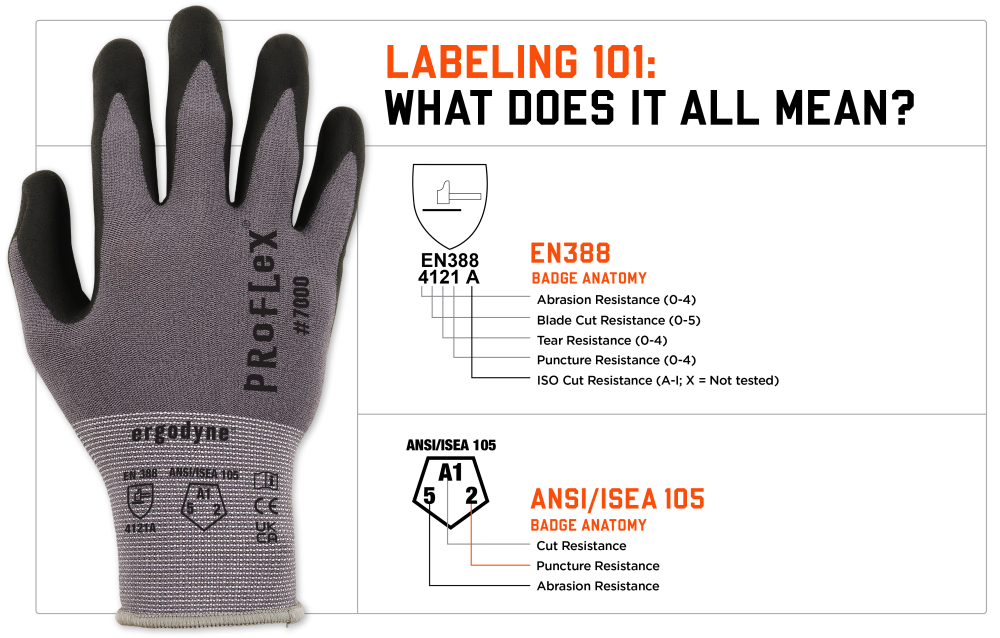 WHAT CUT-RESISTANT GLOVES DO I NEED? A QUICK GUIDE
With so many options, it can be hard to find the right glove for your particular job. And since so many hand injuries result from pairing the wrong glove to the application—or just simply not wearing them at all—it's important to make sense of your choices.
UNDERSTANDING GLOVE MATERIALS
What are your gloves made of? Materials truly make the difference in terms of comfort and protection. If the gloves you're wearing are itchy, hot, uncomfortable or don't breathe, you're not going to want to wear them for an entire shift—and then, what's the point?
There are a wide variety of cut-resistant materials on the marketplace today. Gloves can achieve cut-resistance through a wide range of options, such as high-performance polyethylene (HPPE) or PVA yarns, heat-resistant aramid fiber or ultra-strong tungsten. Other common cut-resistant knits include fiberglass or steel fiber-reinforced materials.
We recommend:
For knit gloves, TenaLux™ yarn is a newcomer to the marketplace. It's incredibly breathable and even feels cool to the touch when worn. This unique fiber delivers ANSI cut level 4 protection without the irritating fiberglass or steel fibers found in more traditional cut-protective gloves.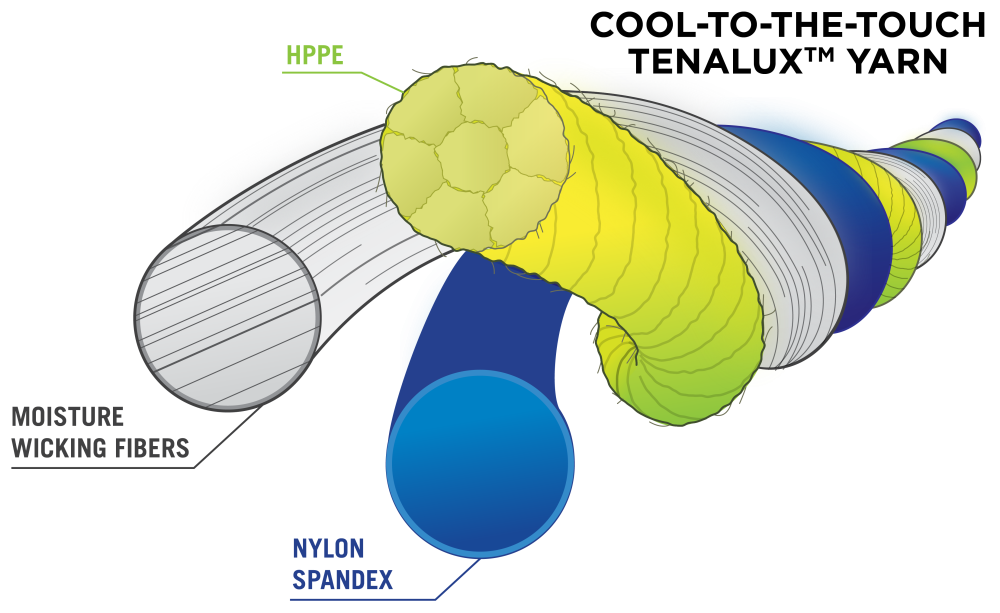 Another benefit of TenaLux is its lightweight feel. Many puncture-resistant gloves on the market today are protective but feel bulky, cumbersome and hot. Lighter weight TenaLux is tightly woven for enhanced flexibility, dexterity and breathable cool-to-the-touch comfort.
For cut-and-sew gloves, Armortex is another cut-resistant material option combining Kevlar and polyethylene (PE) fibers. A common complaint among cut-resistant cut-and-sew gloves is loss of dexterity. When Amortex is combined with ballistic nylon or leather, it makes for a durable, comfortable and super-protective glove that helps you maintain tactile control.
CHOOSING YOUR GRIP
If you're working in wet or oily applications, having a firm grip on the situation is important. Unfortunately, this is where many gloves fall short. Most gloves promising great grip fail when they get wet or come in contact with oil.
Look for knit dipped gloves with industry-leading ASX™ (All Surface Extreme) or wet-specific WSX™ (Wet Surface Extreme) dip technology. Both ASX and WSX are innovative multi-layer dips that absorb then disperse oil from the surface of the glove, while still allowing airflow and moisture escape to keep hands dry until it's time to punch out.
The difference between the two? ASX has a smooth outer layer that also provides phenomenal grip on dry materials (like, 20% better than sandy nitrile phenomenal).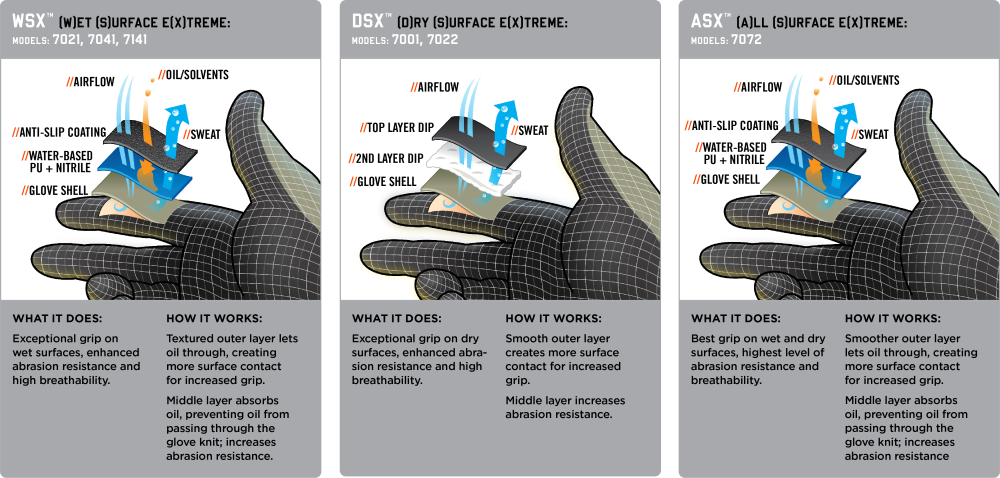 For a strong grip on dry materials, look again to ASX or to more dry-specific DSX™ (Dry Surface Extreme) technology. DSX™ features a highly abrasion resistant multi-layer dip that both enhances durability and allows airflow to keep hands from overheating.
If you prefer non-knit gloves, look for synthetic leather palms to provide strength and durability for handling highly abrasive or rough materials.
BEST GLOVES FOR MAXIMUM GRIP & CUT PROTECTION
Glove: ProFlex 7072 Nitrile-Coated Cut-Resistant Gloves
Cut Level: ANSI A7 // High cut hazards
Industries: Heavy construction, manufacturing, sheet metal handling, automotive, meat processing
The ProFlex 7072 Gloves pair industry-leading ASX coating with ultra-comfy 18g tungsten to deliver the best in feel, grip, dexterity AND cut protection. The ASX coated palms outperform every other coating on wet or oily surfaces and deliver 20% better grip than sandy nitrile. And with 18-gauge HPPE tungsten knit, you'll get the highest possible cut protection without sacrificing comfort.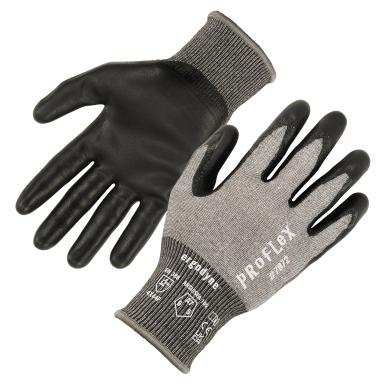 For max cut protection with contact heat resistance, try: ProFlex 7070 Nitrile-Coated Cut-Resistant Gloves [ANSI Cut Level A7, High Cut Hazards]
BEST GLOVES FOR ALL-PURPOSE WORK
Glove: ProFlex 7031 Nitrile-Coated Cut-Resistant Gloves
Cut Level: ANSI A3 // Low to Moderate Cut Hazards
Industries: Construction, manufacturing, fabrication, service tech, material handling
The ProFlex 7031s are an extremely tough glove designed for long-lasting durability and firm grip in all conditions. The 13-gauge A3 knit is cut, puncture and level 4 abrasion-resistant, with reinforced dipped thumbs for bolstered protection in high-wear areas. That combined with strong but flexible sandy nitrile palms deliver for handling on rough surfaces and materials, these gloves make a great all-around choice for a variety of applications.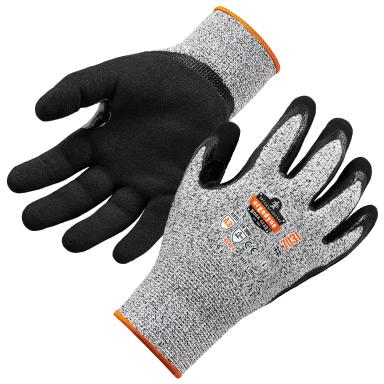 BEST GLOVES FOR HEAVY DUTY WORK
Glove: ProFlex 7141 Hi-Vis Nitrile-Coated Cut-Resistant Gloves
Cut Level: ANSI A4 // Moderate Cut Hazards
Industries: Heavy construction, oil & gas, mining, demolition, extraction & refining, ironwork, cargo handling
Molded TPR panels across the back of hand and fingers of the ProFlex 7141 gloves are ANSI 138-approved for added protection on knuckle-busting jobs. These heavy-duty work gloves also happen to be made with cool-to-the-touch TenaLux yarn for breathable and flexible A4 cut protection, and WSX palms for optimal grip on wet or oily surfaces (they hold their own on dry, too).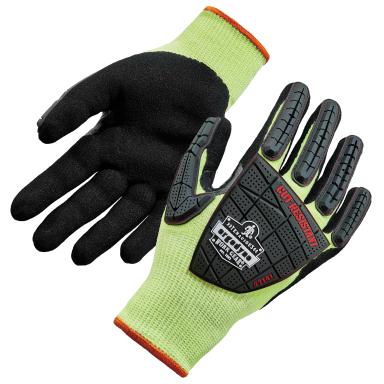 BEST GLOVES FOR ALL-PURPOSE GRIP
Glove: ProFlex 7022 Nitrile-Coated Cut-Resistant Gloves
Cut Level: ANSI A2 // Low cut hazards
Industries: Construction, assembly, plumbing and automotive
These gloves are incredibly versatile for dexterity and grip for a variety of applications. The DSX dip technology offers the best grip for dry applications (and more than holds its own on wet/oily surfaces) and its multi-layered design allows air to flow through for breathability. The 18-gauge knit construction is supremely flexible - gauge refers to the number of stitches per inch with the higher the gauge the less bulk and greater dexterity. These gloves are breathable and comfortable with an abrasion-resistant coating to stand up to rough materials and environments.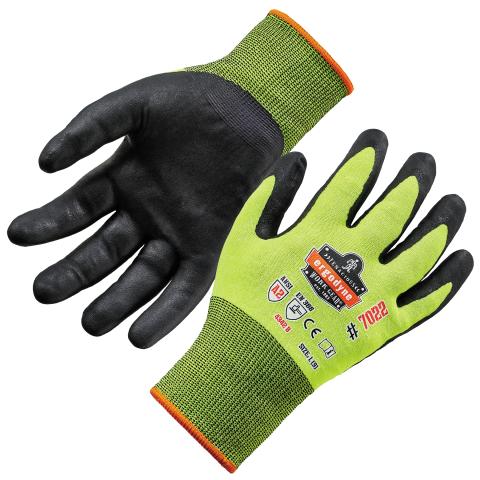 BEST GLOVES FOR WET/OILY CONDITIONS
Glove: ProFlex 7041 Nitrile-Coated Cut-Resistant Gloves
Cut Level: ANSI A4 // Moderate Cut Hazards
Industries: Construction, manufacturing, automotive
The ProFlex 7041 Gloves feature a durable WSX coating that absorbs and disperses liquid for firm no-slip grip on wet or oily materials. In combination with breathable and non-irritating (no fiberglass or steel) TenaLux yarn, these gloves deliver maximum comfort without compromising protection.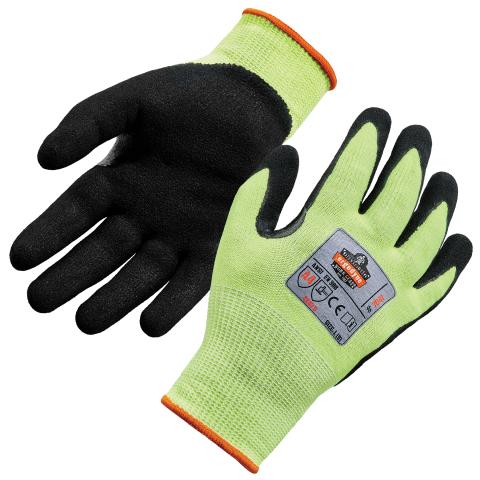 For lighter duty cut protection, try: ProFlex 7021 Nitrile-Coated Cut-Resistant Gloves [ANSI Cut Level A2, Low Cut Hazards]
BEST GLOVES FOR COLD CONDITIONS
Glove: ProFlex 7551 Coated Cut-Resistant Winter Work Gloves
Cut Level: ANSI A5 // Moderate to High Cut Hazards
Industries: Construction, manufacturing, sheet metal, oil & gas, electrical, service tech
For the trifecta of dry warmth, no-slip grip and all-over A5 cut protection, look to the ProFlex 7551s. These innovative thermal coated gloves feature a fully waterproof latex dip with a second layer of sandy nitrile for abrasion-resistance and enhanced grip. Plus, they're lined with 10g brushed fleece to keep hands toasty and comfortable without adding bulk.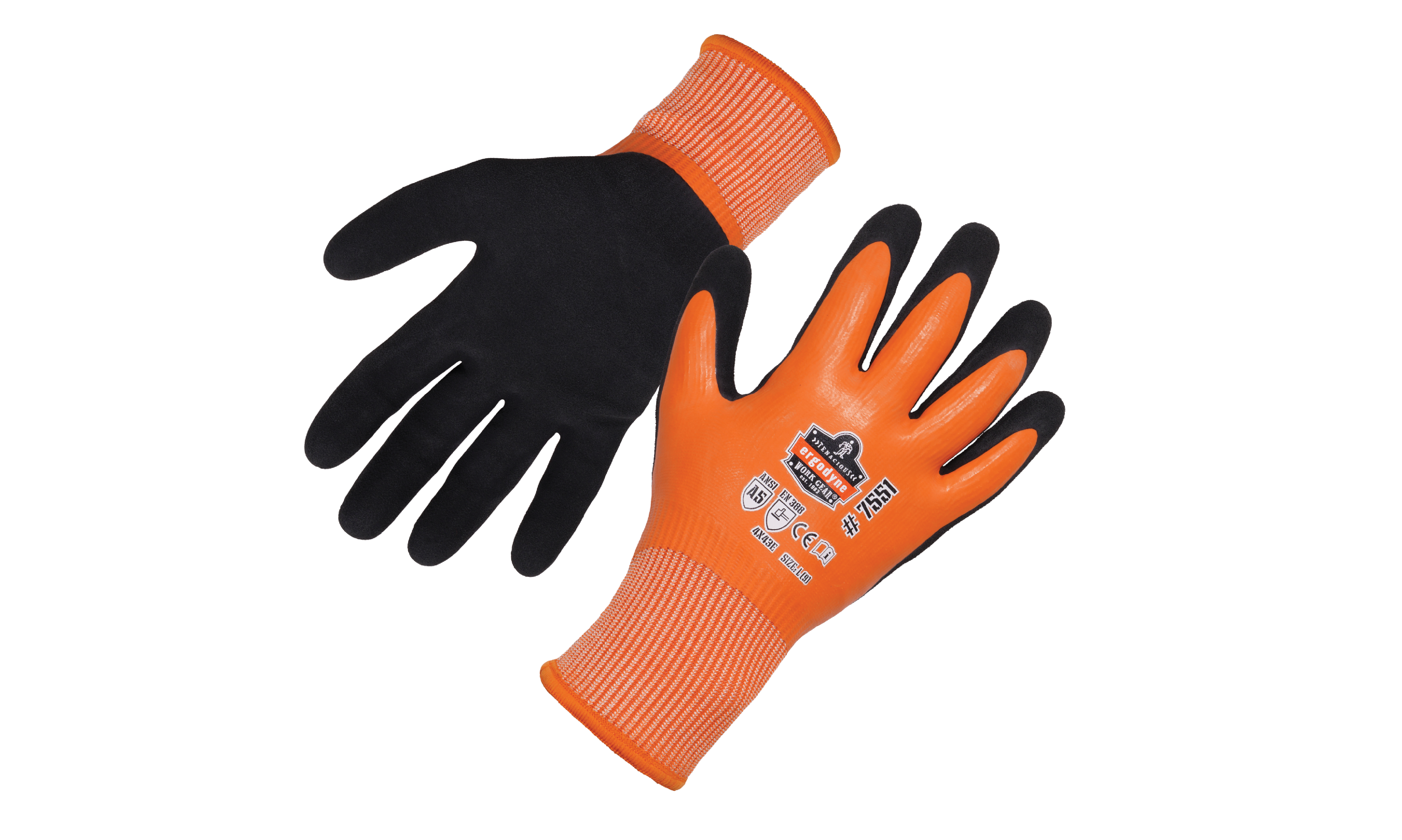 For heavy-duty thermal protection in a cut & sew style, try: ProFlex 814CR6 Thermal Utility + Cut Resistance Gloves [ANSI Cut Level A6, Moderate to High Hazards]
PICK YOUR PAIR
Browse our full line of cut-resistant gloves, all designed to defend your digits against cuts, slashes, and punctures without reducing dexterity. Don't just trust your mitts to any old glove, find the perfect match to give your hard-working hands the very best in protection and comfort.