ProFlex 7041 Hi-Vis Nitrile-Coated Cut-Resistant Gloves - ANSI A4, EN388: 4X42D, WSX Wet Grip
ProFlex 7041 Hi-Vis Nitrile-Coated Cut-Resistant Gloves - ANSI A4, EN388: 4X42D, WSX Wet Grip
CUT RESISTANT – ANSI A4 cut protection and level 4 abrasion resistance for protection when working with sharp materials
COOL, BREATHABLE COMFORT – Form-fitting TenaLux yarn, made without irritating glass or steel, provides 360-degree breathability with a cool-to-the-touch feel
STRONG NO-SLIP GRIP – WSX nitrile coated palm for optimal grip with wet/oily surfaces and materials
DUAL-LAYER COATING – PU layer + anti-slip sandy nitrile layer for ultimate water wicking grip performance, comfort and durability
NO SWEAT PALMS – PU coating wicks sweat and allows airflow to pass through nitrile surface coating
LONG SEAMLESS KNIT CUFFS – Fit snug to wrists to extend protection while keeping dirt and debris out
HI-VIS COLOR – For enhanced safety and visibility
MACHINE WASHABLE
TESTED & APPROVED – ANSI level 4 cut resistant, EN388: 4X42D, ANSI level 4 abrasion resistant, ANSI level 3 puncture resistant
California Residents: read Proposition 65 .
Product Description
The ProFlex 7041 Nitrile Coated Gloves feature a durable WSX coating for optimal grip in wet/oily conditions, plus breathable and non-irritating TenaLux yarn for maximum comfort that does not compromise protection. Tested to ANSI A4 cut protection to resist cuts, punctures and abrasions around sharp materials. The snug knit cuffs are longer than most on the market, a feature that enhances fit and extends protection while keeping dirt and debris out.  
WSX COATED PALMS FOR GRIP & BREATHABILITY IN WET/OILY CONDITIONS 
Coated in WSX nitrile, a.k.a. (W)et (S)urface E(X)treme, these utility work gloves are designed for optimal performance when handling wet or oily materials and surfaces. To prevent hands from overheating, they are first dipped in a water-based PU coating that wicks sweat and allows airflow to pass through. Then, they are dipped in an innovative anti-slip sandy nitrile designed to absorb and disperse liquids from the surface. The multi-layer WSX coating boosts glove durability while remaining comfortably flexible for enhanced dexterity with minimal hand fatigue. 
ANSI A4 CUT RESISTANCE & LEVEL 4 ABRASION RESISTANCE // 13-GAUGE TENALUX YARN 
The innovative 13-gauge TenaLux yarn is tested to ANSI A4 cut protection and level 4 abrasion resistance for safety around sharp or rough materials. Classified by the weight needed to cut through, ANSI A4 is considered a relatively high cut rating with a measure of 1,500-2,199 grams. For more on cut-resistance levels, check out our ANSI 105 Guide. 
Unlike other anti-cut technologies, TenaLux yarn is constructed of high-performance polyethylene (HPPE) fibers to achieve a high level of cut resistance without glass or steel. It is lightweight with 360-degree breathability and a cool-to-the-touch feel to prevent sweaty hands and overheating. Gauge indicates the number of stitching rows per inch—a higher gauge will have more flexibility and less bulk. When selecting safety work gloves, workers should look for the best possible balance of dexterity and protection for their job. 
TOUCHSCREEN CAPABLE 
Touchscreen-capable fingertips make it easy for workers to swipe, tap and type on smartphones and tablets without having to remove their work gloves.  
These nitrile coated utility gloves are ideal for anyone regularly handling sheet metal or other sharp materials in wet conditions, including construction, assembly, manufacturing, automotive and more. 
LOOKING FOR EXTRA BACK-OF-HAND PROTECTION? 
For workers in need of safety gloves with more dorsal impact protection, the ProFlex 7141 Nitrile Coated Gloves feature the same TenaLux and WSX technologies but with molded TPR armor on the knuckles and fingers.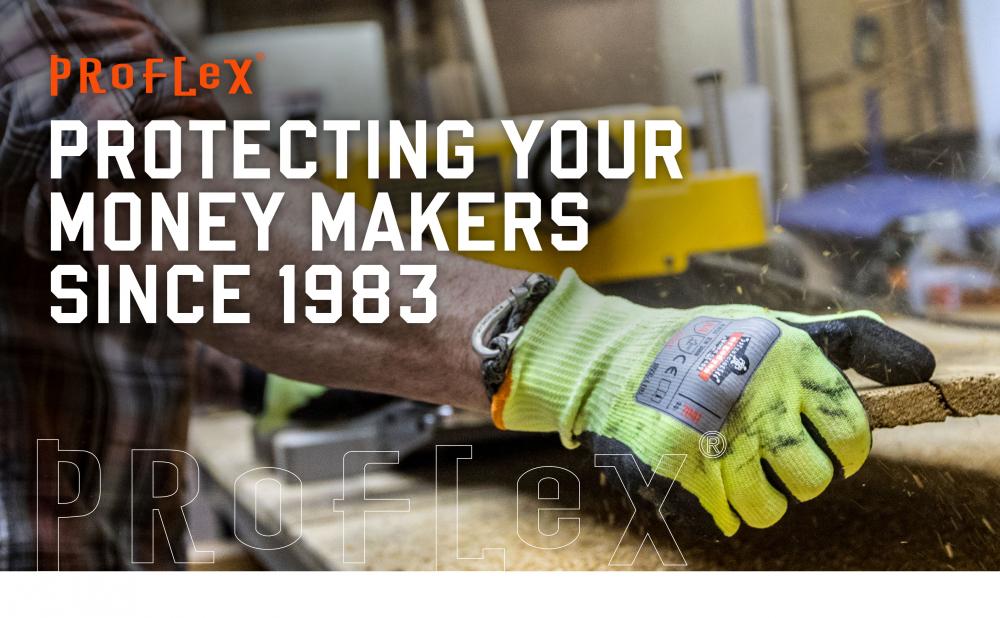 PROFLEX GLOVES: NO EXCUSES.
Too hot. Too bulky. No grip. Hey, we get it. But before you go bare knuckle, consider 70% of hand injuries occur because gloves aren't worn. The other 30%? Wearing the wrong gloves for the job.
ProFlex Gloves have one crazy goal in mind: To get worn. Period. You might even find they help you do the job better.
(We can dare to dream, can't we?)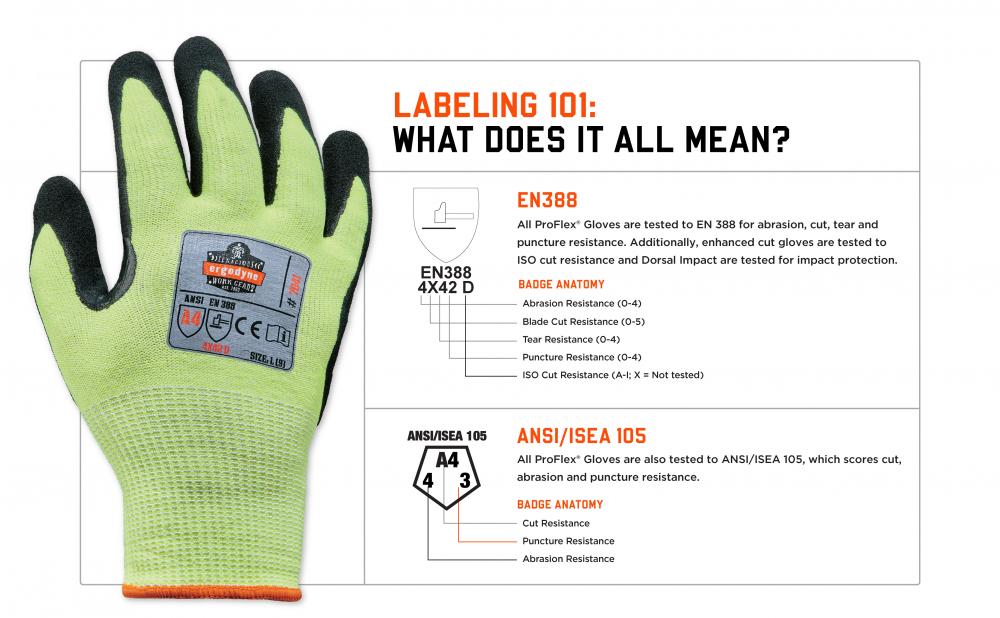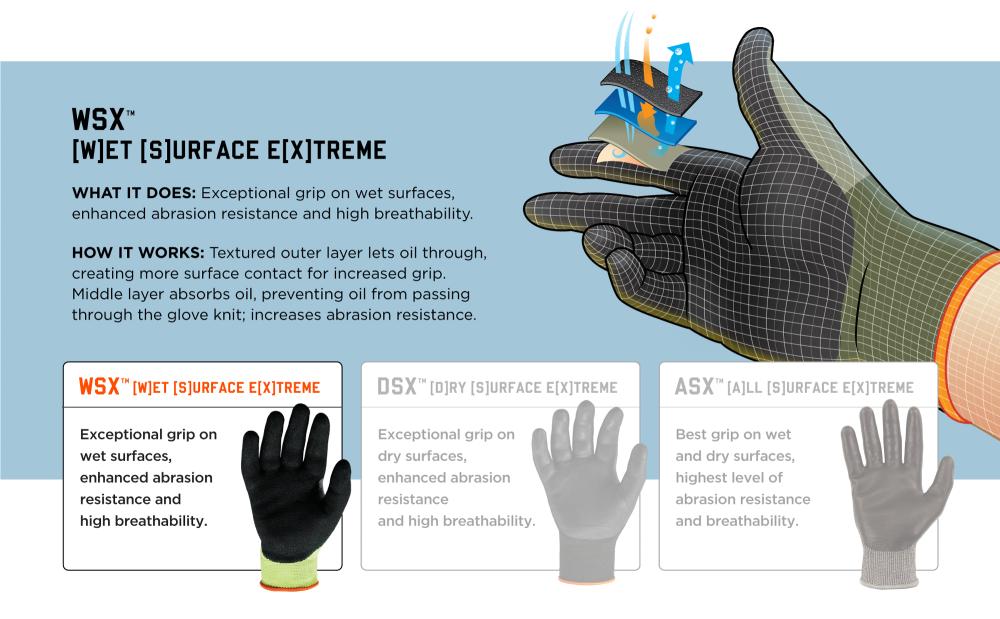 Videos
Most Comfortable Level 4 Cut-Resistant Gloves on the Market