ProFlex 7551 Coated Cut-Resistant Winter Work Gloves - ANSI A5, EN 388: 4X43E, Waterproof
ProFlex 7551 Coated Cut-Resistant Winter Work Gloves - ANSI A5, EN 388: 4X43E, Waterproof
THERMAL PROTECTION - 13g HPPE with a soft 10g brushed acrylic fleece liner for comfort and warmth
CUT RESISTANT - ANSI A5 cut protection
WATERPROOF - Fully coated latex protects hands from water and cold air
SUPERIOR GRIP - Sandy, nitrile-dipped palm for secure gripping
DEXTERITY - Dual layer of latex and nitrile remains flexible in cold weather for easy handling of equipment and materials
TESTED & APPROVED - Meets EN 388: 4X43E
MACHINE WASHABLE
California Residents: read Proposition 65 .
Product Description
The ProFlex 7551 Coated Winter Work Gloves are dual layer for warm, waterproof, cut-resistant protection in cold temperatures. The 13-gauge A5 cut protection liner is cut, puncture and abrasion resistant for harsh winter environments. Fully coated in latex to keep hands dry with a second, sandy nitrile palm dip for superior grip.
Wet hands are cold hands. These coated gloves feature a full waterproof latex dip that protects you from the elements by keeping water and cold air out, with a second layer of sandy nitrile on the palms for abrasion-resistance and enhanced grip without compromised dexterity.
A double-lined, cut-resistant interior keeps hands toasty and comfortable without bulk. The 13g high performance polyethylene (HPPE) provides ANSI level 5 cut and slash protection, while the 10g brushed acrylic fleece adds soft warmth.
These coated winter work gloves meet the EN 388: 4X43E standard for cut resistance. They are ideal for work in cold wet environments where cuts and lacerations are an issue, including material handling and general construction.
PROFLEX GLOVES: NO EXCUSES.
Too hot. Too bulky. No grip. Hey, we get it. But before you go bare knuckle, consider 70% of hand injuries occur because gloves aren't worn. The other 30%? Wearing the wrong gloves for the job.
ProFlex Gloves have one crazy goal in mind: To get worn. Period. You might even find they help you do the job better.
(We can dare to dream, can't we?)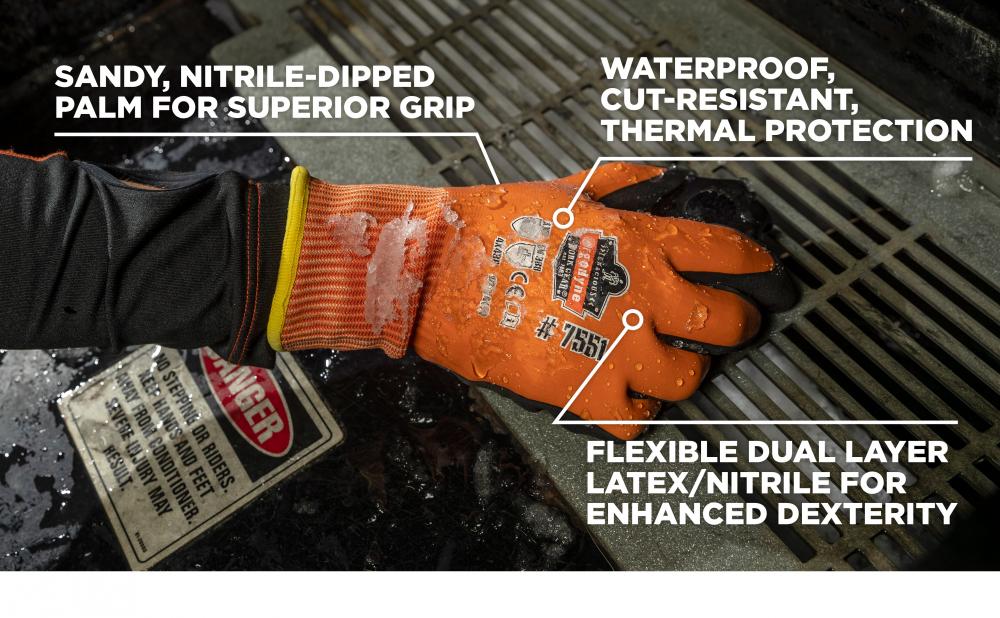 Videos
ProFlex 7551 Coated Winter Work Gloves Deliver Waterproof, Cut-Resistant Warmth On Cold Weather Jobs