N-Ferno 6962 FR Neck Gaiter - Dual Compliant, NFPA 70E/NFPA 2112
N-Ferno 6962 FR Neck Gaiter - Dual Compliant, NFPA 70E/NFPA 2112
FIRE-RESISTANT – Designed to be worn where arc flash & flash fire situations can occur
DUAL COMPLIANT – Meets requirements of both NFPA 70E and NFPA 2112 (UL certified)
ARC RATED – Cat 2; 20 cal/cm2 ATPV
VERSATILE – Wear around neck or pulled over mouth, nose and ears
BREATHABLE WARMTH – Polartec fleece fabric enhances thermal capabilities while remaining lightweight and breathable
MOISTURE-WICKING – Keeps wearers dry and comfortable
COMFORTABLE – Smooth exterior, soft brushed interior
LONG LENGTH – Easily tucks into jackets to trap heat
MULTIPLE COLORS – Available in black or navy
MACHINE WASHABLE
California Residents: read Proposition 65 .
Product Description
The N-Ferno 6962 FR Neck Gaiter is dual compliant to two flame-resistant standards, NFPA 70E and NFPA 2112, for protection against both arc flash and flash fire. This versatile, no-bulk winter gaiter blocks out all the elements to keep you safe and warm in the most demanding conditions.
This FR neck gaiter is constructed of Polartec FR Power Grid fleece, a grid-construction knit that minimizes fabric mass and maximizes fabric performance for increased warmth and lighter weight. A hydrophilic interior absorbs sweat and transfers it outside, while the exterior disperses moisture for more efficient evaporation. The grid design also creates open air channels for improved breathability. This versatile fleece gaiter can be worn around the neck or pulled over the mouth, nose and ears. It is long enough to tuck into a jacket for secure protection that won't ride up.
The double-standard fabric is tested and certified to meet both NFPA 70E and NFPA 2112 standards for flame-resistant clothing, and also has an ARC rating of CAT 2; 20 cal/cm2 ATPV.
Ideal for those working in winter conditions where FR clothing is required, such as electrical, oil and gas, linework, refinery, paper/pulp industry, food processing and more.
The CDC's recommendation on cloth face masks has shot the demand for our face coverings to record levels. It is important to note that while our face coverings are in line with CDC recommendations for cloth face covers (such as: snug fit around face, unrestricted breathing, multiple layers of fabric, machine washable), they are not a replacement for surgical masks or N95 respirators.
Please refer to our COVID-19 page to get the latest info and updates.
Guides and Documents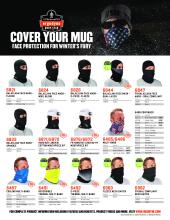 Sep. 11, 2020
Cover Your Mug - Winter Face Protection Flyer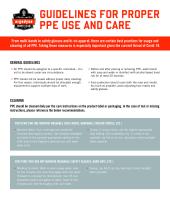 Jul. 9, 2020
CDC Cleaning Requirements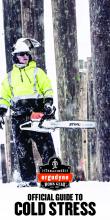 Oct. 12, 2021
Ergodyne Cold Stress Guide
Videos
N-Ferno 6962 FR Neck Gaiter Provides Breathable Warmth & Dual-Compliant FR Protection