N-Ferno 6804 Skull Cap Winter Hat with LED Lights
N-Ferno 6804 Skull Cap Winter Hat with LED Lights
SOFT FIT – Compression fleece for softness and warmth
NO-BULK – Form-fitting shape for wearing under hard hats or other headgear
DUAL-ACTION LED LIGHTS – Ultra-bright, dual-action LED lights provide up-close task and distance lighting
48-LUMEN OUTPUT – 4 LEDs provide a light output of 48 lumens
DISTANCE VISIBILITY – Visibility of up to 72ft (22m)
LONG-LASTING BATTERIES – Up to 68-hours runtime; powered by 4 CR2032 batteries (included and replaceable)
WASHABLE – Hand wash warm with batteries removed
ONE SIZE FITS MOST
California Residents: read Proposition 65 .
Product Description
The N-Ferno 6804 Skull Cap Winter Hat with LED Lights is a premium compression knit beanie hat with four built-in dual-action LED lights, making it an ideal hands-free lighting solution for any cold weather situation.
Simply click the button on the front of the skull cap hat to switch between two light settings—angled lights for close-up tasks and out lights for distance viewing up to 72 feet. With a 48-lumen output, this LED beanie is powerful yet low-profile enough for everyday wear. With up to 68-hours of runtime for each battery change, you'll always have visibility when you need it most.
This knit winter hat is a great choice for winter weather. Soft compression fleece offers a snug fit, with heat-trapping warmth. Ideal for those who work outside, in low-light conditions, garages, warehouses and for those doing detailed work where extra light is needed.
One size fits most.
Compare With Similar Products
| | | | | | |
| --- | --- | --- | --- | --- | --- |
| | | | | | |
| Product Title | N-Ferno 6804 Skull Cap Winter Hat with LED Lights | N-Ferno 6806 Cuffed Rib Knit Winter Hat | N-Ferno 6813 Winter Skull Cap Helmet Liner | N-Ferno 6807 Winter Baseball Cap with Ear Flaps | N-Ferno 6803 Reflective Rib Knit Winter Hat |
| Product Series | Thermal Hats, Headbands & Gaiters | Thermal Hats, Headbands & Gaiters | Thermal Hats, Headbands & Gaiters | Thermal Hats, Headbands & Gaiters | Thermal Hats, Headbands & Gaiters |
| Price | $32.35 | $13.55 | $10.55 | $24.95 | $21.15 |
| SKUs | 16803, 16802, 16804 | 16808, 16806, 16807 | 16908 | 16965 | 16864, 16865 |
| Available colors | | | | | |
| Product Type | Hat | Hat | Hat | Hat | Hat |
| Construction | Integrated LED Lights | Reflective Accents | | Adjustable, Reflective Accents | Reflective Accents |
| Materials | Fleece | Acrylic | Spandex, Polyester | Fleece | Acrylic |
| Product Features | Form Fitting, Hard Hat Compatible, Lightweight | Form Fitting, Hard Hat Compatible, Lightweight, Machine Washable | Form Fitting, Hard Hat Compatible, Lightweight, Breathable, Machine Washable | Breathable, Form Fitting, Lightweight, Machine Washable | Form Fitting, Hard Hat Compatible, Lightweight |
| Protection | Cold Temperature Protection, Enhanced Visibility | Cold Temperature Protection, Enhanced Visibility | Cold Temperature Protection | Cold Temperature Protection, Enhanced Visibility | Cold Temperature Protection, Enhanced Visibility |
| Risk/Injury | Cold Stress, Low Visibility | Cold Stress, Low Visibility | Cold Stress | Cold Stress, Low Visibility | Cold Stress, Low Visibility |
| Style | Beanie, Cuffed | Beanie, Cuffed | Beanie, Cuffless | Baseball Cap | Beanie |
Guides and Documents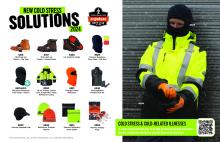 Jul. 28, 2022
Cold Stress Solutions Card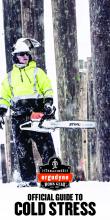 Oct. 12, 2021
Ergodyne Cold Stress Guide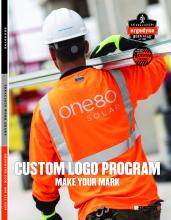 Mar. 1, 2022
Custom Logo Program
Videos
N-Ferno 6804 Compression-Fit Beanie Hat with LED Lights for Comfort, Warmth and Hands-Free Lighting