Chill-Its 6630 High-Performance Skull Cap - Terry Cloth Sweatband
Chill-Its 6630 High-Performance Skull Cap - Terry Cloth Sweatband
MOISTURE-ABSORBENT – Wide, sweat absorbing terry cloth band lines the interior
PERFORMANCE KNIT FABRIC – Hi Cool moisture management fabric
ONE SIZE FITS MOST – Elastic band fits snug and comfortable to head
MULTIPLE COLOR OPTIONS – Stars & Stripes, Camo, Red Western, Navy Western, Solid Blue, HI-Vis Lime, Flames, Skulls & Black
LOW-PROFILE DESIGN – Fits comfortably under any hard hat or helmet
Machine washable
California Residents: read Proposition 65 .
Product Description
The Chill-Its 6630 Skull Cap is a low-profile cap featuring a wide, absorbent terry cloth sweatband to manage perspiration away from your eyes, face and glasses. The Hi-Cool moisture management performance fabric is stretchy to fit most heads and can be worn under a hard hat or on its own to provide sun-blocking protection.
This cap is available in multiple colors, including hi-vis lime for increased visibility in low-light environments.
The low-profile design fits comfortably under a hard hat or helmet and is great for construction workers, landscaping, roofing, or anybody working in the heat. Can also be used to reduce the risk of heat stress while mountain biking, motorcycling, gardening, hiking, playing sports and more.
Compare With Similar Products
| | | | | | |
| --- | --- | --- | --- | --- | --- |
| | | | | | |
| Product Title | Chill-Its 6630 High-Performance Skull Cap - Terry Cloth Sweatband | Chill-Its 6650 High-Performance Cooling Hat and Neck Shade | Chill-Its 6710 Evaporative Cooling Bandana Triangle Hat - Polymers, Tie Closure | Chill-Its 6632 Cooling Skull Cap - Performance Knit | Chill-Its 8939 Cooling Bucket Hat |
| Product Series | Hats, Headbands & Gaiters | Hats, Headbands & Gaiters | Hats, Headbands & Gaiters | Hats, Headbands & Gaiters | Hats, Headbands & Gaiters |
| Price | $8.55 | $20.15 | $3.37 - $6.35 | $12.45 | $26.95 |
| SKUs | 12510, 12516, 12505, 12509, 12507, 12514, 12508, 12529, 12506 | 12520, 12521 | 12327, 12335, 12331, 12326, 12324, 12328, 12325, 12359, 12323 | 12689, 12686, 12687, 12688, 12708 | 12664, 12665, 12666 |
| Available colors | | | | | |
| Product Type | Hat | Hat, Neck Shade | Hat | Hat | Hat |
| Closure | Slide On | Cinch, Slide On | Tie | Slide On | Cinch, Slide On |
| Construction | | Reflective Accents, Adjustable | Adjustable | Reflective Accents | Adjustable |
| Cooling Hours | | | Up to 4 Hours | Up to 2 Hours | Up to 2 Hours |
| Cooling Type | Absorptive | Absorptive, Shade | Wet evaporative cooling | Wet evaporative cooling | Absorptive, Wet evaporative cooling, Shade |
| Materials | Polyester | Polyester | Cotton | Microfiber, Polyester, Spandex | |
| Product Features | Absorbent, Hard Hat Compatible, Machine Washable, Moisture Wicking | Absorbent, Breathable, Lightweight, Moisture Wicking | Absorbent, Hard Hat Compatible, Lightweight | Anti-Odor, Hard Hat Compatible, Lightweight, Machine Washable, Moisture Wicking | Absorbent, Anti-Odor, Breathable, Lightweight, Moisture Wicking |
| Protection | Warm Temperature Protection | UV/Sun Protection, Warm Temperature Protection | Warm Temperature Protection | Reflective, UV/Sun Protection, Warm Temperature Protection | Warm Temperature Protection, UV/Sun Protection |
| Risk/Injury | Heat Stress | Heat Stress, Low Visibility, Sunburn | Heat Stress | Heat Stress, Sunburn | Sunburn, Heat Stress |
| Style | Skull Cap | | Triangle Hat | Skull Cap | Ranger |
| Technology | Hi-Cool® | Hi-Cool® | Acrylic Polymers | | |
Guides and Documents
Jan. 3, 2023
2023 Heat Stress Solutions Card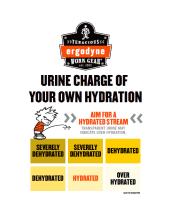 Jun. 6, 2019
Hydration Education: Urine Charge Sticker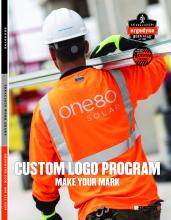 Mar. 1, 2022
Custom Logo Program