Chill-Its 6609 Hard Hat Sweatband Liner - Terry Cloth
Chill-Its 6609 Hard Hat Sweatband Liner - Terry Cloth
ABSORBENT TERRY CLOTH – Prevents sweat from dripping into eyes
FITS MOST HARD HATS & SAFETY HELMETS – 4 snap button closures securely attach to forehead of suspension
LOW-PROFILE – For no-bulk wear with hard hats
SOFT COMFORT – 100% cotton terry cloth
MACHINE WASHABLE
California Residents: read Proposition 65 .
Product Description
The Chill-Its 6609 Hard Hat Sweatband Liner is made with absorbent terry cloth to prevent sweat from dripping into eyes when working in hot environments. Soft and low-profile, it fits comfortably under hard hats without adding bulk. This hard hat sweatband fits most hard hats and safety helmets, easily and securely attaching to the forehead of the suspension with four snap button closures.
Ideal for construction, telecommunications or anyone wearing head protection while working in the heat.
Guides and Documents
Feb. 23, 2022
2022 Heat Stress Solutions Card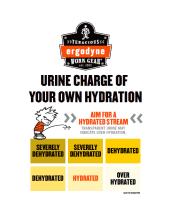 Jun. 6, 2019
Hydration Education: Urine Charge Sticker