Skullerz 8971 Premium Full Brim Hard Hat - Class E
Skullerz 8971 Premium Full Brim Hard Hat - Class E
ALL DAY COMFORT– Includes and top pad made of breathable, sweat-wicking and odor resistant, machine washable materials
BREATHABLE – Flexible open frame and 4-point suspension improves air circulation
EASY SIZE ADJUSTMENT – Easy, one-handed adjustment knob pivots to clear bandana or ponytail knots and improve fit
IMPROVED SAFETY AND VISIBILITY AT NIGHT – Integrated patent-pending headlamp slots on front and rear for use with the Skullerz Hard Hat LED Light (available as an accessory or with the 8970LED)
360-DEGREE PROTECTION – Full brim hard hat provides protection from the elements, and keeps both sun and rain off your shoulders, neck and eyes
HARD HAT ACCESSORIES – Slotted and mounting locations for common hard hat accessories like ear protection and face shields. Chin strap accessory mounts to dedicated mounting points on the suspension. Hard hat stickers sold separately.
SIZING – Fits most heads (hat sizes 6.5 – 8 / 21in – 25in / 53cm – 63.5cm)
TESTED & APPROVED – ANSI Z89.1-2014, CSA Z94.1-15, TYPE 1, Class E
California Residents: read Proposition 65 .
Product Description
The Skullerz 8971 Class E Full Brim Hard Hat with 4-Point Suspension is heavy-duty yet lightweight and comfortable head protection built to protect the top of the head from falling objects or bumping into stationary objects. A padded, moisture-wicking and odor-resistant sweatband and top pad lines the sides, forehead and top interior and is removable for easy replacement. This full brim hard hat provides 360 degrees of protection from sun and rain.
CUSTOMIZED FIT
This safety helmet fits hat sizes 6.5 - 8 (21in – 25 in / 53cm – 63.5cm). Customize the size with the easy-to-adjust 4-point premium ratcheting suspension. Simply turn the one-handed adjustment knob to tighten or loosen the fit without having to take the hard hat off. Built with weight distribution in mind, this hard hat's snug fit balances perfectly on the head and doesn't slip off.
ACCESSORIZE IT
One of the biggest challenges for workers is how to attach lights to a hard hat in a way that eliminates the need to adjust and fuss with accessories. This hard hat includes front and rear slots for secure attachment of Skullerz Hard Hat Headlamps (available as an accessory or with the 8971LED). This hard hat also includes side accessory slots for other common accessories like ear protection or hard hat face shields. The suspension also has dedicated attachment locations for the Skullerz Hard Hat Chin Strap accessory (available as an accessory). For added personalization, stamp your lid with our tenacious hard hat stickers.
This Class E hard hat is certified and meets requirements of the ANSI Z89.1-2014, CSA Z94.1-15, Type 1, Class E standard. Ideal for construction & utility job sites, oil & gas, road work, forestry, mining, general site work and projects at altitude.
Guides and Documents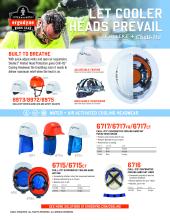 Jul. 6, 2021
Skullerz Hard Hats + Chill-Its Cooling PPE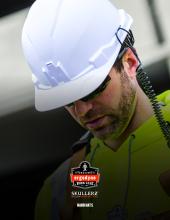 Jun. 18, 2019
Skullerz Hard Hats Brochure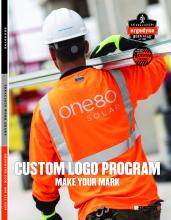 Mar. 1, 2022
Custom Logo Program
Videos
Skullerz Hard Hats Deliver All-Day Comfort And Unbeatable Head Protection