Chill-Its 5155 Low-Profile Hydration Pack - 2 Liter Bladder
Chill-Its 5155 Low-Profile Hydration Pack - 2 Liter Bladder
ON-THE-GO HYDRATION – 2.0L hydration bladder provides instant access to water in any environment
DURABLE – Rugged 600D water-resistant ripstop polyester pack for protection from the elements
HIGH-QUALITY THERMOPLASTIC BLADDER – Durable to withstand wear and tear, no plastic taste or smell
ANTIMICROBIAL BITE VALVE WITH COVER – Protects against contaminants for clean, safe hydration
LIGHTWEIGHT, LOW-PROFILE – For comfortable all-day wear
WIDE DUALCAP OPENING – For easy no-spill filling with water or ice
ZIPPERED TOP CLOSURE – Secures bladder inside pack while keeping dirt and debris out
INSULATED PACK & TUBE – Keeps water cool in the heat
BREAKAWAY DESIGN – Hook & loop shoulder straps safely detach to prevent snagging
TOP HANDLE – For quick transport and hanging storage
CLEANING KIT SOLD SEPARATELY – Chill-Its 5159 Hydration Pack Cleaning Kit
California Residents: read Proposition 65 .
Product Description
The Chill-Its 5155 Low-Profile Hydration Pack provides convenient on-the-go hydration from workday to weekend. The 2.0L (2000mL) bladder features a wide DualCap for easy no-spill filling with water or ice. Both the pack and tube are insulated to keep water cool in the heat. The antimicrobial bite valve with cover protects against contaminants for clean all-day drinking. The lightweight and low-profile design is comfortable for wear both on and off the worksite. 
The pack itself is made with durable 600D water-resistant ripstop polyester for protection in rough conditions. A zippered top closure keeps the bladder secure while also preventing dirt and debris from getting into the pack. Breakaway hook & loop shoulder straps safely detach to prevent the pack from dangerously snagging. 
The water bladder can be thoroughly cleaned using the Chill-Its 5159 Hydration Pack Cleaning Kit (sold separately). The Chill-Its 5050B Bladder Replacement and 5050M Mouthpiece Replacement are also available for those needing additional/replacement bladders or bite valves. 
Guides and Documents
Jan. 3, 2023
2023 Heat Stress Solutions Card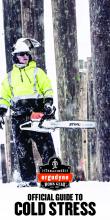 Oct. 12, 2021
Ergodyne Cold Stress Guide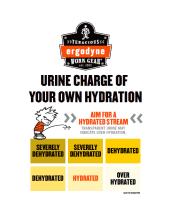 Jun. 6, 2019
Hydration Education: Urine Charge Sticker
Videos
Prevent Workplace Dehydration with Chill-Its Hydration Packs | Heat Stress