Chill-Its 6687 Dry Evaporative Cooling Vest - Elastic Waist
Chill-Its 6687 Dry Evaporative Cooling Vest - Elastic Waist
DRY & COMFORTABLE – Exclusive dry technology keeps wearer completely dry and comfortable during the entire evaporative cooling process
LONG-LASTING EFFECT – Up to 3 days of cooling power to help maintain a healthy body temperature
EASY ACTIVATION – Fill vest with 13.5oz - 15.5oz / 400ml - 450ml of water
LIGHTWEIGHT & DURABLE – Made of industrial grade quality nylon
PERSONALIZED FIT – Elastic wrap waist closure
ANTI-MICROBIAL TREATMENT – Cooling material is treated with an anti-microbial that prevents mold growth. Always keep cap closed to maintain vest's effectiveness and do not clean the inside reservoir.
WIDE VARIETY OF USES – Reduces the effect of heat exhaustion and fights fatigue while working or playing in the summer outdoor heat.
Machine washable
California Residents: read Proposition 65 .
Product Description
The Chill-Its 6687 Dry Evaporative Cooling Vest offers immediate and dry cooling relief that lasts up to three days. With its exclusive dry evaporative technology, this cooling vest keeps the wearer completely dry and comfortable, as opposed to other cooling vests on the market that require soaking and get you wet.
The vest is constructed with high-visibility industrial-grade quality nylon to perform in the toughest conditions. Design features an elastic hook & loop belt that allows for a snug, customizable fit. This lightweight cooling vest is machine washable and can be reused over and over again.
SIZING
Available in two different sizes, S/M (32in to 40in / 81cm to 102cm) and M/L (40in to 52in / 102cm to 132cm). To measure your size, wrap a tape measure around the widest part of your chest, under your arms, and completely around your torso. See the full sizing chart for details.
HOW TO ACTIVATE
Simply fill the vest with 13.5oz to 15.5oz / 400ml - 450ml of water for immediate and long-lasting cooling relief. No refrigeration or gels necessary! The cooling process can last up to three days depending on humidity and heat levels. High humidity levels can slow down airflow and may reduce cooling abilities.
HOW TO WEAR
Pull vest overhead and adjust straps to fit. Not to be worn underneath thick or heavy layers of clothing, this body cooling vest needs airflow in order to activate and for the evaporation process to take place. Do not clean the inside reservoir. Cooling material is treated with an anti-microbial that inhibits mold growth. Always keep the cap closed to maintain the vest's effectiveness.
This evaporative cooling vest is perfect for anyone in need of instant cooling relief while working or playing outside in warm temperatures where heat-related illnesses like heat cramps, heat strokes, heat exhaustion, etc. are possible. Ideal for workers in construction, carpentry, mining, landscaping, etc. OR for people running, biking, doing yard work, riding motorcycle and more!
Guides and Documents
Feb. 23, 2022
2022 Heat Stress Solutions Card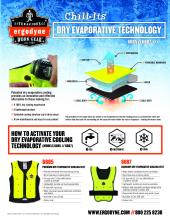 Jun. 26, 2017
Chill-Its Dry Evaporative Cooling - Flyer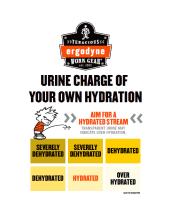 Jun. 6, 2019
Hydration Education: Urine Charge Sticker
Videos
Chill-Its 6687 Cooling Vest Offers Immediate and Dry Cooling Relief for Days