N-Ferno 6882 FR Winter Hard Hat Liner - 2-Layer, Modacrylic/Cotton, Shoulder Length
N-Ferno 6882 FR Winter Hard Hat Liner - 2-Layer, Modacrylic/Cotton, Shoulder Length
2-LAYER THERMAL LINER – Shoulder length design keeps head, ears and neck warm and covered
FLAME-RESISTANT OUTER SHELL – 60% Modacrylic / 40% cotton twill blend
FLAME-RESISTANT LINING – 60% Modacrylic / 40% cotton fleece blend
TESTED & APPROVED – Meets requirements of performance specification ASTM F1506; classified CAT2 according to NFPA 70E. Arc-rated; ATPV rating of 20 cal/cm2
LIGHTWEIGHT – Fits comfortably under a helmet or hard hat without feeling too bulky
ELASTIC FIT – Elastic gather at forehead closes the gap between liner and forehead to keep the heat in and cold out
HOOK AND LOOP STRAPS – 4 evenly spaced straps included on the outside of the liner to attach to hard hat or helmet suspension
OPTIONAL FACEMASK – N-Ferno 6870, 6872 or 6874 mouthpieces (sold separately or purchased as a kit) can also be attached for extra face coverage
OPTIONAL WARMING PACKS – Pockets by ears to hold hand warmers (sold separately)
California Residents: read Proposition 65 .
Product Description
The N-Ferno 6882 FR Winter Hard Hat Liner has 2 layers of insulation with FR technology to meet ASTM F1506. The outer shell and lining are made with a flame-resistant modacrylic/cotton fleece blend. This lightweight thermal liner is shoulder-length to keep head, ears and neck covered and fits comfortably under helmets or hard hats without feeling too bulky.
The fire-resistant outer shell and lining are made of 60% modacrylic cotton and 40% cotton twill blend to stand up to tough environments and meets requirements of performance specification ASTM F1506; classified CAT2 according to NFPA 70E. Arc-rated; ATPV rating of 20 cal/cm2.
There are four hook & loop straps on the exterior of the liner designed to securely attach to the interior of a hard hat for versatile protection in extreme work environments. This hard hat winter liner has an elastic strip in the forehead area to keep the liner snug against the face to trap body heat in and keep cold out. Small pockets by the ears are designed to hold regular-sized hand warmers (sold separately) to keep ears warm and comfortable in extreme temperatures.
The N-Ferno FR hard hat liner is great cold weather work gear for people who spend extended periods of time in cold environments and need to wear head protection such as construction, freight, drilling or mining, delivery service, landscaping, and warehousing. Also great for recreational use like skiing, snowboarding, sledding or other winter activities that may need a helmet.
Guides and Documents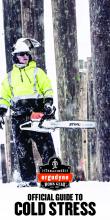 Oct. 12, 2021
Ergodyne Cold Stress Guide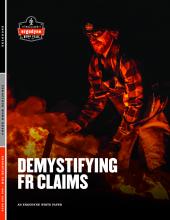 Sep. 24, 2019
Demystifying Flame Resistant (FR) Claims - White Paper