N-Ferno 6872 Thermal FR Mouthpiece - 2-Layer, Modacrylic/Cotton Shell
N-Ferno 6872 Thermal FR Mouthpiece - 2-Layer, Modacrylic/Cotton Shell
2-LAYER THERMAL MOUTHPIECE – Attaches to all N-Ferno Winter Liners (sold separately) with hook and loop attachment straps for full-face coverage (ATPV rating of 20 cal/cm2)
FLAME-RESISTANT OUTER SHELL – 60% Modacrylic cotton / 40% cotton twill blend
FLAME-RESISTANT LINING – 60% Modacrylic cotton / 40% cotton fleece blend
FLAME-RESISTANT – Meets requirements of performance specification ASTM F1506; classified CAT2 according to NFPA 70E. Arc-rated; ATPV rating of 20 cal/cm2
Machine Washable
California Residents: read Proposition 65 .
Product Description
The N-Ferno 6872 Thermal FR Mouthpiece has 2 layers of insulation with a modacrylic/cotton blend shell and liner to provide comfort, warmth and face protection in extremely cold weather work conditions. This thermal winter face mask is made to fit most N-Ferno Winter Liners (liners sold separately) to double up the warmth on those frigid jobsites.
FR rated materials meet ASTM F1506 and are classified to CAT 2 according to NFPA 70E. The shell design prevents the mask from being sucked into the mouth for plenty of breathing space and protection from the cold air.
The detachable face mask allows you to let in air or remove for speaking when needed. The adjustable hook and loop closure have a secure and adjustable fit to prevent the mask from moving around during any task.
Great cold weather work gear for people who spend extended periods of time in cold environments and need such as construction, freight, drilling or mining, delivery service, landscaping, and warehousing. Also great for recreational use like skiing, snowboarding, sledding or other winter activities that may need a helmet.
Compare With Similar Products
| | | | | | |
| --- | --- | --- | --- | --- | --- |
| | | | | | |
| Product Title | N-Ferno 6872 Thermal FR Mouthpiece - 2-Layer, Modacrylic/Cotton Shell | N-Ferno 6870 Thermal Mouthpiece - 2-layer, Fleece-Lined, Cotton Shell | N-Ferno 6874 Thermal Mouthpiece - 2-Layer, Fleece-Lined, Neoprene Shell | N-Ferno 6871 Winter Hard Hat Liner and Cotton Mouthpiece Kit - 2-Layer | N-Ferno 6878 Winter Hard Hat Liner and Neoprene Mouthpiece Kit - 3-Layer |
| Product Series | Thermal Liners | Thermal Liners | Thermal Liners | Thermal Liners | Thermal Liners |
| Price | $10.75 | $4.35 | $7.95 | $17.75 | $19.95 |
| SKUs | 16872 | 16870 | 16874 | 16871 | 16878 |
| Available colors | | | | | |
| Available sizes | | | | Kit | Kit |
| Product Type | Mouthpiece, Hard Hat Liner | Mouthpiece, Hard Hat Liner | Hard Hat Liner, Mouthpiece | Hard Hat Liner, Mouthpiece | Hard Hat Liner, Mouthpiece |
| Closure | Hook and Loop | Hook and Loop | Hook and Loop | Hook and Loop | Hook and Loop |
| Construction | Insulated | Fleece Lined, Insulated | Insulated | Adjustable, Insulated, Fleece Lined | Adjustable, Fleece Lined, Insulated, Quilted |
| Liner/Balaclava Length | | | | Shoulder Length | Shoulder Length |
| Material Layers | 2-Layer | 2-Layer | 2-Layer | 2-Layer | 3-Layer |
| Materials | Cotton, Fleece | Cotton, Fleece | Fleece, Neoprene | Fleece, Polyester | Fleece, Polyester, Polyurethane (PU) |
| Pockets/Holders | | | | 2 Pockets, Interior Pockets | 2 Pockets, Interior Pockets |
| Product Features | Breathable, Form Fitting, Lightweight, Machine Washable, Hard Hat Compatible | Breathable, Form Fitting, Lightweight, Hard Hat Compatible, Machine Washable | Breathable, Form Fitting, Hard Hat Compatible, Lightweight, Machine Washable | Hard Hat Compatible, Machine Washable, Reflective Accents | Hard Hat Compatible, Machine Washable, Reflective Accents |
| Protection | Cold Temperature Protection, Flame Resistant, Self Extinguishing, Spark/Slag Resistant | Cold Temperature Protection | Cold Temperature Protection | Cold Temperature Protection | Cold Temperature Protection |
| Risk/Injury | Arc Flash, Cold Stress | Cold Stress | Cold Stress | Cold Stress | Cold Stress |
| Standards/Compliance | ASTM F1506, ATPV RATING, CAT 2 | | | | |
Guides and Documents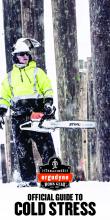 Oct. 12, 2021
Ergodyne Cold Stress Guide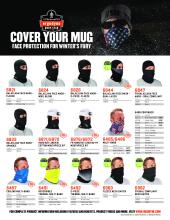 Sep. 11, 2020
Cover Your Mug - Winter Face Protection Flyer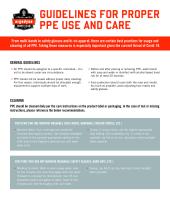 Jul. 9, 2020
CDC Cleaning Requirements