N-Ferno 6832 Balaclava Face Mask - Spandex
N-Ferno 6832 Balaclava Face Mask - Spandex
SPANDEX MATERIAL – Lightweight to fit under hard hat or helmet without being bulky
LIGHTWEIGHT PROTECTION – Provides a layer of coverage from the elements
STRETCHABLE MATERIAL – Flexible to fit most head sizes
LONG LENGTH – Full thermal head & neck coverage that easily tucks into jackets
REFLECTIVE ACCENTS – Help keep wearers seen and safe
California Residents: read Proposition 65 .
Product Description
The N-Ferno 6832 Balaclava Face Mask is made with lightweight, stretchable spandex, and features a 3-panel design for all-day comfort, plus full head and facial protection. Perfect for use under hard hats or other head protection.  
The polyester/spandex blend dries quickly and wicks moisture away from the skin. The 3-panel design allows freedom of movement in any direction. The long length extends below the neckline for full coverage and added protection from the elements. Reflective accents offer visibility at night or in low-light conditions.
One size fits most and can be worn alone or under hard hats, ski helmets or other head protection. This winter face mask is perfect for those who work in construction, freight/baggage, drilling/mining, oil/gas refining, iron/steel, delivery/service, landscaping/grounds, warehousing, and working in refrigerated areas. Can also be worn as a ski face mask or worn hunting, climbing, running, cycling, boating, skating or other outdoor sports.  
The CDC's recommendation on cloth face masks has shot the demand for our face coverings to record levels. It is important to note that while our face coverings are in line with CDC recommendations for cloth face covers (such as: snug fit around face, unrestricted breathing, multiple layers of fabric, machine washable), they are not a replacement for surgical masks or N95 respirators.
Please refer to our COVID-19 page to get the latest info and updates.
Guides and Documents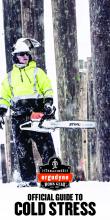 Oct. 12, 2021
Ergodyne Cold Stress Guide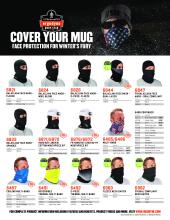 Sep. 11, 2020
Cover Your Mug - Winter Face Protection Flyer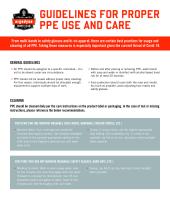 Jul. 9, 2020
CDC Cleaning Requirements
Videos
N-Ferno 6832 Balaclava Face Mask Features Moisture-Wicking, Breathable Spandex and an Extended Length for Added Protection