ProFlex 450 Comfort Hinge Gel Knee Pads - Long Soft Cap
ProFlex 450 Comfort Hinge Gel Knee Pads - Long Soft Cap
MOVES WITH YOU - Comfort Hinge™ design matches your movement for enhanced comfort, fit and stability
BUILT TO LAST - 1680D ballistic nylon shell, 420D abrasion-resistant nylon-rubber cap and durable straps for long-lasting use on tough worksites
ALL-DAY GEL COMFORT - Lightweight but supportive gel foam and EVA foam cushions knees on rough surfaces
SLIP-RESISTANT SOFT CAP - Large slip-resistant soft rubber cap securely grips floors
NON-MARRING - Will not scratch or mark surfaces
STAYS IN PLACE - Hinge design, strategically located straps, durable locking buckle and large hook & loop strap prevent knee pads from sliding around
ADJUSTABLE - Thick elastic straps easily adjust for custom fit
TRUSTED BY THE EXPERTS - Designed and tested to be used by airline baggage handlers, some of the industry's most demanding knee pad users
California Residents: read Proposition 65 .
Product Description
The ProFlex 450 Comfort Hinge™ Gel Knee Pads improve upon our best-selling 350 Knee Pad design by adding an innovative hinged technology that enhances comfort, fit and stability. The hinge enables the knee pad to easily bend and straighten along with the leg's natural movements. Combined with locking-buckle and hook & loop elastic straps that sit higher and lower on the leg, these soft shell knee pads are specifically engineered to stay in place when walking, crawling or kneeling.  
For all-day comfort and support, these pads are cushioned with lightweight gel foam and EVA foam. The extended height of the Comfort Hinge pad also adds another layer of protection against impacts to the thigh.  
The slip- and abrasion-resistant 420D nylon-rubber soft cap offers tremendous grip without scratching or marking delicate surfaces. For long-lasting use on the toughest worksites, these pads are made with a 1680D ballistic nylon shell plus a durable locking buckle and large hook & loop strap that securely attaches to keep knee pads comfortably in place. Wide elastic straps easily adjust for a custom fit on a variety of leg sizes.
These knee pads are tested and trusted by some of the most demanding knee protection users around—airline baggage handlers. The Comfort Hinge technology was designed, tested and redesigned with multiple airline partners to deliver the ultimate safety knee pads. Not limited to the tarmac, these pads are ideal for all-day knee protection and comfort on any worksite, including construction, HVAC, tiling, flooring, landscaping and more.
Guides and Documents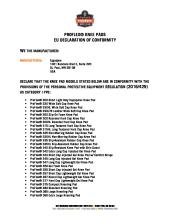 Nov. 19, 2019
ProFlex Knee Pads EU Declaration of Conformity
Oct. 26, 2015
ProFlex Knee Pad User Instructions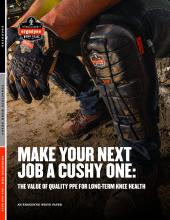 Oct. 13, 2016
ProFlex Gel Knee Pads - White Paper
Videos
How Tenacious Testers Stay Safe on the Job