Squids 3405 Glove Clip Holder - Belt Clip
Squids 3405 Glove Clip Holder - Belt Clip
KEEPS GEAR CLOSE – Holds face masks, gloves, mittens, keys, PPE, towels and more keeping them at the ready
STRONG GRIPPING CLIP – Easy to open and stays firmly closed on your gloves or other gear
DURABLE – Ultra-resilient acetal copolymer and thermoplastic polyurethane materials are non-conductive and temperature resistant
BREAKAWAY DESIGN – For safety around moving parts or other catch hazards
PREVENTS DROPPED & LOST OBJECTS – Reduces injuries and prevents dropped, lost and foreign objects by keeping gloves, PPE and other gear clipped to the person
COLORS AVAILABLE – Comes in orange, blue, black, lime, red, granite, deep blue (metal detectable)
BREAK STRENGTH – Average breaking strength = 26lbs / 11.8kg
Measures 6in (15.2cm) Long x 1in (2.5cm) Wide x 1in (2.5cm)
Made in the USA
California Residents: read Proposition 65 .
Product Description
The Squids 3405 Glove Clip Holder with Belt Clip keeps your face masks, gloves, ice traction, cooling towels, keys and whatever else always seems to mysteriously disappear close at hand. This slot mounted glove clip keeps items at your side by clipping onto your belt or harness. The design has a breakaway feature that allows the glove grabber to safely break away in an emergency and avoid tangles. But what sets the Squids Glove Clip Holder apart from the rest is its ability to be put back together and used again. Other similar products break when separated and need to be trashed.
The strong gripping jaw can hold on to gloves, hats, keys, towels and other PPE that are too bulky to fit in pockets. Ideal for those who work in construction, warehouses, manufacturing, food processing plants, janitorial and even retail workers. Keeps gloves and other gear handy for off-the-clock use, too, like hunting, hiking, home projects and more.
Acetal copolymer construction is non-conductive, temperature and chemical resistant. To use, slide the belt clip over belt or waistbands, squeeze the sides of the clip to open the teeth on grabber end to attach to gear.  The opening of the grabber's teeth is 0.5in (1.3cm).
Compare With Similar Products
| | | | | | |
| --- | --- | --- | --- | --- | --- |
| | | | | | |
| Product Title | Squids 3405 Glove Clip Holder - Belt Clip | Squids 3405 Metal Detectable Glove Clip Holder - Belt Clip | Squids 3400 Metal Detectable Glove Clip Holder - Dual Clips | Squids 3400 Glove Clip Holder with Dual Clips | Squids 3420 Swiveling Glove Clip Holder with Dual Clips |
| Product Series | Glove Clips | Glove Clips | Glove Clips | Glove Clips | Glove Clips |
| Price | $3.75 | $5.65 | $5.65 | $227.05 - $3.75 | $295.15 - $4.45 |
| SKUs | 19125, 19122, 19127, 19129, 19128, 19123 | 19142 | 19132 | 19115, 19112, 19117, 19119, 19118, 19113, 19315-BULK, 19712-BULK, 19717-BULK, 19719-BULK, 19718-BULK, 19313-BULK | 19415, 19412, 19417, 19419, 19418, 19413, 19515-BULK, 19512-BULK, 19517-BULK, 19519-BULK, 19518-BULK, 19513-BULK |
| Available colors | | | | | |
| Available options | | | | Single, 100-pack | Single, 100-pack |
| Product Type | Glove Clips | Glove Clips | Glove Clips | Glove Clips | Glove Clips |
| Construction | Detachable | Detachable | Detachable | Detachable | Detachable |
| Glove Clip Type | Belt Clip | Belt Clip | Dual Clips | Dual Clips | Dual Clips |
| Materials | Plastic | Plastic | Plastic, Rubber | Plastic | Plastic |
| Protection | Non-Conductive | Non-Conductive | | Non-Conductive | Non-Conductive |
| Risk/Injury | Falling Objects | Falling Objects | Falling Objects | Falling Objects | Falling Objects |
| Tool or Equipment Type | Gloves | Gloves | Gloves | Gloves | Gloves |
Guides and Documents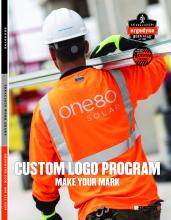 Mar. 1, 2022
Custom Logo Program
Videos
Prevent Loss & Increase Safety with Squids Grabbers
Learn How Glove Clips Keep PPE Close at Hand while Offering Safe Breakaway