ProFlex 357 Lightweight Gel Knee Pads - Short Hard Cap
ProFlex 357 Lightweight Gel Knee Pads - Short Hard Cap
SHORT CAP - For enhanced mobility when kneeling
LIGHTWEIGHT COMFORT - Lightweight gel and EVA foam cushions and supports without the bulk of heavier knee pads
NON-SLIP - Rubber cap grips floors
STAYS IN PLACE - Locking plastic buckles prevent knee pads from sliding around
ADJUSTABLE - Elastic top strap and webbed bottom strap easily adjust for custom fit
PATENTED
California Residents: read Proposition 65 .
Product Description
The ProFlex 357 Lightweight Gel Knee Pads feature a short cap for enhanced mobility when kneeling, plus lightweight gel and EVA foam that provides comfort and support without the bulk of heavier knee pads.  
The short non-slip rubber cap securely grips floors for added stability. Plastic buckles securely clip to keep knee pads from sliding around or coming undone. The stretchable elastic top strap adds comfort behind the knee, while the durable webbed bottom strap helps to keep the pad firmly in place. Both straps easily adjust for a custom fit on a variety of leg sizes.
Ideal for workers wanting compact and comfortable knee protection on a variety of worksites, including construction, HVAC, flooring, landscaping and more.
Guides and Documents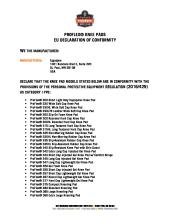 Nov. 19, 2019
ProFlex Knee Pads EU Declaration of Conformity
Oct. 26, 2015
ProFlex Knee Pad User Instructions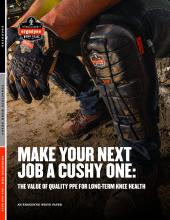 Oct. 13, 2016
ProFlex Gel Knee Pads - White Paper
Videos
Gel Knee Pads Designed for All-Day Comfort and Maximum Durability