ProFlex 620 Neoprene Compression Knee Sleeve - Open Patella and Spiral Stays
ProFlex 620 Neoprene Compression Knee Sleeve - Open Patella and Spiral Stays
SUPPORTS KNEE JOINT – Reduces pain by improving blood flow and decreasing swelling
PERFORATED STRETCH NEOPRENE – Comfortable, durable and flexible for all-day wear without limiting range of motion (neoprene thickness: 3mm)
SPIRAL STAYS – For additional stability and support when moving side to side
FOAM PADDING – Foam buttress padding around the kneecap for enhanced comfort and support
BREATHABLE – Perforated neoprene enhances airflow
ADJUSTABLE – Secure hook & loop closure adjusts for desired support and fit
OPEN PATELLA – Puts less pressure on the kneecap and aids in proper movement
EASY KNEELING – Thinner neoprene at back of knee reduces bulk when bending
LOW-PROFILE – Comfortably layers under or on top of clothing
AMBIDEXTROUS DESIGN – Contoured for comfortable wear on either knee
WORKDAY TO WEEKEND – Designed for workers, athletes or anyone needing additional support
INCLUDES ONE (1) KNEE SUPPORT
LATEX-FREE
MACHINE WASHABLE
California Residents: read Proposition 65 .
Product Description
The ProFlex 620 Neoprene Compression Knee Sleeve with Open Patella and Spiral Stays provides comfortable knee and joint support on and off the worksite. The perforated neoprene stretch fabric compresses the knee to improve blood flow, aiding in pain relief and joint flexibility. This knee sleeve is a great solution for reducing pain and increasing productivity, particularly for those frequently kneeling on the job.  
This comfortable latex-free knee compression sleeve is made with a breathable perforated neoprene that does not limit range of motion, plus foam buttress padding around the open kneecap for enhanced comfort and support. Spiral stays provide additional stability and support along either side of the knee to aid with side-to-side movement. Thinner neoprene paneling behind the knee reduces bulk and discomfort when bending or kneeling. 
Secure hook & loop straps above and below the knee allows the wearer to adjust to desired support level and fit, while the ambidextrous pre-curved design fits naturally on either leg and easily slides on over the knee for a snug fit. The low-profile style easily fits underneath clothing, but also can be worn on top depending on preference. 
With an open patella, this compression sleeve puts less pressure on the kneecap and also aids in proper movement. For those looking for additional compression at the kneecap, the ProFlex 600 Knee Sleeve features a closed patella design. 
To determine size, measure the circumference around the center of your knee while the knee is extended.  
This knee support sleeve is designed for workers, athletes or anyone needing additional joint support. 
Guides and Documents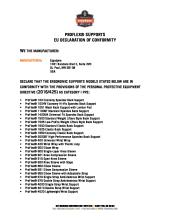 May. 2, 2022
ProFlex Supports CE Declaration of Conformity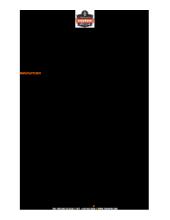 May. 2, 2022
ProFlex Supports UKCA Declaration of Conformity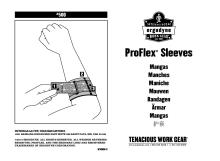 Jan. 1, 2014
ProFlex Sleeves User Instructions
Videos
Reduce Sprains and Strains with Proflex Knee Sleeves