GloWear 8217BA Breakaway Mesh Hi-Vis Safety Vest - Type R, Class 2
GloWear 8217BA Breakaway Mesh Hi-Vis Safety Vest - Type R, Class 2
TEST & APPROVED – Meets ANSI/ISEA 107-2015 Type R Class 2 standard
DURABLE & BREATHABLE – ANSI compliant Polyester mesh (3.3 oz./112 gsm)
BREAKAWAY DESIGN – Increased safety around snag hazards thanks to the 5-point breakaway design
COMFORTABLE FIT – Lowered shoulder breakaway to avoid irritation
MORE VISIBILITY – ANSI compliant 2" wide reflective tape
MORE STORAGE – 3 easy access pockets:1 exterior lower right open-top pocket
1 interior lower left open-top pocket
1 interior upper left open-top pocket
Webbing tab on upper left chest for mic, glasses or pen storage
EASY ON/OFF – Front hook and loop closure
Machine Washable
California Residents: read Proposition 65 .
Product Description
The GloWear 8217BA Class 2 Hi-Vis 5-Point Breakaway Safety Vest is built with durable yet breathable ANSI/ISEA compliant polyester mesh and a 5-point breakaway design, for maximum visibility and protection against being caught in moving industrial equipment.
This 5-point breakaway vest (shoulders, sides and front) is designed to harmlessly break away from the body in the event of mechanical entanglement. The rugged, durable 100% polyester offers resistance in tough working conditions with the strength to support extra weight in the cargo pockets.
This high visibility safety vest has a total of three strategically placed pockets. The open-top pocket on the lower right exterior is designed to carry tools, gloves, notebooks, etc. Two interior pockets, one upper left, flap open-top, and one lower left pocket, are great for field books, tape, pencils, cell phones, etc. Other features include an upper left mic tab, which can also be used to hold safety glasses/sunglasses or pens, and 2" ANSI-compliant reflective tape for maximum visibility both day and night.
This reflective safety vest is ideal for flaggers, airport baggage handlers and ground crew, road construction workers, forestry workers, high-volume parking attendants, toll-gate personnel, utility workers, shipyard workers, municipalities workers, and anywhere high-visibility clothing and apparel is necessary.
Guides and Documents
Sep. 22, 2022
Glowear Hi-Vis Handbook - Complete Hi-Vis Line-Up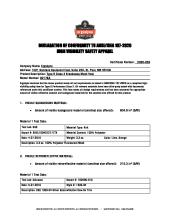 Aug. 2, 2021
8217BA ANSI/ISEA 107-2020 Declaration of Conformity