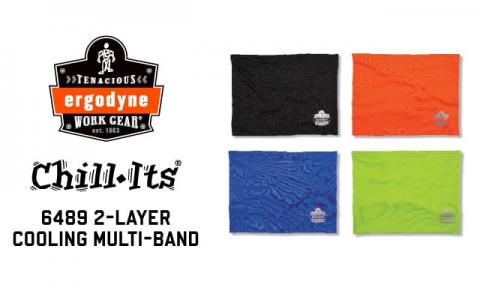 St. Paul, Minn. (December 10, 2020) – Ergodyne extends jobsite-inspired face covering line with the launch of Chill-Its 6489 2-Layer Cooling Multi-Band.
The new dual-layer multi-band doubles up on the cooling technology of Ergodyne's best-selling 6487 Cooling Multi-Band to deliver two layers of protection. The multi-layered design meets CDC and WHO recommendations for reducing the spread of COVID-19 while also protecting the wearer from harsh elements like wind, sun and dust. Built for all-day comfort, it includes an adjustable nose clip for a secure fit and reduced glasses fogging.
"Given their versatility and comfort, multi-bands and neck gaiters have emerged as a popular face covering option—particularly on the jobsite," said Alsie Nelson, Ergodyne Product Manager. "This new multi-band takes everything workers already love about the style and bolsters it with another layer of protection, as well as an adjustable nose clip for a no-fuss fit."
The 2-layer multi-band provides workers with yet another versatile option for preventing the spread of Covid-19, joining Ergodyne's current offering of single-layer multi-bands, neck gaiters, face masks and balaclavas.
"We know by now that our strongest weapon against this thing is the widespread use of face coverings," said Tom Votel, Ergodyne President & CEO. "Any way we can innovate to deliver products that are more protective and comfortable for workers, we're going to do it."
To learn more, email support@ergodyne.com or call 800-225-8238 // (651) 642-9889.
About Ergodyne
Since 1983, Tenacious Holdings, Inc. (dba Ergodyne, a Klein Tools Company) has pioneered the development of products that Make The Workplace A Betterplace™. What started with just one product has grown into a line of top flight, battle-tested, Tenacious Work Gear®; all precision crafted to provide protection, promote prevention and manage the elements for workers on job sites the world over. The current lineup is extensive and constantly growing: ProFlex® Hand Protection, ProFlex® Knee Pads, ProFlex® Supports, Skullerz® Head & Face Protection, Skullerz® Eye Protection, Trex® Footwear Accessories, KREW'D® Skin Protection, Chill-Its® Cooling Products, N-Ferno® Warming Products, GloWear® Hi-Vis Apparel, Squids® Lanyards, Arsenal® Equipment Storage Systems, SHAX® Portable Work Shelters.