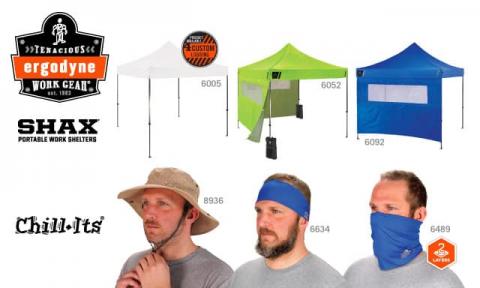 St. Paul, Minn. (February 23, 2021) – Ergodyne announced the launch of six new Chill-Its products to help keep workers cool and protected amidst perennially rising summer temps and global pandemics.
"This year more than ever, coverage is the name of the game," said Jess Ellis, Product Specialist for Ergodyne. "From sweltering heat and scorching UV rays to asymptomatic aerosols, our latest heat stress solutions are designed to shield workers from summer's worst."
The 2021 launch includes:
Face Coverage
Head Coverage
Crew Coverage
"With average temperatures trending upward in the U.S. and beyond, it's imperative that safety managers recognize the danger of heat stress on the worksite," said Tom Votel, Ergodyne President & CEO. "By continuing to develop innovative solutions as well as educational tools within this category, we're doing what we can to help drive that risk awareness and prevention."
To learn more, email support@ergodyne.com or call 800-225-8238 // (651) 642-9889.
About Ergodyne
Since 1983, Tenacious Holdings, Inc. (dba Ergodyne) has pioneered the development of products that Make The Workplace A Betterplace™. What started with just one product has grown into a line of top flight, battle-tested, Tenacious Work Gear®; all precision crafted to provide protection, promote prevention and manage the elements for workers on jobsites the world over. The current lineup is extensive and constantly growing: ProFlex® Hand Protection, ProFlex® Knee Pads, ProFlex® Supports, Skullerz® Head & Face Protection, Skullerz® Eye Protection, Trex® Footwear Accessories, KREW'D® Skin Protection, Chill-Its® Cooling Products, N-Ferno® Warming Products, GloWear® Hi-Vis Apparel, Squids® Lanyards, Arsenal® Equipment Storage Systems, SHAX® Portable Work Shelters