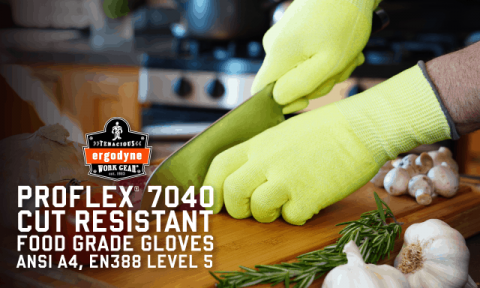 St. Paul, Minn. (April 14, 2020) – Ergodyne announced the launch of the ProFlex 7040 Uncoated Cut-Resistant Food Grade Glove, a contaminant-free model rated to ANSI A4 cut protection.
The 7040 glove is built with Ergodyne's TenaLux yarn, a cool-to-the-touch knit that achieves high levels of cut resistance without irritating glass or steel. "Workers love the cool and breathable comfort of the TenaLux yarn used in our best-selling 7041 and 7141 A4 cut gloves, but the nitrile dipped palms can cause contamination in food service or high-risk material handling," said Aaron Skemp, Ergodyne Product Manager.
"The new 7040 glove gives workers the A4 cut protection they need with all the comfort and none of the potential contamination." The launch adds yet another worksite-specific solution to the ProFlex Coated Glove Series, which already includes 9 models ranging from all-purpose to heavy duty, water/oil-resistant and thermal.
"New technologies like TenaLux yarn have really opened the doors on where the industry can go in the glove category," explained Tom Votel, Ergodyne President & CEO. "We're excited to continue putting major brain power toward innovative solutions that provide workers with the best possible protection, comfort and performance for their job."
To learn more, email support@ergodyne.com or call 800-225-8238 // (651) 642-9889.
About Ergodyne
Since 1983, Tenacious Holdings, Inc. (dba Ergodyne) has pioneered the development of products that Make The Workplace A Betterplace™. What started with just one product has grown into a line of top flight, battle-tested, Tenacious Work Gear®; all precision crafted to provide protection, promote prevention and manage the elements for workers on jobsites the world over. The current lineup is extensive and constantly growing: ProFlex® Hand Protection, ProFlex® Knee Pads, ProFlex® Supports, Skullerz® Head & Face Protection, Skullerz® Eye Protection, Trex® Footwear Accessories, KREW'D® Skin Protection, Chill-Its® Cooling Products, N-Ferno® Warming Products, GloWear® Hi-Vis Apparel, Squids® Lanyards, Arsenal® Equipment Storage Systems, SHAX® Portable Work Shelters.