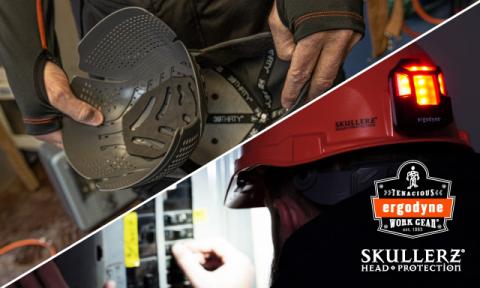 St. Paul, Minn. (September 1, 2021)– Ergodyne announced the expansion of the Skullerz head protection line to include a breathable bump cap insert and red hard hat safety light.
From low lights to low ceilings, the latest innovations continue to push head protection into new realms of worker safety.
The Skullerz 8945F(x) Bump Cap Insert is the next generation of the best-selling 8945 insert, featuring all-over venting plus a stronger ribbed top for enhanced breathability and 35% more crown impact protection.
The 8993 Red Hard Hat Safety Light attaches to the back of hard hats & safety helmets to keep workers safely visible in low-light conditions. This addition continues to bolster the Skullerz line of integration-ready head protection accessories—which already includes hard hat LED lights, visors, chin straps and more.
"Recognizing both the severity and diversity of head injuries, improving and expanding our head protection offering is a huge focus right now," explained Tim Gallant, Ergodyne Product Director. "The new bump cap insert and safety light are just the start to all the exciting innovation you can expect to see out of Skullerz in the near future."
To learn more, email support@ergodyne.com or call 800-225-8238 // (651) 642-9889.
About Ergodyne
Since 1983, Tenacious Holdings, Inc. (dba Ergodyne, a Klein Tools Company) has pioneered the development of products that Make The Workplace A Betterplace™. What started with just one product has grown into a line of top flight, battle-tested, Tenacious Work Gear®; all precision crafted to provide protection, promote prevention and manage the elements for workers on job sites the world over. The current lineup is extensive and constantly growing: ProFlex® Hand Protection, ProFlex® Knee Pads, ProFlex® Supports, Skullerz® Head & Face Protection, Skullerz® Eye Protection, Trex®Footwear Accessories, KREW'D® Skin Protection, Chill-Its® Cooling Products, N-Ferno® Warming Products, GloWear®Hi-Vis Apparel, Squids® Lanyards, Arsenal® Equipment Storage Systems, SHAX® Portable Work Shelters.