Finding Traction on the Tarmac: The Half Decade Search for a Scratch-Free Slip Solution
8 Sep 21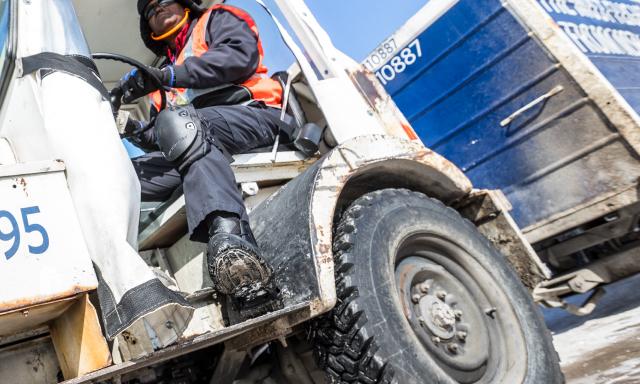 How teaming up with a major airline and MICHELIN®'s winter tire experts led to the industry's most innovative spikeless traction device
Of 3.8 million disabling injuries each year, 15% are caused by slips, trips and falls. And it's not just bruised egos at stake. With 700 fatalities in the workplace and up to 15% of workers compensation costs, it's deadly serious (and costly).
Few know that risk better than the hard-working folks schlepping luggage around icy tarmacs from clock in to clock out. And for the Delta operations team at Minneapolis-St. Paul Airport, spiked ice cleats were turning out to be more trouble than they were worth—putting workers in danger of slipping as they transitioned from the tarmac into slick cargo bins.
Peter Freeberg, ACS Safety Manager at Minneapolis-St.Paul International Airport, joins us to discuss the challenges of keeping his crews upright in the frozen north.
SCRATCHING THE SURFACE
"Slips and falls are a huge deal in this weather. The ramp never thaws out, the ice never goes away," explained Peter Freeberg, Operations Safety Manager for Delta Airlines at the Minneapolis-St. Paul International Airport.
Freeberg works within Delta's Airport Customer Service Division, overseeing below wing operations such as freight loading and ramp control. "On ice, our teams have zero drive. When they dig their toes to push and move, they slip. That's when we start tearing up knees and backs."
Traditional ice spikes solved for grip outside the bin, but that's only half the job. "[Being in the bins] with spikes is like walking on a skating rink. Your feet slide all over and tear it up. We were having to go in and wax and polish floors constantly when we were on ice cleats," added Freeberg.
And where there's smoke, there's fire. And where there's spikes scratching and slipping around baggage bins, there's spikes scratching and slipping around a whole lot of other places too.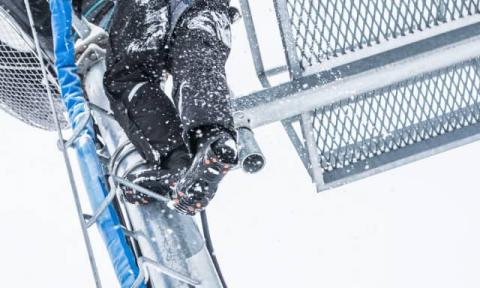 "As you can imagine, airlines weren't the only ones with this problem," said Alsie Nelson, Ergodyne Product Director. "Transportation and delivery workers were fed up with the wasted time and hassle of setting down deliveries to remove spiked traction devices before entering buildings or getting back in the truck. These workers desperately needed a solution they could leave on all day through frequent transitions from the truck to the ice to indoors and back again."
THE HALF-DECADE SEARCH FOR A SOLUTION
With the safety and productivity of these workers compromised daily, Nelson and Ergodyne's Product Management knew they had to find a better way. But, as it turns out, achieving grip without spikes is no easy feat. It took five years of researching, developing and testing various rubber compounds before Ergodyne ultimately landed a major partnership with Soles by MICHELIN®. After all, who better to collaborate on a rubber compound than the world's leading tire experts?
"We were on the hunt for the most innovative technology in the market, so finding the right partner was critical," said Nelson. "The most consistent challenge with our initial rubber compounds was they got hard and brittle when exposed to extreme cold. With their industry-leading winter tire expertise, MICHELIN® helped us develop a rubber compound that stays soft while continuing to grip on icy and snowy surfaces."
"Ergodyne was the perfect innovation partner," said Fillippo Sartor, Senior Sales Manager for Soles by MICHELIN®. "We worked side by side to create a truly unique compound based on our winter tires, focusing on different details to achieve optimal adherence, flexibility and traction."
Ergodyne Product Director Alsie Nelson explains how the MICHELIN® partnership resulted in the most innovative, high-performing spikeless traction solution on the market
TESTING ON THE TARMAC
And if Michelin was the perfect technology partner, Delta was the perfect testing partner.
"We knew we needed to test in an environment with both extreme winter conditions and a transitional indoor-outdoor element, plus Delta had already communicated this was a major pain point for them " said Nelson. "From trying out initial prototypes to the final product, Peter and his team were with us every step of the way."
While Delta's feedback was hugely beneficial when developing rubber formulations and tread designs that performed in harsh conditions, the most direct result of their testing came in the form of the sling design.
An issue very specific to airlines, workers found the glycol deicing fluid was finding its way between their shoe soles and the traction device—preventing a secure fit and causing slippage within the device itself. The Delta team also reported that the fit was too loose around the ankle, which was most evident when pushing around on their knees in the bins. To solve both fit issues, the Ergodyne team added an extra secure cinch tight closure designed to keep the device as snug as possible to the worker's foot.
"It's really rewarding to be part of the development process," said Freeberg. "Giving the feedback to say, 'when we're in the bins, this doesn't work.' The guys look at that and say, 'that was our change. We did that.'"
GET A GRIP
Powered with Soles by MICHELIN®, TREX 6325 Spikeless Traction Devices are the industry's first indoor/outdoor slip-on traction solution. Designed for work environments where spiked cleats create slip and scratch risks, the devices allow easy and safe transition between indoor and outdoor environments while maintaining sure-footed grip on water, ice or snow.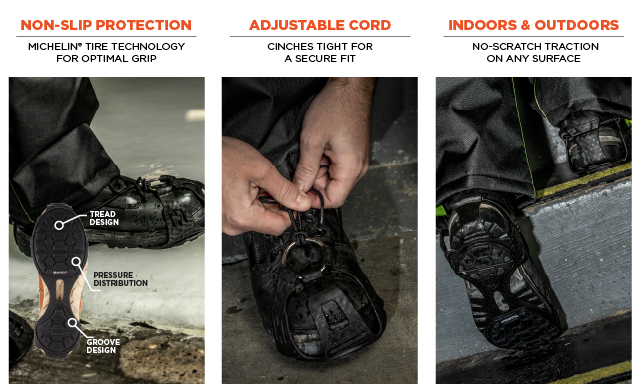 HOW TO CHOOSE THE RIGHT ICE TRACTION FOR YOU
To spike or not to spike? Determining the optimal traction device for your working conditions can be the difference between flat on your face and fancy free.