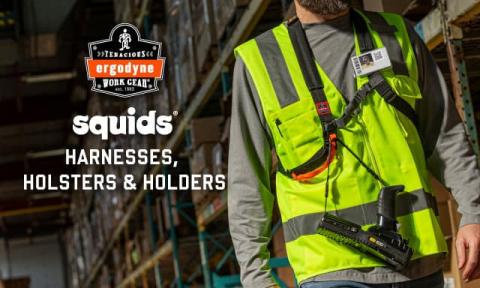 St. Paul, Minn. (April 29, 2021) – Ergodyne announced the addition of five new Squids harnesses, belts and slings designed to keep barcode scanners close, ready and protected from drops. The extension builds upon the concept of the best-selling Squids 3132 Scanner Harness with an entire suite of tethering solutions for solving a very common and costly problem on worksites. "These solutions are all about convenience and cost," said Brent Velenchenko, Ergodyne Product Specialist. "Workers love the comfortable accessibility of having scanners ready at their hip, and employers love protecting those scanners from costly drops and losses." The launch includes:
Ideal for warehouses and distribution centers, the new tethering solutions are also intended for use in aviation, construction, iron/steel, shopping/delivery service and any other application where scanners are regularly used. "After launching our first scanner harness last summer, it became clear we had only scratched the surface on what workers needed in this space," said Tom Votel, Ergodyne President & CEO. "That feedback from the field is what spurred us to further build this category to deliver versatile options for every worker and worksite."
To learn more, email support@ergodyne.com or call 800-225-8238 // (651) 642-9889.
About Ergodyne
Since 1983, Tenacious Holdings, Inc. (dba Ergodyne) has pioneered the development of products that Make The Workplace A Betterplace Portable Work Shelters.