Cold Weather Gear Guide: How to Dress for Winter Work
21 Nov 18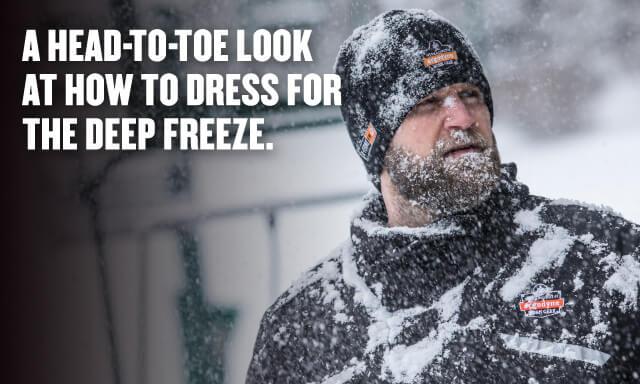 Ever since our ancestors decided to forego their furry coats, live indoors and walk upright, man has been locked in a pitiless battle with Mother Nature. Winter especially conjures up romantic images of steam-breathing crews locked in a no-holds-barred Man vs. Nature Battle Royale. While it certainly takes a special degree of mental fortitude to forge ahead in the bitter cold (Cancun is for quitters!), workers won't get by safely on grit alone—no matter how thick their blood or their beards.
Thankfully, a smarter approach to winter work continues to evolve, as does awareness to the causes and dangers of cold-related illnesses. Technological advances in work gear are helping to level the playing field, too. From heat-boosting balaclavas< to sure-footed ice traction, here's a head-to-toe look at how to dress for the deep freeze.
THERMAL HEADWEAR
While the long-held belief that about 50% of body heat escapes through the head has been debunked, the face, head and chest are more sensitive to changes in temperature than the rest of the body. And any part of the body left exposed in cold temps leaves workers at risk for cold-related illness.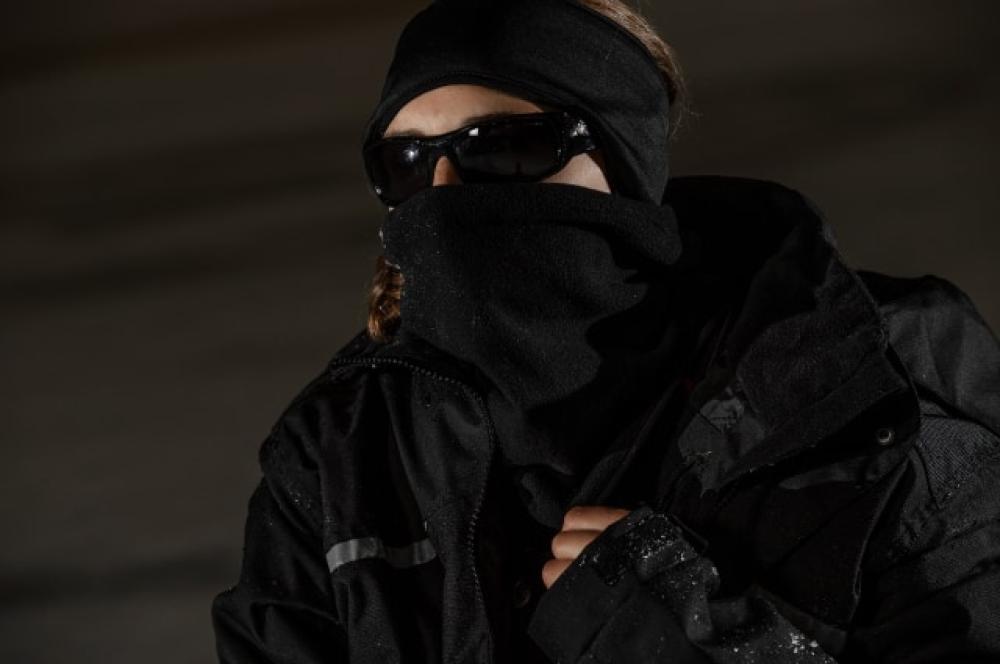 Thermal Hats, Headbands and Gaiters
We've come a long way from the winter hats your mom made you wear as a kid and face masks that immediately make you a bank heist suspect. Look for moisture-wicking, quick-drying materials (like polyester fleece or microfiber) and a snug, stretch-fit design to keep warmth in and make for easy layering, including use with a hard hat.
Balaclavas
Balaclavas are like a scarf, face mask and hat all in one. They have become popular on worksites for their versatility, breathable/moisture-wicking comfort and ability to fit under head protection.
Thermal Liners
Thermal liners are designed for hard hat compatibility for a boost of warmth underneath head protection. Though not as versatile (or fun to say) as a a balaclava, options like pockets for warming packs, optional facemasks and advanced heat-boosting fabrics allow workers to customize comfort and protection in changing conditions.
Need flame resistant (FR) protection with your thermal liner? Avoid what's commonly called "single wash" FR treatment.
Winter liners that are made of polyester with topical FR treatments are often inaccurately believed or reported to be FR-compliant. The topical treatment does help the liner self-extinguish, but only after the flame source is removed. As long as the flame is present, polyester will do what polyester does—melt, drip and burn. Treated polyester products do not meet any FR garment standard appropriate for arc flash or flash fire hazards such as ASTM F1506 or NFPA 2112.
If the job calls for workers to wear clothing compliant to any of the FR garment standards, it is critical that they do not wear PPE with a topical FR treatment. Instead, make sure PPE is made with trusted, compliant materials like Nomex or meta-aramid threads per the appropriate FR performance requirements.
Thermal Bump Caps
Unbeatable warmth + noggin protection = your go-to winter work hat. Caps with bump protection are a recent advancement that gives folks like mechanics, airport workers and others working in cold climates protection where worker-generated head impacts are a danger.
Image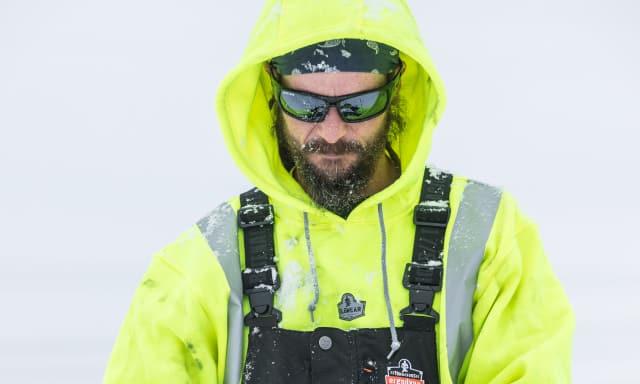 EYE PROTECTION
Outdoor winter work can be tough on eyes (harsh snow glare) and safety glasses (constant fogging), so it's no time to skimp on eye protection. Two key factors play a large part in your comfort and eye protection performance.
Polarized Protection
Polarized lenses can reduce the side effects of glare (like eyestrain) and allow eyes to feel more comfortable and well rested. They can reveal colors and images with an astounding level of detail. But it's not just sunglasses that are getting this treatment anymore. Even protective eyewear is becoming polarized, which allows only direct light to enter the field of vision—making tinted safety glasses a great choice to wear around water, roadways and shiny equipment.
Anti-Fog Lenses
Safety eyewear that incorporates anti-fog technology can significantly decrease eye injuries by reducing or eliminating fog/condensation and providing the worker with a consistently clear view. This increases compliance and eliminates the need to constantly remove and wipe the glasses, boosting both safety and productivity. With the anti-fog technology available today, fogging should become a thing of the past for workers in these tough work environments. Look for lenses with inherent anti-fog technology inherent to the lens vs. a treatment that can be wiped off over time.
THERMAL CLOTHING
Because there is no single magic garment able to adapt to all the ever-changing environmental variables of winter the way a proper layering system can, experts recommend wearing at least three layers of loose-fitting clothing.
Base Layers
Moisture is your enemy. Sweat and/or water on the surface of the skin will draw heat away from the body, cooling it rapidly. When the goal is to stay warm, productive and agile, a moisture-wicking, quick-drying layer is key. Venting underarms and a slightly loose, non-compression fit garment also create a breathable layer of air insulation.
Mid Layers
The human body loses 65 percent of its heat through radiation once the air temperature drops below 68°F (20°C). And this second layer—often your work gear or uniform—not only provides an added layer of insulation from the cold to trap body heat, but allows the wearer to react to changing temps and adjust their warmth by removing or adding layers as needed.
Outer Layers
Wind and precipitation pull heat away from the body (a.k.a. convection). To guard against this, the third layer features durable materials designed to stand up to abrasion, wind, rain and snow—as well as the cold. Additionally, insulated shells should also allow for air and moisture to pass through to the outside, with venting adding another level of temperature control.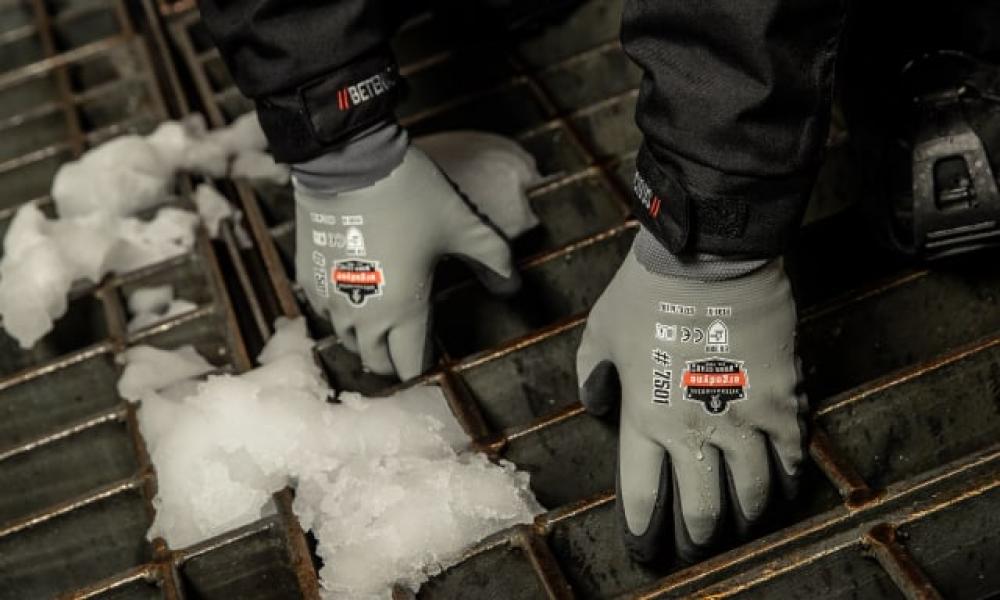 THERMAL GLOVES
Many so-called winter work gloves are actually retro-fitted all-season gloves crammed with cheap insulation and made using materials that absorb water and let cold air in. Here's how to spot winter hand protection that works.
Exterior
Ripstop nylon with a DWR (Durable Water Repellent) finish not only fends off the wind and the wet stuff, it stays pliable in plummeting temps. If you need a little extra grip and dexterity, look for coated winter gloves with dipped palms for better material handling in cold temps.
Insulation
To maintain warmth and dexterity, look for gloves with dual-zone insulation that use heavier insulation on the back of the hand and lower-weight insulation on the palm.
Waterproofing
Serious winter work gloves are built with a waterproof membrane to shut out moisture from the outside while allowing sweat to escape.
Tech-Friendly
The ability to perform basic mobile device tasks without exposing hands to the elements can be the difference between staying on track or stopping to warm up.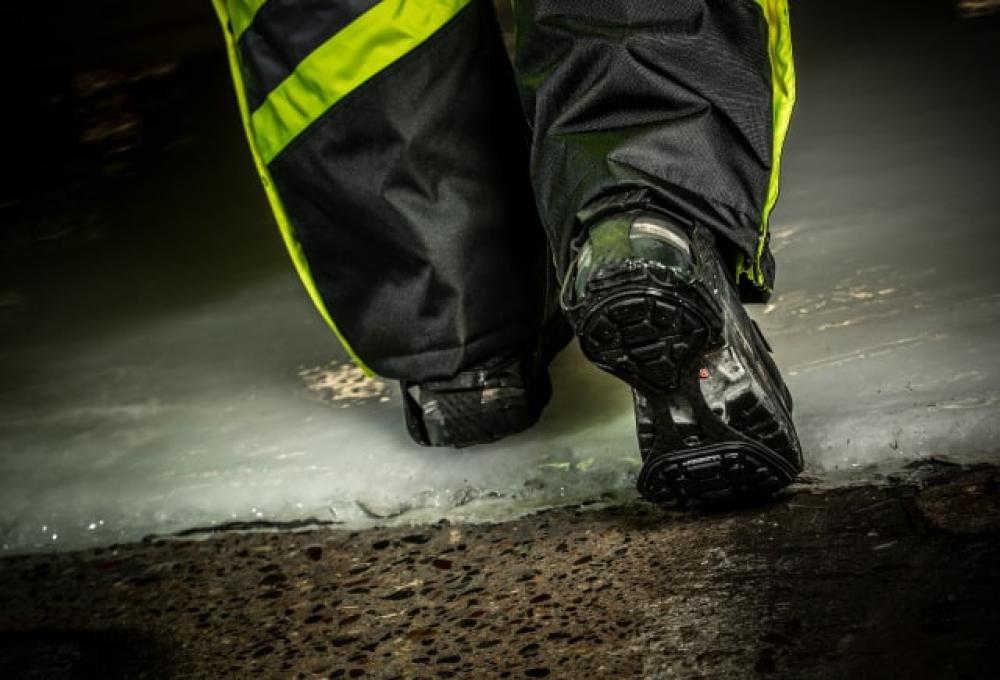 ICE TRACTION
Slips, trips and falls are the second most common cause of accidental death in the U.S. every year. And even deeply lugged soles—which work great in mud, snow, gravel, etc.—may be inadequate for ice. Wearing some type of personal ice traction device may be a better option. While versions of anti-slip devices have been available for generations, designs and materials have improved.
Spikeless
While cleats are an obvious traction choice, they can be damaging to floors, vehicles and equipment. Innovative spikeless technologies enable workers to seamlessly transition from indoors to outdoors while maintaining grip on slick surfaces.
Carbon Steel Cleats
Ice traction devices with carbon steel studs can provide solid traction on ice and snow-covered surfaces. Heat treating the carbon steel hardens the compound, making it even more durable on rough terrain.
Tungsten Carbide Cleats
Made from a durable, exceptionally hard compound, tungsten carbide studs wear up to 100 times longer than steel and can be made thinner than heat-treated carbon steel, allowing for better penetration and sharper grip on ice and snow.
Heel-Only Cleats
Heel-only cleats are great for workers that regularly climb ladders, or operate pedals in vehicles or equipment where studs or spikes across the middle of the foot could interfere or cause discomfort.
Easy On/Off
Look for cleats with a one-piece design that stretch right over existing footwear. Modern thermoplastic elastomers (TPE) are both durable and tested for cold weather use.
Image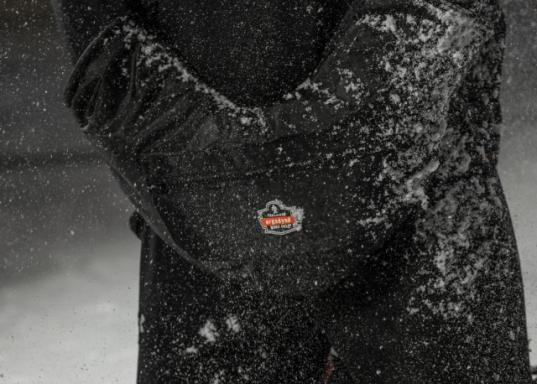 WARMING ACCESSORIES
When liners, boots or gloves just aren't cutting it, warming packs are a quick, and affordable way to stoke the fire. They offer instant heat, activating upon contact with oxygen. Look for all natural materials that won't irritate skin. Pro tip: When you're done, place in a zip lock bag for use the next day.
Frequently abandoning your gloves to perform high-dexterity tasks in extreme temps? Hand muffs give your frozen fingers a much needed relief from the chill.
HYDRATION
Because hydration is at the core of your body's regulatory functions, it's key to health and performance in cold environments. But that's where it gets tricky... The risk of dehydration may increase when working in cold conditions because lower temperatures suppress thirst even when the body requires fluids. Plus, thirst is not a great indicator of hydration levels to begin with (urine color is, however—aim for a clear stream!).
In short, people tend to drink less in cold weather—which puts them at greater risk for cold-related injury and illness. Proper hydration has a host of health benefits and, the more workers can remember to do it, the better they'll be able to function.
Here are a few handy hydration tips:
Keep water handy and drink from it throughout the day. Continuous sipping of fluids is better than infrequent chugging!

Enhance water intake with an electrolyte solution, sports drink or salty snack.

Drink water before, during, and after a shift.

To make drinking water a habit, start and end each day with a glass.

The use of hydration packs is a good way to encourage more intake of fluids. Because they make the next drink readily available and hands-free, workers can hydrate without missing a step or having to search for their water bottle or tumbler.
SKIN PROTECTION
Summer isn't the only time to get serious about sunscreen. Not only is the sun not cold weather-averse, it's highly reflective on snowy surfaces. And when UVA and UVB rays come in contact with skin cells, bad things can happen. Bad things like wrinkles, skin damage and most concerningly—skin cancer. To make matters worse, the likelihood of developing skin cancer for those who work outdoors is 3.5 times higher than for those who do not. The sun damage risk on worksites is so high OSHA has identified UV as a carcinogen. Now for the good news. While skin cancer is the most common type of cancer, it's also the most preventable. Regular application of SPF 50 sunscreen on exposed areas can block 98% of sunburn-causing UV rays. And with so many application styles available, there's really no excuse to skip it.