Skullerz 8995 Anti-Scratch & Anti-Fog Hard Hat Face Shield with Adapter for Full Brim
Skullerz 8995 Anti-Scratch & Anti-Fog Hard Hat Face Shield with Adapter for Full Brim
DESIGNED FOR HARD HAT INTEGRATION - Easily mounts on Skullerz full brim hard hats for increased eye and face protection (attachment adapter included)
IMPACT RESISTANT – Meets ANSI Z87.1+ and CSA Z94.3 impact and optical performance requirements
ENHANCED ANTI-FOG - Fog-Off+ technology meets ANSI Z87.1 X performance requirements and provides improved anti-fog performance vs original Fog-Off
ENHANCED SCRATCH RESISTANCE - Fog-Off+ technology for improved durability
EASY INSTALLATION - Face shield adapter snaps into dedicated side accessory slots on hard hats
DURABLE - Polycarbonate lens is 1.6mm in thickness
FULL FACE COVERAGE – Protects against flying particles and debris
SOFT VISOR ADAPTER – Conforms to hard hat or safety helmet shell to help keep dust and debris out of face
ADJUSTABILITY – Face shield easily pivots up and down (fully down, mid-way or fully up) and adapter pivots forward and backward for a customized fit and field of vision
UV PROTECTION – Lens filters 99.9 percent of harmful UVA, UVB and UVC rays to keep eyes safe in the sun
INTEGRATED ACCESSORY SLOT – Allows Skullerz Earmuffs to be worn while face shield is in use
COMPATIBLE ACCESSORIES – Safety glasses and headlamp can be worn while in use
AVAILABLE IN SMOKE AND CLEAR
REPLACEMENT SHIELDS (sold separately)
California Residents: read Proposition 65 .
Product Description
The Skullerz 8995 Anti-Scratch & Anti-Fog Hard Hat Face Shield is designed to increase eye and face protection for those using Skullerz Cap-Style Hard Hats or Safety Helmets. This face shield protects against flying debris, splashes and particles and features a performance anti-fog and anti-scratch protective lens for improved clarity and durability.
This safety face shield has 3 pivoting positions – fully down to provide full face protection, mid-way or fully up and out of the way. The adapter can be adjusted forward or backward to accommodate other hard hat or safety helmet accessories such as headlamps. Integrated accessory slots on the face shield adapter allow users to attach Skullerz Earmuffs while face shield is installed and in use. For added protection, pair this face shield with Skullerz Safety Glasses or Sunglasses.
FULL BRIM HARD HAT COMPATIBLE
The face shield adapter seamlessly integrates into Skullerz Cap-Style Hard Hat and Safety Helmet dedicated side accessory mounting slots. The adapter's soft visor conforms to the hard hat or safety helmet shell to help keep dust and debris out of eyes and face while in the down position.
SHIELD TECHNOLOGIES
The shield features Fog-Off+ technology for durable scratch-resistance and enhanced anti-fog performance for clear viewing no matter the job—particularly useful for those working with dust masks or with extremely variable temperature. UV protection filters 99.9 percent of harmful UVA, UVB and UVC rays to keep eyes safe in the sun. The face shield is removable and replacement shields are sold separately.
TESTED & APPROVED
This impact-resistant safety face shield is tested to ANSI Z87.1+ High-Velocity Impact Protection, anti-fog performance and optical requirements as well as CSA Z94.3. ANSI Z87.1 and CSA Z94.3 are the standards for Personal Eye and Face Protection Devices in the US and Canada and are marked on the shield.
Approximately 2,200 workers suffer from eye injuries requiring medical treatment each day and, of those injured workers, 3 out of 5 were not wearing eye protection and over 100 required time away from work.
When installed on a Skullerz Full Brim Hard Hat, the 8995 Face Shield adds significant eye and face protection for those working in fabrication, grinding, drilling, demolition or general site work.
Guides and Documents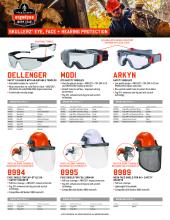 Nov. 28, 2022
Skullerz Face, Eye + Hearing Protection Flyer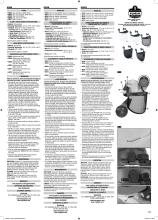 Nov. 8, 2022
Skullerz 8994-99 Face Shields - User Instructions
Videos
Skullerz 8994 & 8994 Face Shields Install Directly onto Ergodyne Hard Hats & Safety Helmets