Chill-Its 6260 Lightweight Phase Change Cooling Vest with Rechargeable Ice Packs
Chill-Its 6260 Lightweight Phase Change Cooling Vest with Rechargeable Ice Packs
IMMEDIATE & LONG-LASTING COOLING RELIEF – Packs maintain constant 64° F / 18° C for up to 2 hours
QUICK RECHARGE – Cooling packs reactive in as little as 5 minutes
LIGHTWEIGHT – 30%-60% lighter weight than other cooling vests
ENVIRONMENTALY FRIENDLY – 100% biodegradable phase change cooling material
GRID DESIGN – Grid ice pack design eliminates stiffness
FLEXIBLE FIT – Adjustable hook and loop closures on waist
EXTRA STORAGE – Two zippered front pockets
COMFORTABLE – Polyester cotton blend construction
AVAILABLE IN 2 SIZES: S/M and L/XL
WEIGHT WITH PACKS: 4lbs / 1.8kg
California Residents: read Proposition 65 .
Product Description
Designed to be 30%-60% lighter weight than other cooling vests on the market, the Chill-Its Lightweight Phase Change Cooling Vest keeps workers cooler, safer and more productive. Its 100% biodegradable phase change cooling material maintains a 64° F / 18° C temperature for up to two hours when activated.
Constructed with a polyester cotton-blend fabric, the vest's adjustable hook and loop closures around the waist provide a customized fit for different body types. The heavy-duty front zipper makes for easy on/off, while the two front zippered pockets can be used to store cell phones and other small accessories.
SIZING
The cooling vest comes in two sizes ranging from S/M (32in - 40in / 81cm - 102cm) to L/XL (40in - 52in / 102cm - 132cm). To find your size, wrap a tape measure around the widest part of your chest, under your arms, and completely around your torso. See size chart for more information.
HOW TO USE
There are many ways to activate your cooling vest. Simply place the four removable packs in a cooler of ice water for 5 minutes; freezer for 8 minutes; refrigerator for 12 minutes; or near an air conditioner for 1 hour. Then place the recharged cooling packs in the vest pockets for hours of cooling.
HOW TO CLEAN
The cooling pack should be washed by hand with a mild detergent and warm water. Dry with a paper towel or cloth. DO NOT machine wash or machine dry. The fabric vest is machine washable with mild soap; hang dry.
This body cooling vest is perfect for anyone in need of instant cooling relief while working or playing outside or indoors in warm temperatures where heat-related illnesses like heat cramps, heat strokes, heat exhaustion, etc. are possible. Ideal for workers in pulp/paper, iron/steel, vulcanizing, foundries, etc. or for people running, biking, doing yard work, riding motorcycles and more! Also, ideal for those needing cooling relief but aren't able to use an evaporative cooling option.
Guides and Documents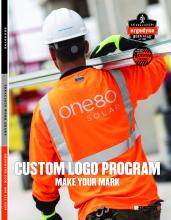 Mar. 1, 2022
Custom Logo Program
Videos
Chill-Its 6260 Lightweight Cooling Vest Offers Instant Cooling Relief for Hours