N-Ferno 6802Z Zippered Trapper Hat (Bump Cap Not Included)
N-Ferno 6802Z Zippered Trapper Hat (Bump Cap Not Included)
ZIPPERED COMPARTMENT FOR BUMP CAP INSERT – Compatible with 8945 Universal Bump Cap Insert, 8945F(x) Universal Bump Cap Insert with Extra Venting or 8943F(x) Hinged Universal Bump Cap Inser (sold separately) for protection against bumps, scrapes, bruises and other minor head injuries
DURABLE NYLON SHELL – Windproof and water-resistant oxford nylon
THERMAL INSULATION – 40-gram 3M THINSULATE for superior warmth
WATER-RESISTANT CROWN LINING – For dry comfort
ADJUSTABLE EAR FLAPS – Button down for increased warmth or up for improved hearing
REFLECTIVE ACCENT – Keeps workers seen and safe
CHIN STRAP – With YKK buckle for an adjustable fit
TWO SIZES – Available in S/M: (23 3/8 in. around) or L/LX: (25 3/8 in. around)
MACHINE WASHABLE
PATENTED
Not in need of head protection? Check out the N-Ferno 6802 Classic Trapper Hat
California Residents: read Proposition 65 .
Product Description
The N-Ferno 6802Z Zippered Trapper Hat provides warmth from extreme cold, as well as the option for lightweight protection from bumps, scrapes, bruises and other minor head injuries. Wear alone as a classic aviator hat or open the top zippered compartment to add the Skullerz 8945 Universal Bump Cap Insert, Skullerz 8945F(x) Universal Bump Cap Insert with Extra Venting or Skullerz 8943F(x) Hinged Universal Bump Cap Insert (sold separately) for work in cramped spaces.
This trapper hat features a windproof and water-resistant oxford nylon shell lined with 40 grams of 3M THINSULATE Insulation for comfortable warmth in extreme conditions. A water-resistant crown lining prevents sweat or moisture from being absorbed into the lining to keep you dry and warm. Ear flaps can be buttoned up for improved hearing through the small ear holes or down for increased warmth. A chin strap with YKK buckle makes for an adjustable fit, and a reflective accent on the back keeps workers safe and seen. Available in two sizes (S/M or L/XL) to fit a variety of head sizes.
For decades, the bomber hat has been the #1 choice for outdoorsmen on brutal late-season outings. Now, it's also a smart choice for mechanics, airport workers and others needing head protection and warmth without the requirement of a bulky hard hat. Ideal for construction, baggage handling, mechanics, freight, mining, oil & gas, warehousing, refrigeration and more. Also great for outdoor sports like skiing, snowboarding, trekking, mountain climbing and hunting.
Guides and Documents
Mar. 25, 2022
Skullerz Bump Cap Brochure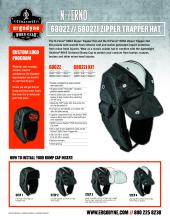 Aug. 14, 2018
N-Ferno 6802Z / 6802ZI Zipper Trapper Hat Flyer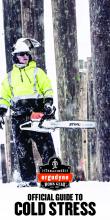 Oct. 12, 2021
Ergodyne Cold Stress Guide
Videos
N-Ferno 6802Z Thermal Trapper Hat with Bump Cap Insert for Winter Head Protection