N-Ferno 6811ZI Zippered Rib Knit Beanie Hat (Bump Cap Included)
N-Ferno 6811ZI Zippered Rib Knit Beanie Hat (Bump Cap Included)
ZIPPERED COMPARTMENT FOR BUMP CAP INSERT – Compatible with 8945 Universal Bump Cap Insert (included) or 8945F(x) & 8943F(x) Universal Bump Cap Inserts (not included) for protection against bumps, scrapes, bruises and other minor head injuries
THERMAL COMFORT – 100% soft dry acrylic with 40-gram 3M flex stretch insulation for warmth and a comfortable fit
ONE SIZE FITS MOST
MACHINE WASHABLE – Remove bump cap insert before washing
PATENTED
Not in need of head protection? Check out the N-Ferno 6812 Rib Knit Beanie Hat
California Residents: read Proposition 65 .
Product Description
The N-Ferno 6811ZI Zippered Rib Knit Beanie Hat with Bump Cap Insert provides warmth, as well as lightweight protection from bumps, scrapes, bruises and other minor head injuries. Wear this soft cuffed beanie alone or open the back zippered compartment to add the Skullerz 8945 Universal Bump Cap Insert (included) for work in cramped spaces. Made with 100% soft dry acrylic and 40-gram 3M flex stretch insulation for a warm, comfortable fit. Also compatible with Skullerz 8945F(x) Universal Bump Cap Insert with Extra Venting and Skullerz 8943F(x) Hinged Universal Bump Cap Insert (not included).
Included with the ribbed knit beanie is a Skullerz 8945 Universal Bump Cap Insert. This impact-resistant shell is made of lightweight durable polypropylene and is designed with maximum ventilation for breathable airflow that doesn't compromise protection. An interior foam pad reduces impact but does not absorb odors for fresh all-day wear. Bump caps are typically worn in spaces where worker-generated impact head protection is needed, like low ceilings, beams, low pipes and other bump hazards.
Ideal for construction, baggage handling, mechanics, freight, mining, oil & gas, warehousing, refrigeration and more. Also great for outdoor sports like skiing, snowboarding, trekking, mountain climbing and hunting.
Compare With Similar Products
| | | |
| --- | --- | --- |
| | | |
| Product Title | N-Ferno 6811ZI Zippered Rib Knit Beanie Hat (Bump Cap Included) | N-Ferno 6802ZI Zippered Trapper Hat (Bump Cap Included) |
| Product Series | Thermal Hats, Headbands & Gaiters | Thermal Hats, Headbands & Gaiters |
| Price | $29.65 | $49.45 |
| SKUs | 16811 | 16897, 16899 |
| Available colors | | |
| Available sizes | | S/M Kit, L/XL Kit |
| Product Type | Bump Cap, Hat/Cap, Hat w/ Insert Kit | Bump Cap, Hat/Cap, Hat w/ Insert Kit |
| Construction | | Buckle Straps, Fleece Lined, Insulated |
| Materials | Acrylic | Faux Fur, Fleece, Nylon |
| Product Features | Machine Washable, Reflective Accents, Removable Insert | Machine Washable, Reflective Accents, Removable Insert |
| Protection | Cold Temperature Protection | Cold Temperature Protection |
| Risk/Injury | Cold Stress, Head Injury | Cold Stress, Head Injury |
| Style | Beanie | Trapper |
| Technology | 3M Thinsulate™ | 3M Thinsulate™ |
Guides and Documents
Mar. 25, 2022
Skullerz Bump Cap Brochure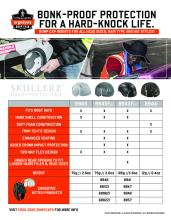 Jun. 28, 2023
Skullerz Bump Cap Insert Sell Sheet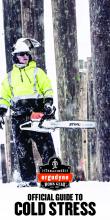 Oct. 12, 2021
Ergodyne Cold Stress Guide
Videos
N-Ferno 6811Z Cuffed Rib-Knit Beanie Hat with Bump Cap insert for Winter Head Protection
Bump Caps 101: Find the Right Fit for You