Skullerz 8943F(x) Universal Bump Cap Insert - Flexible Hinged
Skullerz 8943F(x) Universal Bump Cap Insert - Flexible Hinged
LIGHTWEIGHT HEAD PROTECTION - Guards against bumps, scrapes, bruises and other minor head injuries
HINGED DESIGN - Allows hair to escape and lay flat, offering a non-bulky fit
FLEXIBLE - Front and rear wings flex in and out to fit varying head and hair shapes and sizes
FITS ANY HAT - Patented "trim-to-fit" design easily adjusts insert height to fit different cap designs
MAXIMUM BREATHABILITY - All-over venting enhances airflow to keep wearers cool
TOP-OF-HEAD PADDING - Extra-large closed cell foam reduces impact without absorbing odors
POLYETHYLENE SHELL - Durable material resists breaking and cracking
PATENT PENDING
California Residents: read Proposition 65 .
Product Description
The Skullerz 8943F(x) Universal Bump Cap Insert with flexible hinged wings delivers impact protection and an enhanced fit for larger head sizes and hairstyles. This lightweight, breathable and trimmable impact-resistant insert easily fits into any baseball cap, hat or other headwear for protection against bumps, scrapes, bruises and other minor head injuries.
Unlike standard bump caps that have more of a rigid fit, this bump cap is specifically designed to form to and protect varying head sizes and hairstyles, such as dreadlocks or larger natural hairstyles. The front and rear wings flex in and out, while the hinged design in the back allows hair to escape and lay flat, offering a non-bulky fit.
With flexible sides and convenient trim-to-fit customization, this bump cap insert easily fits a variety of hats/caps and head shapes. The shell is made of lightweight, durable polyethylene with a ribbed top for enhanced crown impact protection. All-over venting maximizes airflow for cool comfort, while an interior foam pad reduces impact without absorbing odors for fresh all-day wear.
Not bulky like a hard hat, bump caps are typically worn in spaces where worker-generated impact head protection is needed, like low ceilings, beams, low pipes and other bump hazards. They are ideal for mechanics and airline baggage handlers, as well as workers in factories, in-home services and other industries that do not require the protection of a safety hard hat or helmet.
Compare With Similar Products
| | | | | | |
| --- | --- | --- | --- | --- | --- |
| | | | | | |
| Product Title | Skullerz 8943F(x) Universal Bump Cap Insert - Flexible Hinged | Skullerz 8948 Mesh Do Rag Bandana and Bump Cap Insert | Skullerz 8941 Mesh Dreadlock Tube and Bump Cap Insert | Skullerz 8947 Lightweight Baseball Hat and Bump Cap Insert | Skullerz 8957 Lightweight Ranger Hat and Bump Cap Insert |
| Product Series | Bump Caps | Bump Caps | Bump Caps | Bump Caps | Bump Caps |
| Price | $12.95 | $27.95 | $31.95 | $29.95 | $39.95 |
| SKUs | 23483 | 23468 | 23420, 23421 | 23450, 23451, 23452, 23456, 23457, 23458, 23453, 23454, 23455 | 23459, 23460, 23461 |
| Available colors | | | | | |
| Available sizes | | | S/M, L/XL | XS/S, M/L, XL/2XL | XS/S, M/L, XL/2XL |
| Product Type | Bump Cap Insert | Bump Cap Insert Kit | Bump Cap Insert Kit | Bump Cap Insert Kit | Bump Cap Insert Kit |
| Closure | | Tie | | Buckle | Buckle |
| Construction | Hinged Design | Hinged Design | Hinged Design | Hinged Design, Reflective Accents | Hinged Design, Reflective Accents |
| Materials | Polyethylene | Polyethylene | Polyethylene | Polyethylene, Polyester | Polyethylene, Polyester |
| Product Features | Breathable, Lightweight | Breathable, Lightweight, Accommodates Dreadlocks, Removable Insert, Moisture Wicking | Breathable, Lightweight, Removable Insert, Moisture Wicking, Accommodates Dreadlocks | Breathable, Lightweight, Removable Insert | Breathable, Lightweight, Removable Insert, Chin Strap |
| Risk/Injury | Head Injury | Head Injury | Head Injury | Head Injury | Head Injury, Heat Stress |
| Style | Universal Insert | Do Rag, Bandana, Universal Insert | Dreadlock Tube, Do Rag, Universal Insert | Baseball Cap, Universal Insert | Ranger, Universal Insert |
Guides and Documents
Sep. 21, 2023
8943F(x) Universal Bump Cap Instruction Insert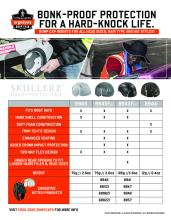 Jun. 28, 2023
Skullerz Bump Cap Insert Flyer
May. 10, 2023
2022-2023 Ergodyne New Products Card
Videos
Skullerz 8943F(x) Hinged Bump Cap Accommodates Large Head Sizes & Hairstyles for Impact Protection
Bump Caps 101: Find the Right Fit for You