N-Ferno® 6840 Winter Hard Hat Liner - 2-Layer, Fleece-Lined, Polyester Shell, Reg-Length
N-Ferno® 6840 Winter Hard Hat Liner - 2-Layer, Fleece-Lined, Polyester Shell, Reg-Length
2-LAYER THERMAL LINER – Regular (chin) length design keeps head and ears warm and covered
WATER-RESISTANT OUTER SHELL – 100% polyester treated with PU coating making the shell water-resistant and lightweight for all-day comfort
WARM LINING – 100% polyester fleece
LIGHTWEIGHT – Fits comfortably under a helmet or hard hat without feeling too bulky
ELASTIC FIT – Elastic gather at forehead closes the gap between liner and forehead to keep the heat in and cold out
HOOK AND LOOP STRAPS – Chinstrap and 4 evenly spaced straps included on the outside of the liner to attach to hard hat or helmet suspension
Machine washable
California Residents: read Proposition 65 .
The N-Ferno® 6840 Winter Hard Hat Liner has 2 layers of insulation with a polyester shell and a soft polyester fleece lining for exceptional warmth. This lightweight thermal liner is chin-length to keep head and ears covered and fits comfortably under helmets or hard hats without feeling too bulky.
The PU coated 100% polyester outer shell is water-resistant and provides a durable finish that resists corrosion and abrasion. The 100% polyester fleece lining is soft to the touch for comfortable all-day wear.
A hook & loop chin strap comfortably secures this winter liner, while four exterior hook & loop straps attach to the interior of a hard hat for a secure attachment and added warmth in extreme work environments. This hard hat winter liner has an elastic strip on the forehead area to keep the liner snug against the face to trap body heat and keep cold out.
Great cold weather work gear for people who spend extended periods of time in cold environments and need to wear head protection, like those in construction, freight, drilling or mining, delivery service, landscaping, and warehousing. Also great for recreational use like skiing, snowboarding, sledding or other winter activities that may need a helmet.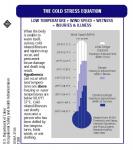 Jan. 1, 1998
OSHA Cold Stress Equation Brochure
Sep. 17, 2019
Cold Stress Solutions Card
Aug. 16, 2018
Ergodyne Cold Stress Guide
How Tenacious Testers Stay Safe on the Job